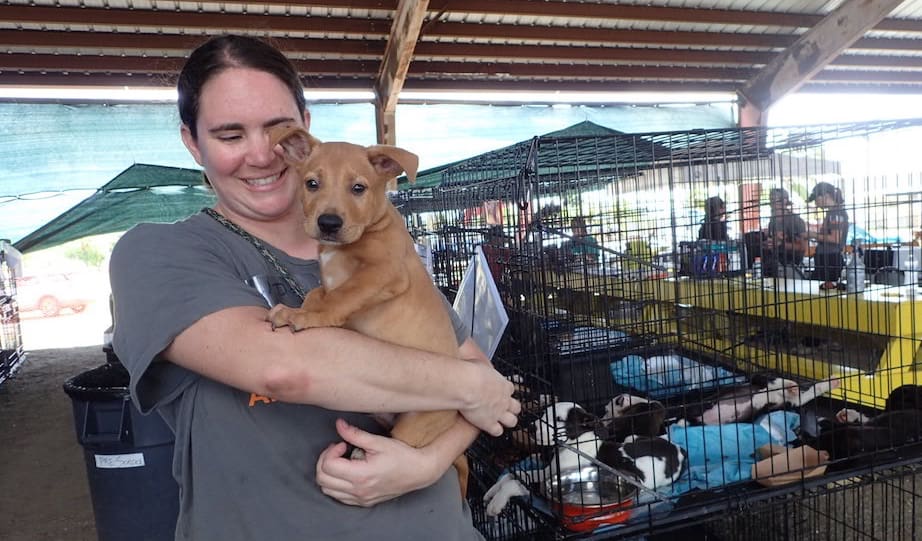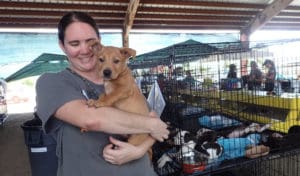 While most of the buildings and trees at the Department of Agriculture Complex on St. Croix suffered major hurricane damage, the barn is functioning as a temporary home for hundreds of homeless pets, and there the American Society for the Prevention of Cruelty to Animals is caring for and transporting animals as fast as it can, at least through the end of the year.
The side of the huge barn is covered with a blue tarp. Behind the tarp, hundreds of kennels are lined up, by animal size, time of arrival and special needs – the maternity ward is simply a cluster of mothers in crates with their newborn pups. All crates are labeled with the animal's name, health issues and needs as well as arrival date.
Worktables and a row of crates filled with yipping and playing puppies greet visitors who weave in and out with the 20 to 30 caregivers to stop to speak softly or pet the babies. Farther back in the barn, the barking of frightened dogs makes normal conversation difficult.
Joe Hinkle, ASPCA shelter director, said they took in the first animal on Oct. 12 and have helped 350 homeless or surrendered dogs and cats since then. Stray animals are held for 30 days so owners have a chance to locate and claim them.
So far, three flights have transported almost 100 dogs and cats to stateside rescue organizations.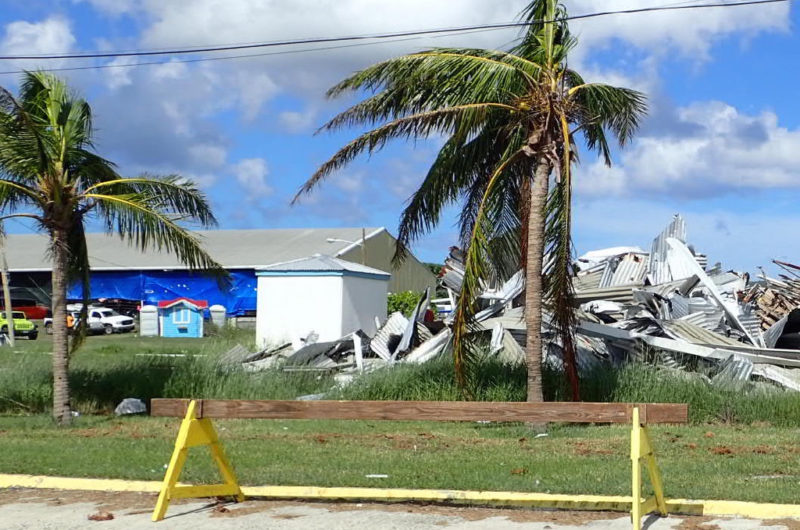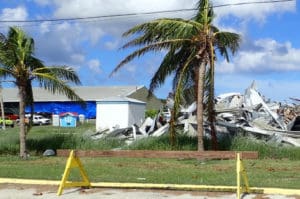 Last weekend, a small plane from Cloud Nine Rescue picked up 30 pets, flew them to Florida Saturday and returned to transport another 30 on Sunday.
"Our goal is just to help out as much as we can after the devastation to the island's people and animals. No one else is doing it," Hinkle said.
Since the St. Croix Animal Welfare Center was destroyed during Hurricane Maria and looters removed everything else afterwards, the staff is helping ASPCA until a location at Five Corners can be opened. Until then, they work with the ASPCA, their professional responders contracted by the ASPCA and other volunteers. From time to time, St. Croix veterinarians stop in to help.
One of the professional responders contracted by the ASPCA is Lindsey Cooke, from North Carolina. She was trained to care for pets under stress and despite the sad circumstances, loves her work.
"It's the best job ever. It is so rewarding. To watch them going from fearful to becoming trusting and then go to homes," she said.
The ASPCA is a 501 (c) 3 organization with two million supporters across the country, so there are many stateside rescues to house the St. Croix pets until permanent homes are found. The organization sent down pet food, but they need canned puppy food, puppy pads and newspapers. And, of course monetary donations are welcome.
In the near future, Hinkle said training will be offered for local residents who want to volunteer at the site. More information can be found at www.aspca.org.