A meeting on St. Thomas this week gave members of Congress the chance to witness the state of the island first hand, and gave Gov. Kenneth Mapp the chance to push an agenda to rally funds for "mitigation and resiliency efforts."
At a Monday night briefing at the West Indian Company Ltd.'s headquarters on St. Thomas, Mapp said he led nine congressional representatives on a tour of the area Sunday. The contingent is made up of: Senator Lisa Murkowski (R-Alaska), Senator Bill Cassidy (R-Louisiana), Senator Tom Carper (D-Delaware), Senator Al Franken (D-Minnesota), Senator Kamala Harris (D-California), Rep. Bill Shuster (R-Pennsylvania,) Rep. Garret Graves (R-Louisiana), Rep. Peter DeFazio (D-Oregon), Resident Commissioner of Puerto Rico Jenniffer González-Colón, and Isaac Edwards, senior counsel of the Senate's Energy and Natural Resources Committee.
Joining the delegation were officials from the U.S. Education Department, Federal Emergency Management Agency and Army Corps of Engineers, among others. Mapp said that stops into areas such as the Tutu Hi-Rise, Schneider Regional Medical Center and Addelia Cancryn Junior High School sent a "powerful message" about how the island has been impacted and is recovering from two Category 5 hurricanes.
Mapp said the impressions will help him push for more funding to help the territory do more than just rebuild, but rather rebuild in ways that will prevent additional damage in the future from hurricanes that he said are sure to continue coming. Paring down the hospital to a smaller, more "resilient" facility is one area to look at, along with everything from undergrounding power lines and stronger roads, Mapp said.
"We are closing in on $2 billion every time there's a hurricane," Mapp said. "We want to be able to invest and rebuild in a way that is smarter for the community, and smarter for the government."
Mapp said he will testify next week before Senate and House committees, including the Energy and Natural Resources Committee, to push for more funding to complete local restoration efforts, which is now estimated at $5.5 billion. The governor said that he would be pushing for more funds to be authorized for "resiliency and mitigation efforts," which will help complete some of the projects needed to ensure that the territory can recover more quickly from the next storm.
Health and Human Services
With the shutdown of distribution centers across the territory, Mapp and Human Services officials have announced that the U.S. Virgin Islands has been approved for $23 million in Disaster SNAP (Supplemental Nutrition Assistance Program,) which would cover 38,000 qualifying residents.
DSNAP benefits will provide two months of supplemental dollars for replacement food. Criteria includes territorial residence and hurricane losses of food or loss of income during the time of the disaster for each affected areas.
Those on St. Thomas and St. John are able to claim DSNAP benefits for either Hurricane Irma or Hurricane Maria, but not for both. Those on St. Croix will only be able to claim DSNAP benefits for Hurricane Maria.
The time periods are Sept. 4 through Oct. 3 for losses from Hurricane Irma and Sept. 14 through Oct. 13 for Hurricane Maria.
Speaking Monday, Human Services Commissioner Felicia Blyden also said that if individuals lost their jobs due to the hurricanes, they should apply for regular SNAP benefits.
Blade and said that while Human Services experienced a few challenges when the program rolled out Monday, residents were also surprised at how "seamless" the process was. She also encouraged residents not to be discouraged by long lines or early shut-downs at registration sites.
"This is not a Black Friday sale," Blyden said. "If you're waiting in line and do not get served, this assistance will not run out. You will still be served the next day."
Power Restoration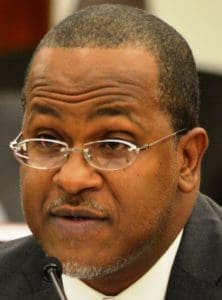 As the V.I. Water and Power Authority continues to keep residents informed daily of neighborhoods across the territory that have been energized, Executive Director Julio Rhymer said at Monday's briefing that the authority is looking at how to better prepare it infrastructure for the next storm.
Rhymer said WAPA is looking at mitigation efforts that include putting more renewables onto the grid, including three megawatts of wind energy, micro-gridding and undergrounding lines for major feeders, such as those that power schools, hospitals and government offices.
Responding to concerns from the community, Mapp added that new conditions have been set for residents with tarped roofs. The governor explained that residents have been turning away contractors who have been coming to install the tarps, since it had been previously said that those houses would not be able to get electricity once WAPA had energized the feeders.
Mapp urged residents to "finish the thought," by realizing that the tarp is not holding up the restoration of power, but rather the lack of a stable roof on a house that would continue to let in water that could run into electrical sockets. Mapp said that WAPA, in conjunction with Planning and Natural Resources, had put in place a process to ensure that homes with tarps receive electricity, but those homes would first have to be certified by a licensed electrician.
If the electrician find that repairs to the home's electric system or weatherhead are necessary, they would have to apply to the DPNR to get a permit. The electrician would then have to return to the home, fix the problems and certify that the home is ready to receive electricity.
Monday marked the territory's 60th day without power since Irma hit in September.
Cruise Ships and Airlines
Tourism Commissioner Beverly Nicholson Doty announced a full cruise ship schedule for St. Thomas for the months of November (25 calls) and December (more than 60,) and said that beginning Friday, five ships were expected to call on St. Croix, with another eight to follow in December.
Since these ships have never before called on St. Croix, Doty said the next few months are an "extremely important opportunity" for the territory as it works to re-engage in the tourism industry.
Mapp additionally called for WAPA to energize the town of Frederiksted by the time the ship docks on Friday.
Responding to concerns from residents over the price of airline tickets, Doty explained that partners such as American, Delta and JetBlue, are continuing to operate one flight a day, which represents about 20 percent of each airlines' regular demand. While Doty said meetings are in the works with the airlines to reduce prices, she also said that the lack of hotels open throughout the territory has kept the airlines at bay.
"We have to find a balance," Doty said.
Disaster Relief Assistance
Federal emergency management agency officials on hand at Monday's news conference said FEMA continues to provide disaster relief assistance to those affected by hurricanes Irma and Maria, and has extended several deadlines. So far, FEMA has paid out more than $7 million worth of disaster relief assistance and processed more than 30,000 claims.
The deadline to apply for disaster relief is now Dec. 18, while the deadline to apply for the Blue Roof program is now Nov. 23, officials said. Meanwhile, residents can also go to the Labor Department's offices on all three islands to apply for disaster unemployment, which can be applied for until Dec. 23.