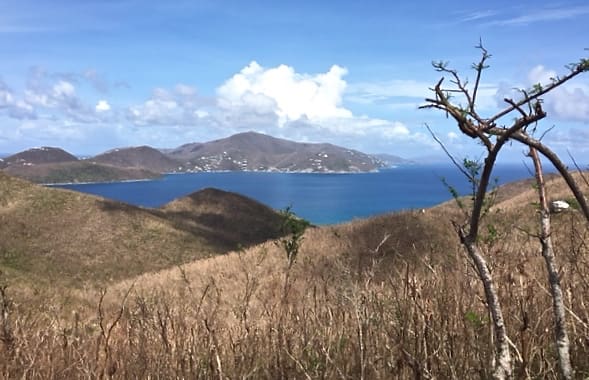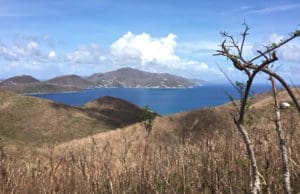 When the first trees started to grow leaves within a week or two of Hurricane Irma's onslaught, residents were ecstatic. They passed around photos on cell phones of new mampoo tree buds and frangipani blossoms like proud grandparents showing off baby pictures.
But the damage inflicted by Hurricane Irma on the forests of St. John Sept. 6 may be much worse than anyone suspected. The upper western-facing slopes, including Mamey Peak and the Cinnamon and Maho Bay watersheds, have been particularly affected. Seven weeks after the storm, there are still swaths of forest where the trees are lying flat, and little that is green can be seen.
"I'm afraid there's been a great deal of tree death there," said native species expert Eleanor Gibney. "The sheer force of the gusts, estimated at 250 mph, separated the bark from the wood. No tree can survive that."
Seeing the trees recover in other areas, Gibney initially had been optimistic.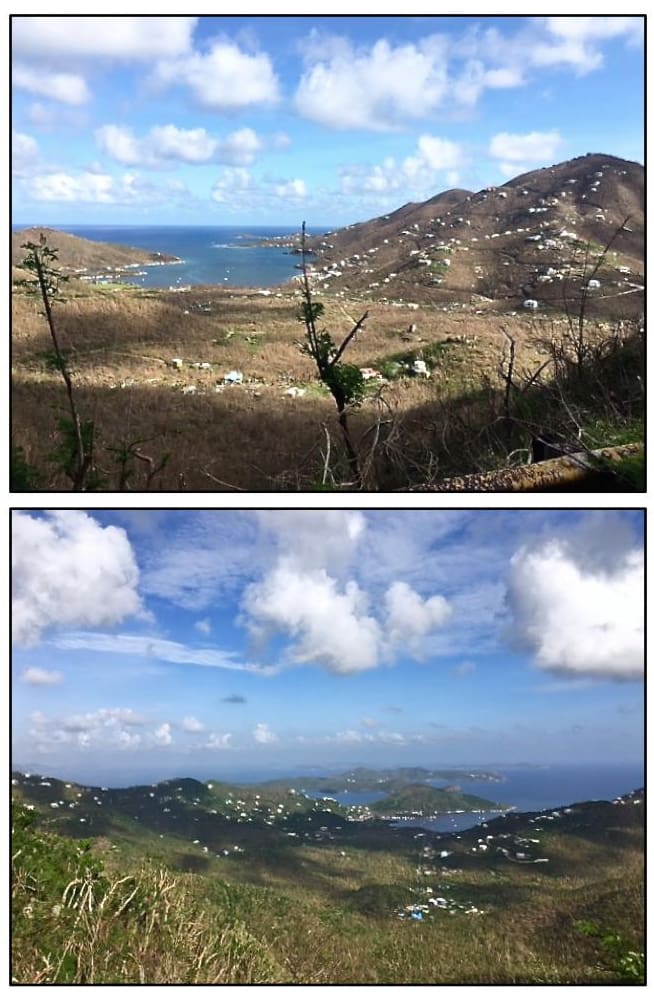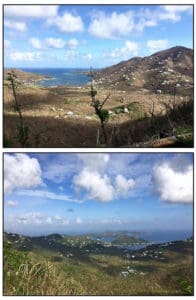 "I thought at first the trees were very delayed, but it's worse," she said. Some trees will recover, she acknowledged, but "there's a huge loss on the western-facing slopes. What that means, we don't know. Those were mostly native tree species. Will they re-seed, or will pioneer species, like tan-tan, take over? We don't know."
Recent heavy rains have been a source of misery for people who have lost roofs or windows and are trying to stay dry, but for the trees and other vegetation on St. John, the rain is exactly what's needed.
"Rain is an incredibly mixed thing, but it's the best thing for natural growth," said Gibney. Although some areas still look like they've been blasted by a bomb, she said, "the vegetation is coming back. It's a positive thing every day."
"A lot of trees lost branches but didn't blow over. If a tree has most of its roots in the ground, it can recover," she said. "I've been watching the trees in my yard. It was a total mess. I said, 'They're not coming back.'"
Five weeks later, she was finding little leaves coming out of the trunks, she said.
Gibney has observed that some non-native species, such as genips from Venezuela and wild tamarind from Guatemala, have been the first to put out new leaves, "which is not necessarily a good thing when it's early in the hurricane season."
Some native tree species, such as pigeonberry and turpentine, "have been a lot more cautious, waiting two or three weeks to send out new growth," Gibney said.
She doesn't know yet how two rare species of plants that are common to St. John have fared because they're located within the V.I. National Park in places that are not yet accessible.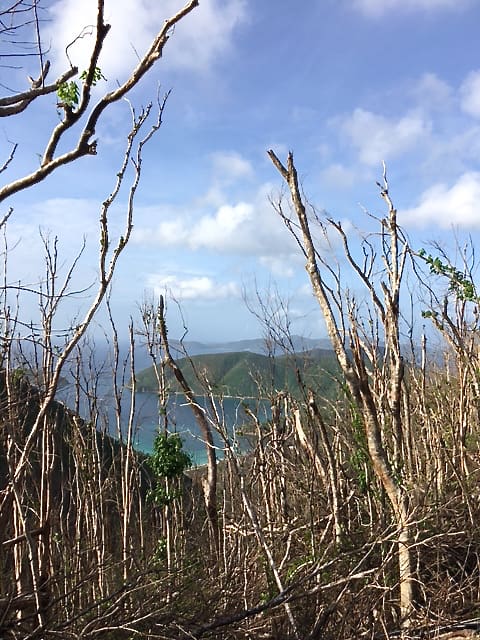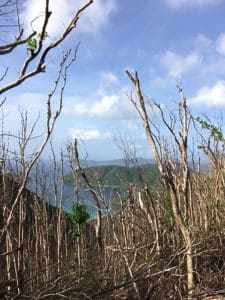 The bay rum trees, source of the aromatic oil that was once a significant export product from St. John, are coming back.
"One of the bay rum trees in my yard was 30 feet back from the shoreline," Gibney said. "The waves hit it – it was lying down – but after a month I saw tiny green leaves."
What made Hurricane Irma so deadly to coastal vegetation, particularly on the north side of the island, was the storm surge. Gibney said past hurricanes, such as Hugo and Marilyn, never sent more than a trickle of sea water into her yard, which is located right behind the beach in Hawksnest Bay.
During Irma, however, "The water came 100 feet in from the shore, right up to my house," Gibney said. "The surge took out the sea grapes; all the trees are lying flat, though some are still alive. Ninety percent of my coconuts are gone; they're not coming back."
The power of the sea's surge is visible on Peace Hill, at the eastern tip of Hawksnest Bay, where waves have scoured the cactus off 20 to 30 feet of the lower hillside. The surge's effect is visible along the north shore beaches, including Trunk, Cinnamon, and Maho Bays, where the shoreline trees lay uprooted in twisted, brown tangles.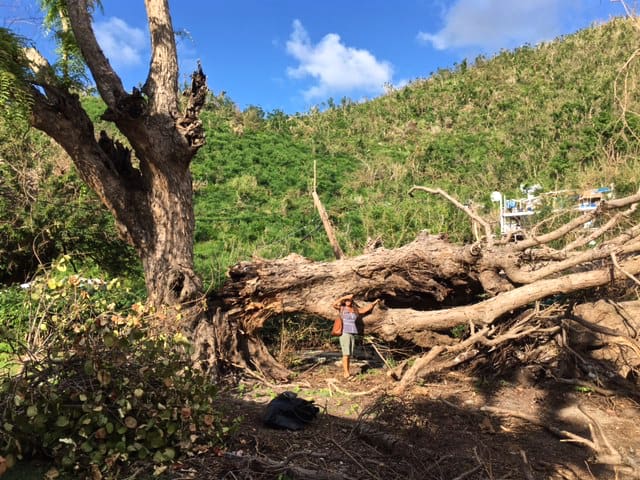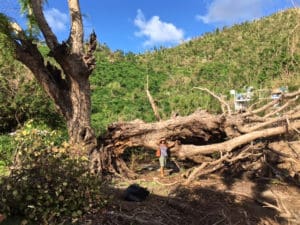 Some hillsides protected from the west wind never lost their leaves, said Gibney. The rule seems to be, "If you can see the sunrise, you're in pretty good shape," she said.
While most of the hills on St. John are covered with bright green growth, the upper slopes on the north shore remain brown, attesting to the force of the Irma's winds, which came primarily from the northwest.
No one is sure how strong the fiercest winds were. Meteorologists have said Irma had sustained winds of 185 mph when the storm passed over St. John; the smashed-down trees and snapped-off utility poles suggest tornado activity with wind speeds of more than 200 mph.
It's not just the trees that have suffered.
"Everything is connected," Gibney said. "Birds have been hard hit by the lack of flowers and fruit. The scaly-naped pigeons are exclusively fruit eaters, and they've been dying. Hummingbirds are affected."
Gibney also worries about the five species of bats on St. John.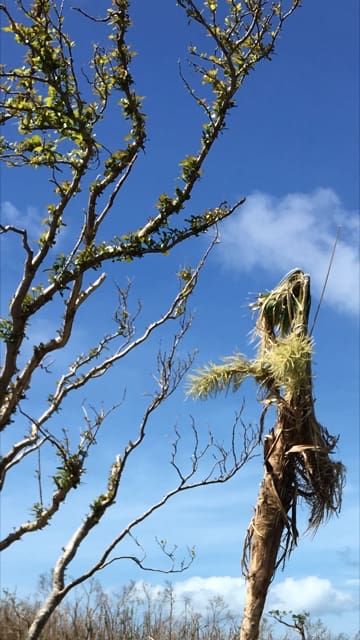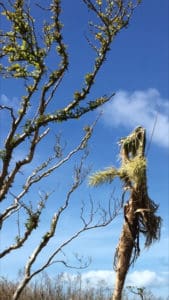 "We have insect, fish, and fruit-eating bats. The fruit-eating bats are also suffering from lack of roosting spots," she said.
Gibney has photographs of her property that go back 120 years, and there's no evidence in them of any event as cataclysmic as Hurricane Irma. However, when she was digging holes for footings on her property, she found patches of sand buried deep below the earth. This makes her wonder about storms that may have occurred before records of such things were kept on St. John.
There were signs of habitation from the early 1400's on the north shore of St. John that were no longer evident 50 or so years before the arrival of European explorers, Gibney said. This makes her wonder if a violent hurricane – or perhaps a tsunami – caused early inhabitants to abandon the island.
The devastated trees on the high, western-facing slopes may have consequences in terms of water retention, soil runoff and flooding.
"When a tree is in leaf and is actually growing, it is sucking up gallons of water," said Gibney. She sites as an example a 200-year-old almond tree on her property that was completely uprooted. Now that the tree is gone, there's an enormous puddle in its place.
"Trees pull up water which is evaporated through their leaves. On the steep slopes we've had many more rivulets adding to the flooding potential. The loss of trees on the upper slopes may lead to more run off that will ultimately affect the coral reefs below," she said.
"We haven't had a storm comparable to Irma in recorded history," Gibney said. "It has enormous research possibilities." She regrets that the Virgin Islands National Park has not had a terrestrial biologist on staff for years, and that most of the park's resource management team were given temporary assignments off-island following the storm.
"Even if the park doesn't have the resources to do the research, they could invite and facilitate other researchers."
"St. John is unique in having large areas of protected native forest, practically more than any other place in the Caribbean, said Gibney. "Historically, we were not a good place for agriculture, though people kept trying. And St. John also never had a large population."
Gibney added, "Even though every island in the Caribbean is similar in some ways, each island is unique. The National Park makes St. John special."
Shared content for the Virgin Islands Source and St. John Tradewinds.