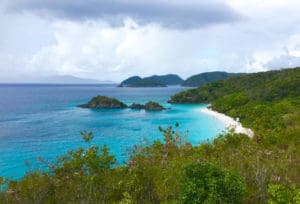 The National Park Service (NPS) is working diligently to safely re-open all Caribbean parks.
The NPS Caribbean Parks — like most public services, private entities and communities in the Caribbean — have sustained unprecedented damage from both hurricanes Irma and Maria. Some Caribbean park units fared better than others based on location and type of infrastructure, but all units are closed now for various reasons listed below. NPS is diligently working to stabilize, recover and ultimately open the parks for public enjoyment again.
Due to the differences in damage, some park units will open sooner than others. Additionally, some parks will have a segmented or phased opening for that same reason.
A type 2 Incident Management Team (IMT) consists of 102 NPS and U.S. Public Health Service personnel. Its mission is to help the parks stabilize. The IMT is stationed in Puerto Rico's Convention Center within the FEMA Emergency Operations Center, and each park has an IMT branch director with supporting positions on site within the park unit. A Facility Assessment Team is in the Caribbean assessing all park structures and infrastructures.
On Oct. 22, a Caribbean Hurricane Emergency Rehabilitation Team (CHERT) will arrive in the islands to develop the following:
Core objectives to transition parks from the stabilization phase to the recovery stage
A strategic plan for the recovery stage to reopen each specific park unit
A financial plan to mirror each of the stabilization and recovery phases
The San Juan National Historic Site, Buck Island Reef National Monument and Christiansted National Historic Site have sustained minimal damage. These areas are considered stable, and the NPS is working towards the following recovery core objectives to reopen:
Safe public and employee access
Permanent, and sustainable electrical power at the historic sites
Cosmetic and safety repairs
The V.I. Coral Reef National Monument, the Virgin Islands National Park, and the Salt River Bay National Historical Park and Ecological Preserve sustained significant damage, and in some areas total loss. These areas are considered unstable; therefore, NPS is working towards stabilization, which will require the strategic planning of CHERT to help identify the core objectives as listed above. The park's stabilization objectives for these sites are:
Safe housing for park employees
Safe access for employees and visitors
Safe work environment for employees
Debris removal
Submerged waters and shipwreck assessments
Incident Information: http://go.nps.gov/Hurricanes