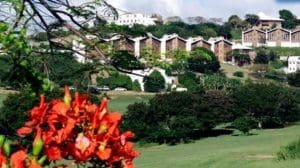 UVI to Resume Classes on Oct. 9; Fall 2017 Semester Extended to Dec. 22 Classes at the University of the Virgin Islands will resume on Monday, Oct. 9, on both campuses. UVI President David Hall announced at the Governor's Oct. 4th press conference that UVI will offer every class that was originally available when the Fall 2017 semester started. Classes will be offered in a variety of formats, including online, on weekends and other means to ensure that the semester is saved. "We will offer every class so that students will get what they were promised," said President Hall. "We are committed to saving this semester and we are committed to UVI rising and being even stronger."
UVI has asked its faculty to be very flexible – not to lower standards, but to be very creative with students to help them achieve their goals. To allow students to make up any classes missed, professors have been asked to record classes. Additionally, the university will open more computer labs so that students will be able to do their work on campus. Ten to 15 minutes will be added to every class, and the semester will end on Dec. 22. Exams will be held during the first week of January 2018. The university's goal is to give students as much time as possible to complete this semester. The new class schedule can be found on the UVI website, www.uvi.edu or see this link the Albert A. Sheen Campus Class Schedule or the St. Thomas Campus Class Schedule.
More information is available in a news release on the Media Section of the UVI website – http://www.uvi.edu/ – and from this direct link.
UVI Community Advised Not to Enter 'Off Limit' Buildings on St. Thomas Campus Due to extensive damages, the UVI community on the St. Thomas Campus are advised that the following buildings are off limits and not safe to enter:
Business Administration Building
Nursing Education Building
Quarters B
West Hall Residence Hall
MacLean Marine Science Center
Caribbean Green Technology Center/GEOCAS (old Finance Building)
President's Guest House
Faculty West 8 and 9
Anyone in need of access to any of these buildings for any reason should contact the Security Office at 693-1530. UVI's Sports and Fitness Center will not be available for access as well. The Federal Emergency Management Agency will be leasing the center as a Territorial Command Center for six months. The UVI community on the St. Thomas Campus is asked to adhere to requests made to secure their wellbeing when returning to school and work.
English Proficiency Exam (EPE) to be Offered on Nov. 30 The English Proficiency Exam (EPE) will be administered at 8:30 a.m. on Thursday, Nov. 30, on each campus. Students are required to register for the exam through Banweb.
Dates for English Proficiency Exam workshops will be given later for each campus.
Should there be any questions or concerns, contact Dr. Vincent Cooper at 693-1351 on St. Thomas or Dr. Valerie Combie 692-4126 on St. Croix.
UVI Faculty & Staff in Need Encouraged to Seek Counseling Options After any disaster like Hurricane Maria, we are all in need of restoring our mental and behavioral balance. It's not easy to do alone. There are some resources to take advantage of Cigna's Employee Assistance Program. It is free and the counselors can help you with behavioral health, alcohol and substance abuse, and life's daily challenges.
https://www.cignaglobalhealth.com/health-wellbeing/employee-assistance-programme.html
The counselors are two professors who have taught psychology at UVI and are, therefore, familiar with the UVI community. Although they both live on St. Croix, they can meet with students on St. Thomas.
See contact information below:
Catherine Giraud (pronounced, roughly, Gee' Row) can be reached at 643-5117 cellular or 692-2367.
Dianne Brinker can be reached at (640) 642-6171 cellular or (340) 774-6359
See this link for information on licensed psychologists. http://usvipsychologyboard.com/ or contact Dr. Aletha Baumann at 692-4178 for more information.
Students Interested in Residing on St. Croix Campus Asked to Contact Student Housing and Residence Life Classes at UVI will resume on Oct.9. Students interested in residing on the Albert A. Sheen Campus on St. Croix are kindly asked to call the office of Residence Life and Student Housing at 692-4194 or 244-9364.
We ask students whose permanent residence is on St. Croix and returned home to shelter from the storms to call the Office of Residence Life to notify them of their plans, whether they opt to reside on campus or not.
SGA Happy Hour and Special Elections to be held on Albert A. Sheen Campus – Oct. 9 and 11
Student Government Association (SGA) will hold a Happy Hour to welcome students back with frozen drinks and conversation at 3– 4 p.m. on Oct. 9 in Evans Center – Room 100.
There will also be a special election for students who will vote for senators from their respective classes. Voting will be held from 11 a.m. to 5 p.m. on Oct. 11 in Evans Center (EVC) Room 100.
For additional information, contact SGA President Reba Dickson at 244-6053 or reba.dickson@students.uvi.edu or sgastx@uvi.edu
CERC's 10th Annual Health Disparities Institute Postponed The Caribbean Exploratory Research Center 10th Annual Institute planned for St. Thomas, Oct. 18-20, at Marriott's Frenchman's Reef Hotel and Resort has been postponed.
The U.S. Virgin Islands experienced two Category 5 hurricanes within a two-week period that caused significant damage and disruption to the territory's infrastructure and substantial damage that has resulted in widespread power outages for both business and residential customers, limited and/or intermittent cell phone communication; and limited and unstable internet access.
The hotel that was to be the Institute's venue sustained major damage and has closed through the rest of the calendar year for repairs. UVI will share revised dates and venue as soon as it is able to adjust our plans.