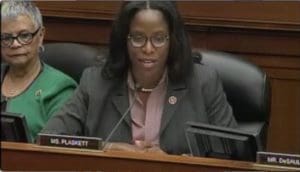 The House Energy and Commerce Committee recently amended the Children's Health Insurance Program appropriation bill to provide additional Medicaid funding to the U.S. Virgin Islands, according to a news release from the office of Delegate Stacey Plaskett's (D-VI.)
Legislation to reauthorize the Children's Health Insurance Program originally provided supplemental Medicaid funds only for Puerto Rico. Plaskett's office attributed the change to efforts by Plaskett.
The bill was amended by the committee to include equivalent Medicaid funds for the Virgin Islands, adding about $30 million.
"The language of the originally drafted CHIP bill that went to markup in the Energy and Commerce Committee had left out the Virgin Islands. That is why I worked with my colleagues on both sides of the aisle to have the Virgin Islands fully included," Plaskett said.
She thanked Rep. Gus Bilirakis (R-FL,) who offered the amendment to include Medicaid funding for the USVI on the same basis as Puerto Rico, "in the interest of parity and fairness to all Americans in U.S. territories that have just endured two severe back-to-back hurricanes."
While she is pleased, Plaskett said "this will by no means fix our health program difficulties in the Virgin Islands."
"The fundamental problem facing health programs in the territories is that our Medicaid and federal matching funds have been capped at an amount that has no relationship to local needs," she said, adding that she has sponsored legislation to lift those caps "so Medicaid can function in the territories as it was intended elsewhere, to be able to expand and contract with need."
Approval in committee does not guarantee the funds will be included in the final legislation approved by both houses of Congress.
Plaskett said she understands there are disagreements over the financing of CHIPs, saying she "would hope that when the bill comes before the full House of Representatives, we can further develop a bill that can garner bipartisan support."
"The CHIP program has traditionally been extended with both Democratic and Republican support, and that should not be any different this year. Let's continue the negotiations so we can end the uncertainty for millions of kids and families, including those in the Virgin Islands, who rely on CHIP for their health care," she said.
She said she will also work for a temporary 100 percent federal contribution to the territory's Medicaid program while it recovers from the massive devastation from Hurricanes Irma and Maria.