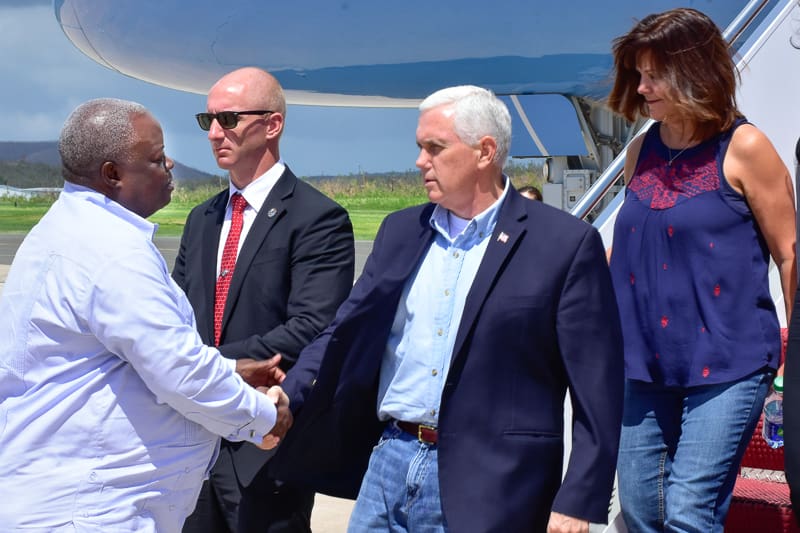 Vice President Michael R. Pence arrived in the Virgin Islands Friday morning to see the state of the damage from Hurricanes Irma and Maria, and meet with local officials.
Pence went to Holy Cross Episcopal Church Friday morning to meet with residents, then traveled to the St.Croix Educational Complex to visit the occupants of the shelter.
Then, with Gov. Kenneth Mapp, he flew over the islands in a Navy helicopter, getting an aerial view of the damage done to the islands by Hurricanes Irma and Maria.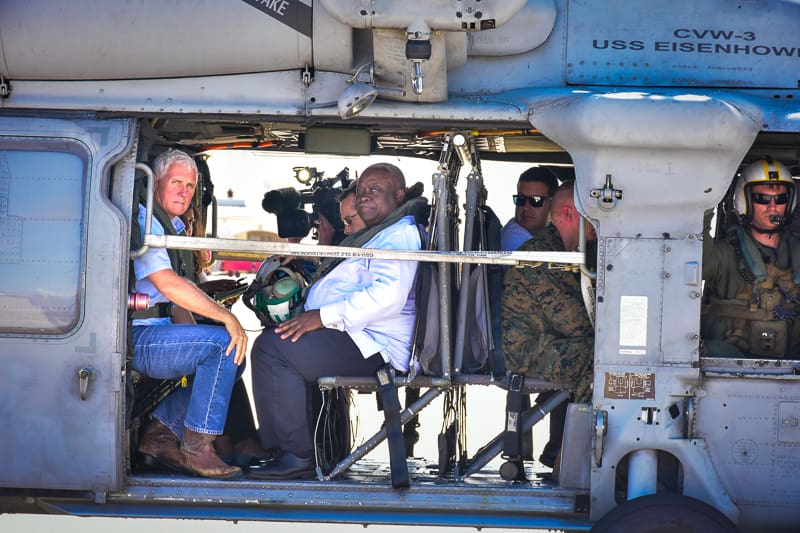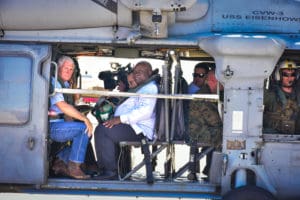 According to the governor, Pence looked out over the damage while Mapp narrated what Pence was seeing.
Pence told the governor that the U.S. Virgin Islands would get all the resources needed as as recovery moves forward.
The vice president's schedule also included a visit to the V.I. National Guard where he heard from a host of recovery and relief officials.
Mapp related his experience with the Vice President at the daily news conference updating the V.I. hurricane recovery.
In other news from the conference:
– Mapp reminded those in shelters on St. Croix that nobody will be evicted. Instead, he said, individuals will be relocated to other shelters as shelters close. The plan is for them to eventually move into permanent housing.
– The Department of Finance will start paying overtime to employees starting on Thursday and they will add a supplemental payday on Friday if necessary. The department is making all the adjustments necessary to give overtime pay to those employees who have earned it since Hurricane Irma hit the territory. These adjustments are due from all the commissioners of their respective departments by noon Monday so that payroll can go out on Thursday.
"We will be making the payroll on Thursday," Mapp reiterated.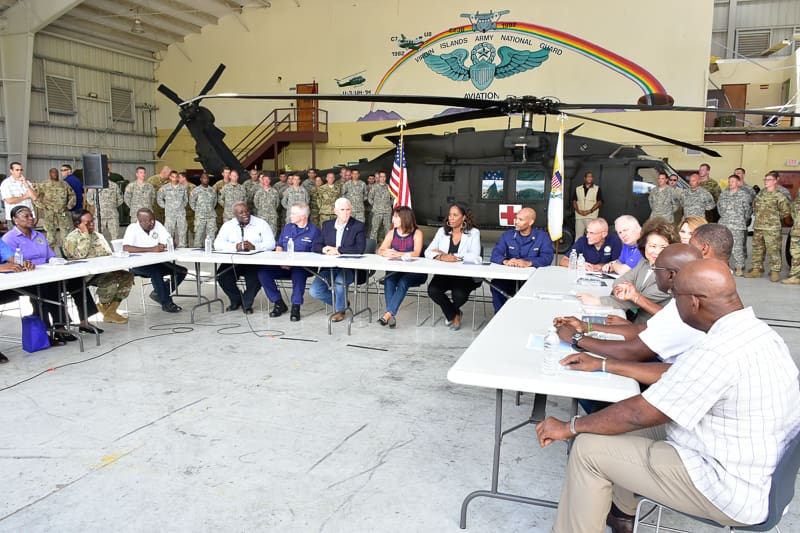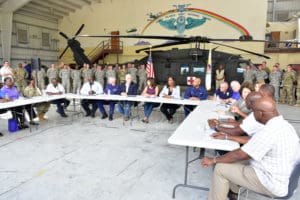 Supplemental payroll will be made on Friday if necessary if employees don't see their overtime pay on Thursday.
– United Airlines will not fly into or out of the territory until December. However American Airlines has added another flight from St. Thomas to Miami, officials said. Also, many cruise lines are asking for berths and the territory is looking at these requests as possible future tourist opportunities, especially in Christiansted on St. Croix.
– On Oct. 14, an additional 240 linemen from the mainland will join local crews restoring power to the Virgin Islands. Bill Vogel, coordinating officer of FEMA Region II, said that only 21 percent of STT/STJ and 12 percent of STX have power.
– The ambulance boat responsible for transporting patients from St. John to St. Thomas has been repaired and has been cleared to be sent back to St. John from St. Croix.
– A block party has been organized to take place at 10 a.m. Monday in Christiansted, across from Hotel Caravelle, to celebrate Virgin Islands-Puerto Rico Friendship Day. Pedro Cruz, commissioner of Sports, Parks and Recreation, also announced that his department will present "stress reliever activities," to be hosted for two weeks on St. Croix, St. Thomas and St. John. These activities will take place at public ballparks and other areas and will feature snacks and family oriented activities.