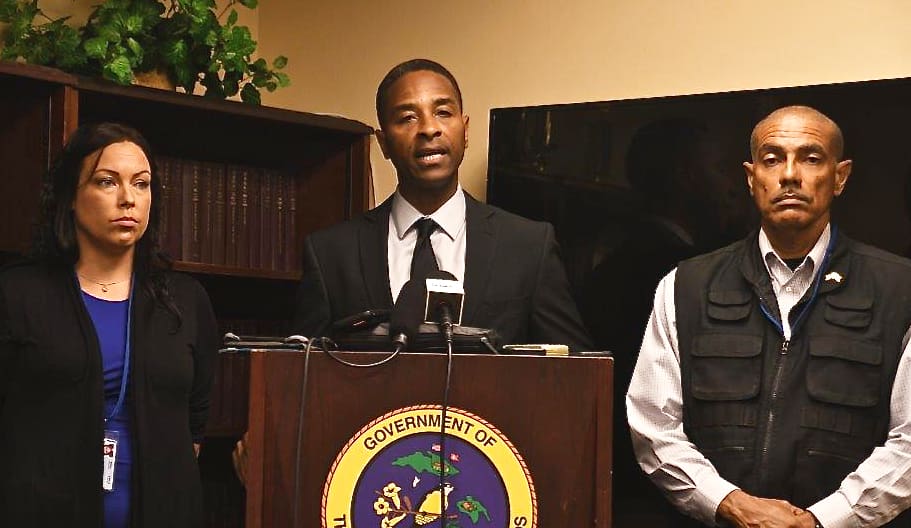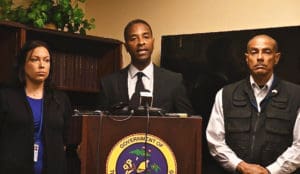 Attorney General Claude Walker on Monday confirmed that five St. Thomas residents were killed over the past few weeks in hurricane-related incidents on St. Thomas.
After pausing at the beginning of his news conference for a moment of silence in memory of the victims of Sunday's mass shooting in Las Vegas, Walker said that "during the time span of" hurricanes Irma and Maria, there were 30 deaths territory-wide: approximately five homicides, others from natural causes, and five from injuries sustained during the two storms.
Flanked by Justice Department Medical Examiner Jacqueline Pender and acting Forensic Division head Robert Soto, Walker said after Irma and Maria, the Medical Examiner's Office took charge of each of the bodies and conducted autopsies to determine the cause of death. Of the five storm related deaths, three are connected to Hurricane Irma while the remaining two were reported after Maria.
Walker said the office is working to confirm at least one possible death on St. John and will let the media know if the numbers rise.
Confirmed so far on St. Thomas are:
Irma
– Ishmael Harrigan, 40, a V.I. National Guard sergeant and Bureau of Corrections officer who died of blunt force trauma in his home during the storm,
– Carlena Penn, 30, who died of blunt force trauma from a fall in the Tutu Hi-Rise housing community, and
– Jason Julius, 46, a lineman with the V.I. Water and Power Authority who was electrocuted in Sugar Estate while trying to restore power after the storm.
Maria
– Maurice Jackson, 66, who drowned on Sept. 20 from flooding in his home, and
– Ralph Everett III, 57, who was trapped under a mudslide at his house and died of asphyxiation and blunt force trauma.
With two Category 5 hurricanes hitting the territory back to back, Walker said the death toll could have been much higher.
"This could have been any one of us," he said. "These individuals held different positions within the V.I. community, came from all different walks of life and the Department of Justice is deeply saddened by these losses."