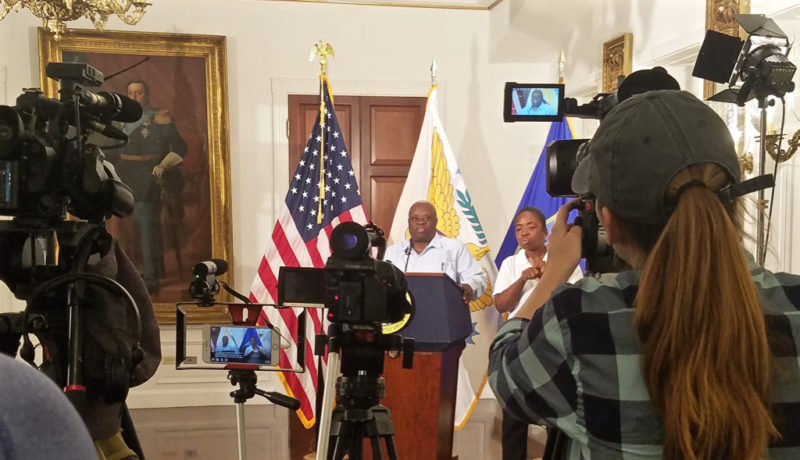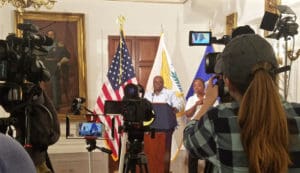 Gov. Kenneth Mapp on Monday announced relaxed curfew hours for the territory. The announcement was made at his daily news conference updating the territory on hurricane recovery efforts.
For St. Thomas-St. John, the curfew will be in effect from 7 p.m. to 6 a.m. St. Croix will be under curfew from 7 p.m. to 10 a.m.
Mapp also said he will meet with President Donald J. Trump Tuesday at 11 a.m. somewhere between Puerto Rico and Vieques on a U.S. naval vessel.
The Department of Labor is two weeks overdue in issuing unemployment checks due to power issues. Generators are being brought in and options to do payments via ACH – electronic payments made through the Automated Clearing House – are being explored so that everyone can get paid by the end of this week.
The federal Blue Roof Program has run into some issues with subcontractors. Earlier reports said contractors were to install as many as 200 tarps onto roofs per day. A more realistic number is 50 tarps per day, Mapp said, although only 47 tarps have been installed to date on St. Croix and it has now been eight days since the program was initiated on the island.
"We've got to do better than we are doing," Mapp said, as 13,000 homes will qualify for the program in the territory. Mapp will meet with the U.S. Army Corps of Engineers in order to try to rectify this issue.
Two barges carrying AT&T supplies have arrived in the territory and additional towers have been powered and are now functional. This will aid in more connectivity throughout the islands and will improve as the week goes on as more of the 28 AT&T towers are powered.
While flights will resume on St. Croix at the Henry E. Rohlsen airport on Thursday, the St. Croix-St. Thomas Ferry will not resume operations until the Gallow's Bay port is opened. There are sunken boats in the port that have to be removed before the ferry will become operational. However, the St. Thomas-St. John ferry is running between Cruz Bay and Red Hook.
Although acknowledging it might be an optimistic projection, Mapp mentioned that schools on St. Croix may start operating Oct. 16. However, the focus right now is opening schools up on St. Thomas and St. John on Oct. 9. Additional contractors have been added to assist in removing debris from St. John.
Almost everyone in the territory will be eligible for one month of the SNAP allotment if they can prove that they lost food in their refrigerator and/or freezer due to the electrical outage during and after the hurricanes. Those who are already on SNAP do not need to reapply.
Points of distribution will be open on both islands tomorrow, with two additional sites on St. Croix: St. Mary's School in Christiansted and St. Gerard's Hall in Frederiksted. All other distribution sites will remain the same and the hours of distribution will be from 10 a.m. to 2 p.m. in the St. Thomas-St. John district and from noon to 4 p.m. on St. Croix. Tarpaulins also will be distributed at the distribution sites, and 1,000 tarpaulins were distributed Monday.
"We have enough supply not to ask FEMA for more food supply," Mapp said, implying that the territory will use only the supply already on hand.
The U.S. Postal System was open on St. Croix from 11 a.m. to 4 p.m. Monday, with all post offices open with the exception of the Frederiksted Post Office, which is closed until further notice.
Both the movie theater and the bowling alley have re-opened on St. Croix. The bowling alley has free Wi-Fi and the kitchen is open. Banco Popular also is opening its branch in Sunny Isle from 11 a.m. to 3 p.m. and its Orange Grove ATMs are now fully functional 24 hours a day.
Police Commissioner Delroy Richards urged drivers to be careful and mentioned that some streets have been blocked off and traffic has been diverted due to a sink hole near the St. Georges area on St. Croix. Richardson urged drivers to slow down at intersections as street lights are still not functional, especially at night.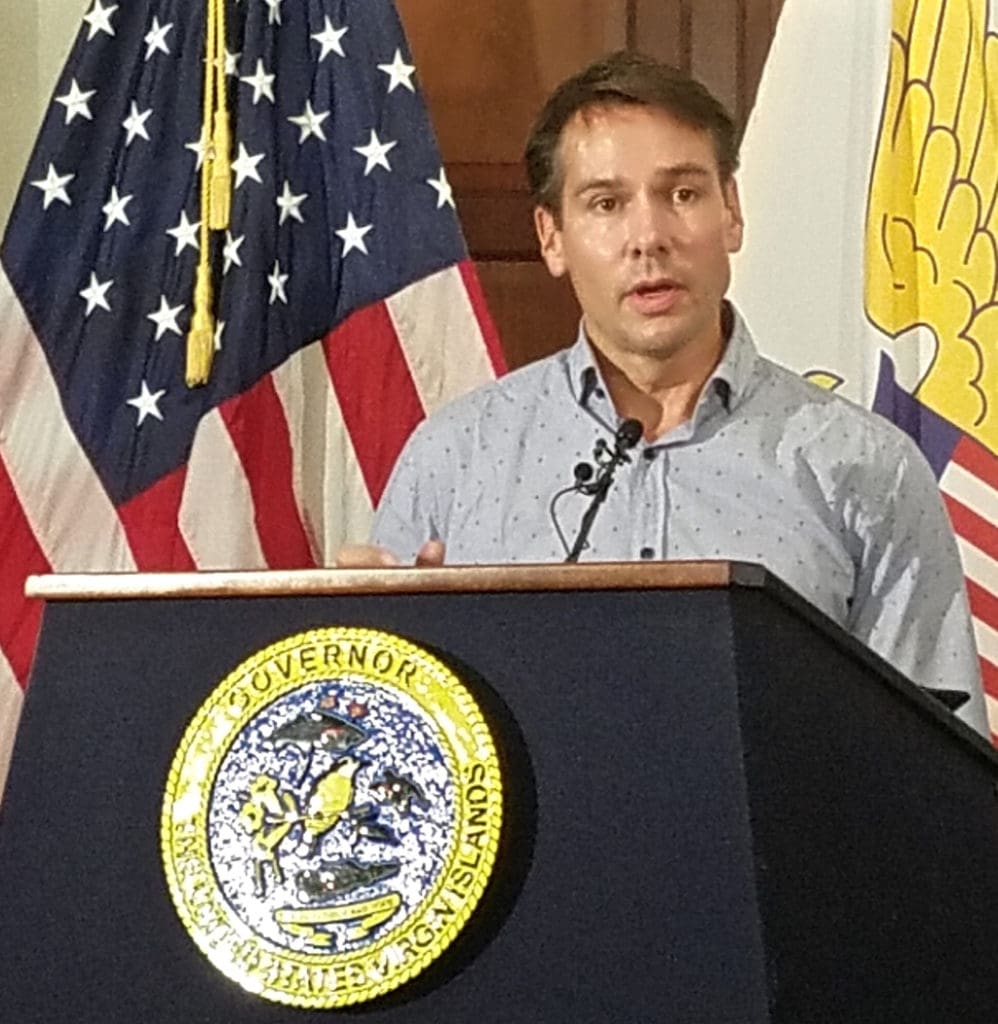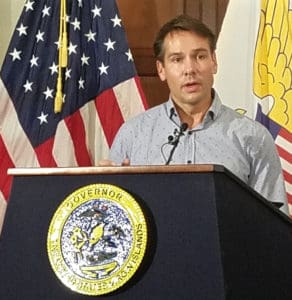 Mark McGibbon, president and CEO of the V.I. Next Generation Network, announced additional hot spots on St. Croix, at Government House, the American Red Cross across from Sunny Isle shopping center, Cost-U-Less and the D.C. Canegata Ballpark.
The governor warned that future hurricane seasons may continue to see more and more powerful storms.
"Hurricanes will be coming more often and they will be more ferocious," he said.
For this reason, Mapp said he will ask Trump on Tuesday about placing the territory's power lines underground so that repairing the damage caused by severe weather may be more efficient and quicker. Other issues that will be discussed with the president will be the Special Community Disaster loan under the Stafford Act, changing the share of the Medicaid program that has to be paid by local government, and money for infrastructure repair.
When asked about funds from FEMA and whether the Virgin Islands had enough funds to spend in order to be reimbursed by FEMA later on, Mapp responded that the V.I. government receives funds from FEMA through the Stafford Act. This act manages the relationship between FEMA and local governments and allows FEMA to advance dollars for certain parts of recovery. $18 million have already been advanced, with $6 million going to WAPA. Based on the FEMA worksheets, the V.I. government is able to spend millions of dollars for relief because FEMA is advancing new money. Mapp closed my saying he hopes 90 percent of Virgin Islands homes have their power restored by Christmas.