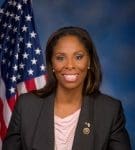 Delegate to Congress Stacey Plaskett returned to the Virgin Islands today, updating residents about the ongoing efforts underway in Washington, D. C., to help aid in the territory's continuing recovery efforts from Hurricanes Irma and Maria.
She traveled to Puerto Rico with a Congressional Delegation that included Sen. Marco Rubio (Fla.), Coast Guard Commandant Admiral Paul Zukunft, and Gen. Karl Schultz, who is the Theatre Commander for the Caribbean Region. Plaskett will be continuing the work that she and her staff have been doing in support of the islands' overall recovery efforts including facilitating generators and security for local grocery stores and businesses so Virgin Islanders can get fresh food and goods; working with local shipping companies to clear the ports and bring commerce and relief packages to the islands; coordinating housing support with the Red Cross, local shelters and rebuilding efforts with the U.S. Army Corps of Engineers.
Additionally, she will be updating residents and businesses around her ongoing efforts to make sure that the U.S.V.I. continues to receive the attention and support it needs during these difficult times. "While the devastation of this hurricane season has been felt in many parts of our country, it is imperative that we make sure our Virgin Islands continue to be remembered and supported as we begin the long and arduous process of our recovery," said the delegate.
Throughout the past several days, Paskett has continued to press her fellow Congressional colleagues on the importance of not forgetting the islands, which face an even longer road to recovery and greater challenges ahead of them in the rebuilding process than states in the mainland do.
Speaking in support of Plaskett's efforts, House Democratic Leader Nancy Pelosi issued a statement today calling for swift and immediate [aid] for Puerto Rico and the Virgin Islands.
"The Trump Administration must act immediately to make available additional Department of Defense resources for search-and-rescue operations, law enforcement and transportation needs. At the same time, Republicans must join with Democrats in Congress to address the needs of the communities in crisis by swiftly passing a robust relief package that provides assistance not only today, but throughout the long road to recovery," said Leader Pelosi.
"Our fellow Americans in Puerto Rico and the Virgin Islands deserve to know that their government will be there for them without question or hesitation."
Also, Plaskett recently met with the ambassador to Denmark, who has agreed to support the territory and submitted the request to Danish government to bring their own additional Emergency Management Agency to the territory in support of ongoing efforts in areas such as: healthcare, water purification systems and experts, command control support, and logistics for clearing and security support.
"I expressed our gratitude to Denmark for their offer of assistance. Any, and all support for our people is welcome at this critical time," she said.
Plaskett will be in the territory to continue her meetings with businesses and residents, while assisting with the recovery process and hearing first-hand about the immediate needs of the territory.