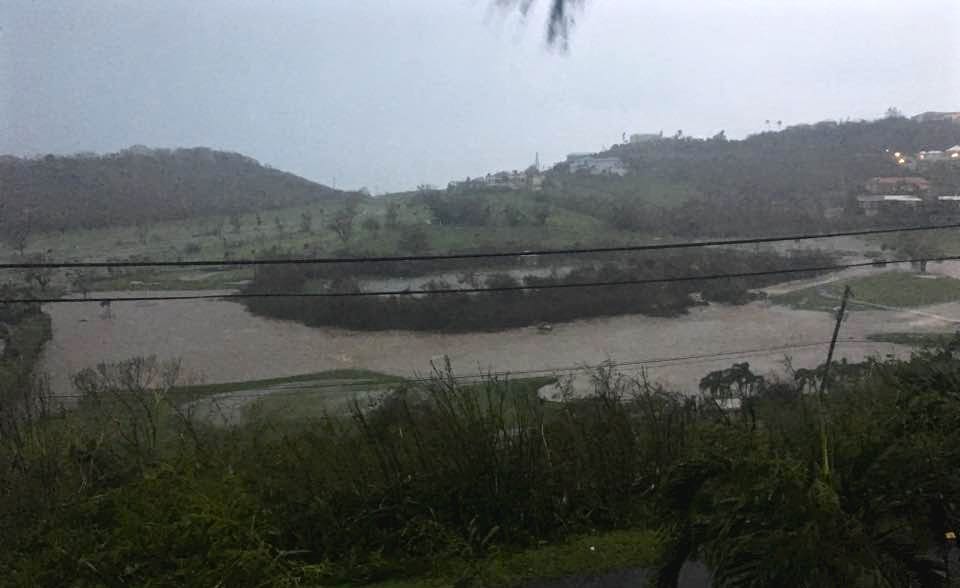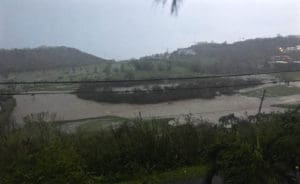 A 24-hour curfew remained in effect across the territory as police, Red Cross, Public Works, National Guard and other crews try to clear some of the wreckage in the streets of St. Croix and floodwaters recede on St. Thomas.
V.I. Police Commissioner Delroy Richards said around noon Wednesday that the V.I. Police Department and the National Guard are putting together an action plan.
"We are going to be establishing check points and enforcing the curfew," Richards said. "We've got too many people on the street interfering with clean-up efforts."
He also said Gov. Kenneth Mapp had not lifted the curfew on St. Thomas or St. John, which were hit less severely by wind but experienced severe flooding.
Anyone who needs help is urged to call VITEMA Emergency Operations Command at 340-773-2244 on St. Croix and 340-774-2244 on St. Thomas.
There are still few signs of people badly hurt, but it is too early to know for sure.
Melody Rames of Frederiksted reports that people are on the road, however. Without radio, TV or internet and very limited cell service, many are unaware that curfew is still in effect.
Driving from Grove to Fort Frederik, Rames said she "mostly saw a lot of tree damage."
"There were plenty of people out driving but you had to weave in an out on the road."
There were a lot of fallen trees along Centerline Road. One fallen tall mahogany was down by the road, with its massive root ball upended into the air.
"It was between 12 and 16 feet" in diameter, she said.
Older buildings seemed to fare better than newer ones, she said, before the phone connection faded out.
Reports and photos online show St. Thomas' Cyril E. King Airport does not appear to have suffered much more damage than it already had from Hurricane Irma.
Two of the car ferries for St. Thomas and St. John were photographed beached and damaged.
While there is no word yet on the condition of Gov. Juan F. Luis Hospital or the Henry E. Rohlsen Airport on St. Croix, numerous people have posted on social media that both appear relatively unscathed.
The V.I. Department of Tourism reports the Buccaneer has been spared major damage and guests and staff are safe.
The owner of Cottages by the Sea in Frederiksted posted video of the property Wednesday morning and confirmed that popular west end establishment was largely OK.
Solar panels by U.S. District Court outside of Christiansted are demolished and strewn everywhere.
Fundraising efforts for recovery are increasing.
The Community Foundation of the Virgin Islands has set up a tax-deductible charitable fund for donations to help the recovery effort. Go to this link to donate: https://www.usvirecovery.org.
Thanks to the quick response of former Catholic of the Virgin Islands director Michael Akin, the local agency has received a $50,000 gift from Catholic Charities USA for hurricane relief.
Akin, who retired two years ago after 12 years with the organization and moved to Indiana, returned and personally delivered the gift along with much needed supplies from Catholic Charities.
Akin did not know Maria was on its way when he boarded a flight to the territory several days ago.He said the money will support CC's programs on all three islands. Helping the homeless is the charity's most visible program, but Akin was emphatic that anyone who cannot get help elsewhere will be supported by Catholic Charities of the Virgin Islands. He also said they will likely provide more help in the nature of counseling and other services too.
"As soon as housing is available, I expect personnel from Catholic Charities USA to arrive and offer further assistance," Akin said.
Diageo, which owns the Captain Morgan distillery on St. Croix, has promised $1 million to V.I. hurricane victims, on top of another $250,000 it pledged over the past month, according to The Spirits Business, an online the liquor trade industry magazine.
Suntory Holdings, the owner of Cruzan Rum, has contributed $1 million to the American Red Cross too, according to The Spirits Business.
Those two companies have distilleries on St. Croix that have benefitted tremendously from V.I. largesse, largely due to competition with Puerto Rico for rum sales and rum manufacturing commitments.
While those contribution are invaluable, for context, the V.I. Government pays the two companies roughly $100 million every year in direct monetary subsidies. The Diageo distillery's construction was entirely paid for with bonds paid by federal tax revenues due to the V.I. government. Cruzan also received major capital improvements at V.I. expense. Neither company pays V.I. taxes but their employees do pay V.I. income tax. The money for the subsidies comes out of federal excise tax revenue the U.S. government remits to the territory.