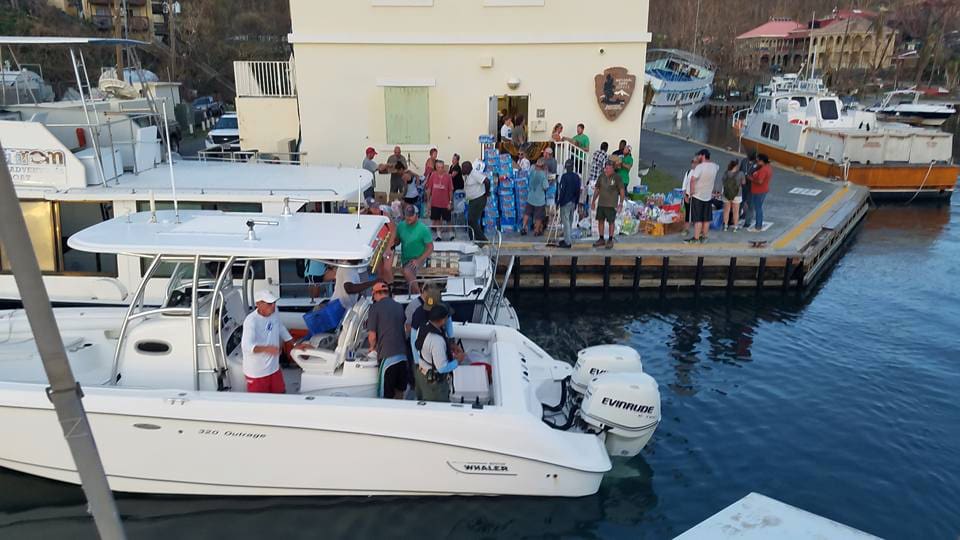 Despite a lot of ugly, false and exaggerated rumors on social media and many genuinely difficult realities, help is coming into St. John and St. Thomas at a fast-increasing pace and boats are starting to ferry the people stranded in shelters off to St. Croix and Puerto Rico.
One of the rumors being broadcast is that no one can get off of St. John or St. Thomas. That was true for the first couple of days, with closed harbors and airports, but relief has arrived and ramping up quickly. The Coast Guard opened St. Thomas's Charlotte Amalie Harbor, Crowley Terminal, V.I. Port Authority Sandfill Terminal and the Tropical Terminal without restrictions Sunday. The Christiansted Harbor; Cruz Bay on St. John and Redhook, St. Thomas are only open during the day.
With normal ferry service halted and the St. Thomas airport still not open to commercial flights, multiple ship operators have stepped up, bringing in supplies and ferrying evacuees away for the past couple of days.
Charter tour operator Caribbean Sea Adventures on St. Croix put their several large motored catamarans into service over the weekend, rounding up volunteers and donated supplies and bringing them to St. John, taking passengers off, free of charge.
It started with their small vessels, 36-passenger Betty Ann; 36-passenger Milemark and the smaller Boston Whaler vessel Recovery. Big Beard's catamaran Adventure joined the effort Sunday, Michelle Griffith, a crew member with Caribbean Sea Adventures, said Monday.
Matt Ridgeway, the company owner, spearheaded the effort, she said.
They are bringing passengers back free of charge.
Griffith said those who want to get a ride out can call 340-227-9055.
"It is totally for free," she said, adding that they do ask those who have money to please donate to their gofundme account and all the proceeds will go to the relief effort.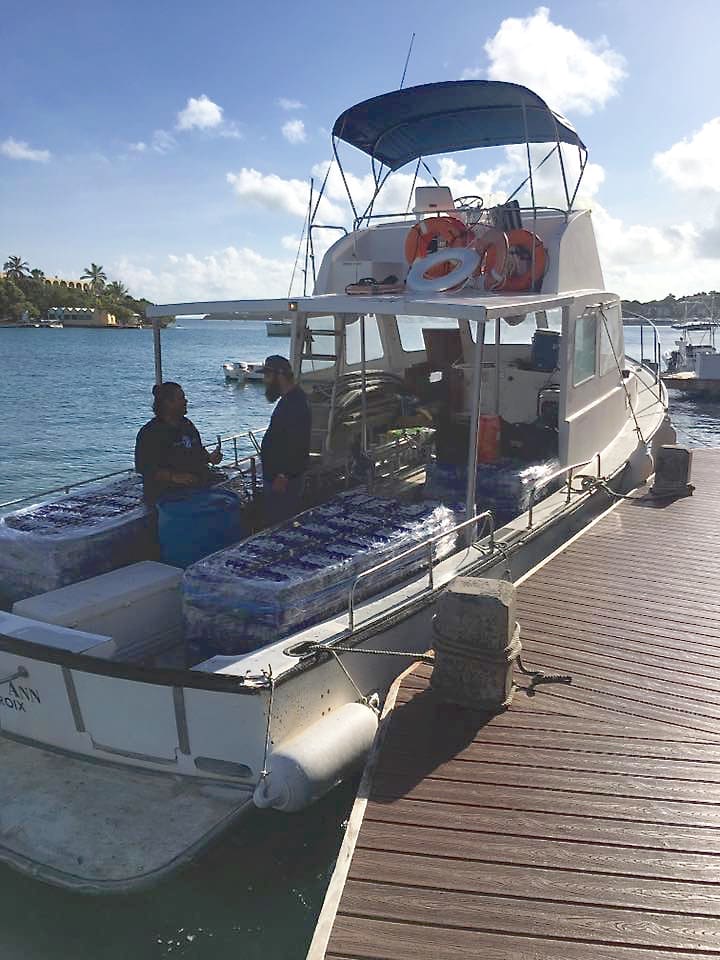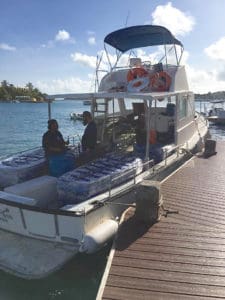 They depart out of Cruz Bay, St. John. Social media sites have posted specific departure times but Griffith said those were totally inaccurate and the arrival and departure times were variable, depending on a lot of factors.
"We brought 33 over last night and maybe 13 the day before," Griffith said Monday, when asked how many they had been able to bring to St. Croix.
Those are small numbers. But they are not alone.
East Island Excursions out of Fajardo, Puerto Rico, has enlisted their three power catamarans to ferry people from St. Thomas and St. John.
"We started by donating ourselves; some water and other first necessities," Nicole Olmeda wth East Island Excursions said Monday.
They also set up a gofundme account to buy more supplies.
www.gofundme.com/virgin-islands-relief-from-Irma
"We are departing from Fajardo in the morning with boats loaded up with provisions. … We are donating this service. We are not charging anyone to bring them to Puerto Rico. We also have shuttle service to San Juan to get to a hotel or the airport," Olmeda said.
Several other charter companies have joined with them, expanding the number of boats bringing people to Puerto Rico.
"We are all working together, hand by hand, to help out," she said. They are hoping to start going to Tortola, British Virgin Islands by Wednesday, she said.
Olmeda said people can reserve a seat to Puerto Rico by calling 787-860-3434.
Even combined, those boats still can only bring a small number of evacuees. But they are not alone. There have been a few smaller free-lance relief efforts from St. Croix, on smaller, private vessels.
And the St. Croix-St. Thomas Ferry is running. It is not carrying paying passengers, so you cannot buy a ticket – yet.
But Sept. 7, a day after the storm, the operators of the St. Croix-St. Thomas ferry called and offered the use of the new fast-ferry, designed by entrepreneur Warren Mosler, for relief efforts, free of charge, V.I Emergency Operations Command Chief of Operations Antonio Stevens told the Source.
After the call, later on that evening "we found there were 200 displaced persons held up in a church on St. John," Stevens said. So Saturday they put 4,000 pounds of goods on the ship and sent it to St. John.
"The plan was to start bringing those displaced persons. … The first day we had to get Coat Guard clearance so we only had one trip the first day," he said. The first evening they brought back 60 passengers, some of whom opted to stay in hotels while many flew out the next day, according to Stevens.
One person was injured and went to the hospital, Stevens said.
The next day – Sunday – they ran another load but before they got halfway the propeller broke and they had to limp back to port and a Coast Guard vessel took the supplies over.
"We didn't anticipate being able to go again, but the boat captain called that night and said they were ready to go in the morning and asked if I had a load," Stevens said. They brought 40 Red Cross volunteers and their belongings, along with some supplies.
"We made two stops: One on St. Thomas to drop off the personnel and one on St. John for the goods," he said.
Monday, they were able to make two trips, bringing another 20 displaced persons on the first trip.
"Some had family members here (on St. Croix) whose homes they went to, but the shelter is still there for them if they needed it. Some wanted to go to the shelter for a hot meal and fed themselves before going to a hotel," he said.
"As we speak the vessel will be pulling back into port," he said, around 6:30 p.m. Monday.
They agreed with the Coast Guard to wrap up activities before dark, because the channel marking buoys were blown out of position and have not been moved back, he said.
Soon, possibly by Thursday or so, they may return the ship to the company for regular ferry traffic, because air travel may start and cruise ships are arriving to transport large volumes of passengers,he said.
The EOC announced Sunday evening that two cruise ships will transport visitors from St. Thomas on Tuesday, from the West Indian Company dock at Havensight.
Subject to changes in sea conditions, Norwegian Sky will leave St. Thomas at 4 p.m. and take passengers directly to Miami. Royal Caribbean's Majesty of the Seas is estimated to depart St. Thomas late Tuesday night for San Juan, Puerto Rico.
Those at hotels can speak with hotel management to get on the list for the ships. If you are a visitor not staying at a hotel or if you are unable to communicate with hotel management to get on their list, there is an online form you can fill out:
At a press conference Monday evening, Gov. Kenneth Mapp said the two ships have a combined capacity of around 4,000 passengers.
They are also bringing in supplies. Mapp said he asked "specifically for bags and bags and bags of ice," and has asked officials to arrange a 20-foot refrigerated container to bring some to St. John.
These supply efforts are on top of the much larger relief operations of the U.S. military, FEMA and the Red Cross.
The Coast Guard and it's partner agencies are continuously working together to bring post Hurricane Irma relief such as water, baby formula emergency ration meals, generators and other equipment ashore, along with other emergency responders to assist the victims of Hurricane Irma in the U.S. Virgin Islands.
The cutter crew was also delivering equipment for the Coast Guard Marine Safety Detachment personnel whose unit and homes were severely impact by the hurricane.
In a statement Monday, Tourism Commissioner Beverly Nicholson-Doty said 150 tourists have been flown out on a Delta Airlines humanitarian flight. Among those were some who were prioritized due to medical conditions, she said.
Mapp said Monday the ferries between St. Thomas and St. John are starting to run again and that the Cyril E. King Airport should resume commercial flights on Sept 16.
All in all, conditions remain rough but the level of relief and the ability of those on St. John and St. Thomas to leave are rapidly increasing.