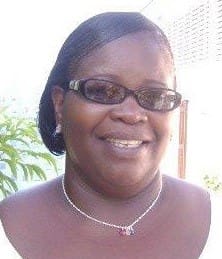 Rhea R. Roberts of Estate Sion Farm died on Wednesday, Aug. 23. She was 54 years old.
She is survived by her mother, Vivian Mason; daughter, Shanice Joseph; son, Sha-Quan Joseph; sisters: Alexis, Ruth, Ruby and Roxanne Roberts, Rochelle Roberts Williams and Roslyn Roberts-Francis; brothers: Roland and Ronald Roberts, and Kareem Merchant; sister-in- law, Tiffany Thomas Roberts; brothers-in-law: Shawn Francis and Andre Williams; nieces: Sherishma Pennyfeather, Keyra Moolenaar, Jaleesa Woodrup, Keyrhea Ritter, Destinee Francis, Zaria and Zamira Knight, and Julissa Daniel; and nephews: Ernie Ritter Jr., Roland Roberts Jr., Akeem Glasgow, William Glasgow Jr., Shawn Francis Jr., Roshawn, Raymond and Ronald Roberts III.
She is also survived by great nieces: Tiera Polanco and Amiyah James; great nephews: R'Mani Ramsingh, Jaden Ross, Kade Roberts, Kaiden and Kyrie Tanco; aunts: Michelle Murray, Sharon Christian, Alexandrina, Eurita and Mrytle Roberts, and Joyanne Aarndel; uncles: Elroy Roberts and Elton Murray; and special relatives and friends: Alicia Nanton Quetel and family, Marcellino Ventura and family, Celia Simmonds, Ellie Roberts, Anderson Merchant, Patricia Gomes, Ruth George, Julio Carrion, Maria Thomas-Lewis, Nicole Vidal, Robert Ramsingh, Wilma Fredericks, Abraham Fredericks, Wilbert Dennis.
Other survivors include special relatives and friends Velma Thomas and family, Madeline Garcia, Keverine George, Lydia DeFour, Esteban Christian, Aretha Ventura, Josephine Hector, Jennie Lambert, Victoria Woodley, Nicole Christian, Thomas Greenaway, Shermaine Miller, Lahoma Roberts-Smith, Sharon Armstrong and family, the Roberts family, the Mason family, the Simmonds family, the Aarndel family, the Benjamin family, the Murray family, the George family, the Henry family, the Milligan family, the Miller family, and the employees of the St. Croix Department of Human Services; as well as other relatives and friends too numerous to mention.
The family requests that those in attendance wear festive colors.
The viewing will take place at 10 a.m. followed by the funeral service at 11 a.m. on Saturday, Sept. 16, at Calvary Baptist Church. Interment will be at Frederiksted Cemetery.