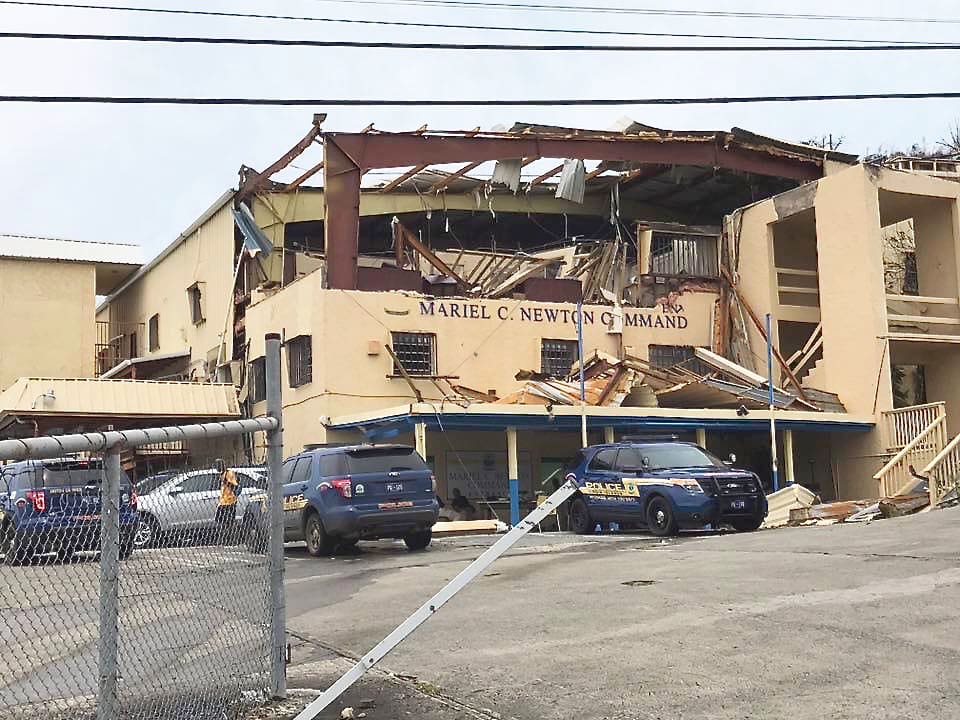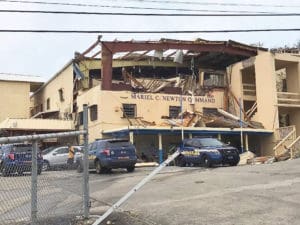 Police failed to do their jobs on parts of St. John in the first days after the storm, Gov. Kenneth Mapp said during his update on storm recovery efforts Tuesday evening.
"I understand tremendously the concern, particularly of folks on the eastern end of St. John and Coral Bay who are very concerned about the lack of a security presence in Coral Bay, particularly following the storm," Mapp said.
"There was some breakdown in the leadership in the early days following the storm at the VIPD and the commissioner, I and his chief had a conversation about that and I will leave that to the police commissioner to deal with those particular issues."
As he did at Monday's update, Mapp reiterated that no rioting or unusual level of violence on St. John despite social media claims.
Police Commissioner Delroy Richards also commented very briefly on the issue.
"As the governor mentioned when we had the initial storm in the territory there were some issues on St. John that had to do obviously with supervision. There was a breakdown. We quickly recognized that and we corrected that particular deficiency. There's a couple of things that we know that we could have done differently and we are in fact correcting those deficiencies. All in all I believe that St. John is receiving the attention that it deserves," Richards said
V.I. Source reporters living on St. John and in Coral Bay did not report violence. But Amy Roberts, freelance journalist for the Source and the St. John Tradewinds, who lives in and was stranded in Coral Bay after the storm, reported there were break-ins and some looting.
Roberts reported thieves broke into the office of St. John Insurance at Mongoose Junction; the Little Switzerland jewelry store had a broken window and that there "have been rumors of looters moving around in neighborhoods where they think nobody is in the house." (See: Help Arrives for Storm-Battered St. John in Related Links below)
There have been incidents of crime during curfew and police have made arrests, but the reports of massive crime and violence are untrue, Mapp said.
"We can say with confidence a lot of the reports of mass looting and violence, there is no data to support any of that," Our 911 center is functioning, the police stations are up and no one is coming in and reporting that they are themselves victims of crime," Mapp said.
Going back to 2004, there have been complaints that the Coral Bay substation is often unmanned.
On Sept. 8, Roberts reported that 15 police officers were on hand in Coral Bay. (See: Cut Off by Irma, Coral Bay Residents Pitch In, Hang On in Related Links below)
Mapp said Tuesday that when he toured with the national media earlier in the day he found "the security presence on the island is significantly strong," saying there were 40 V.I. National Guard troops and more than 20 V.I. police officers there at present.
Also, Mapp said "Marines did land in Coral Bay," and are clearing the road from Coral Bay toward Cruz Bay. Teams have already been clearing from Cruz Bay toward Coral Bay, he said.
Three restaurants were actually cooking hot meals fr people, Mapp said.
FirstBank Waiving Payments
Mapp also said FirstBank VI had agreed to waive loan payments for St. Thomas and St. John customers. Personal loan, credit card and car loan payments would automatically be waived, he said. But for those with mortgages "you need to go to FirstBank and they will work with you on a deferment," he said.
New Chief of Staff
Mapp announced Tuesday that he was naming Eugene Farrell to be his new chief of staff- a post that has been empty since the departure of Randy Knight from the post. Farrell, a career V.I. firefighter, served as Mapp's choice to head the V.I. Fire Service for the first year of the administration, before Mapp tapped him as a senior policy advisor.
Mapp also announced that four gas stations on St. Thomas are being allowed to operate from 6:00 p.m. to 8:00 p.m., two hours into the curfew. They will serve only first responders. The stations are: Gottlieb's Quickway, Rodriguez Auto Parts, Racetrack Gas Station, and PG Gas Station in downtown waterfront.
Curfew Continues But May Be Shortened Soon
The governor said the Emergency Operations Command is considering shortening the curfew and may make an announcement Wednesday, but for now, he asked St. Thomas and St. John residents to obey the 6 p.m. to noon curfew.
Donations Website
There is a new website to accept donations to help the territory rebuild: www.usvirecovery.org. It will be managed by the Community Foundation of the Virgin Islands.
Vaccines
The Commissioner for the Department of Health had many promising updates on access to medication and vaccines.
AmeriCorps is offering to send 1,200 tetanus vaccines. The department also received a call from Bristol-Myers-Squibs and they have offered to donate HIV medications.
According to the Walgreens representative for the Virgin Islands Puerto Rico, Walgreens is prepared to donate vaccines and medications as well.
Shelter Closing
Mapp announced the shelter at Knud Hansen Complex is closing and those staying there will be relocated to Charlotte Amalie High School. He said the generator stopped working and there had been no electricity for more than 24 hours.
Also discussed:
— FEMA provides contact information for persons wishing to apply for Individual Assistance. Telephone number 1-800-621-3362 and online www.DisasterAssistance.gov.
— Mapp is directing that Individual Assistance application information be distributed and posted throughout the community.
— The V.I. Department of Labor is preparing information about dislocation benefits for private sector employees, for services like unemployment benefits.