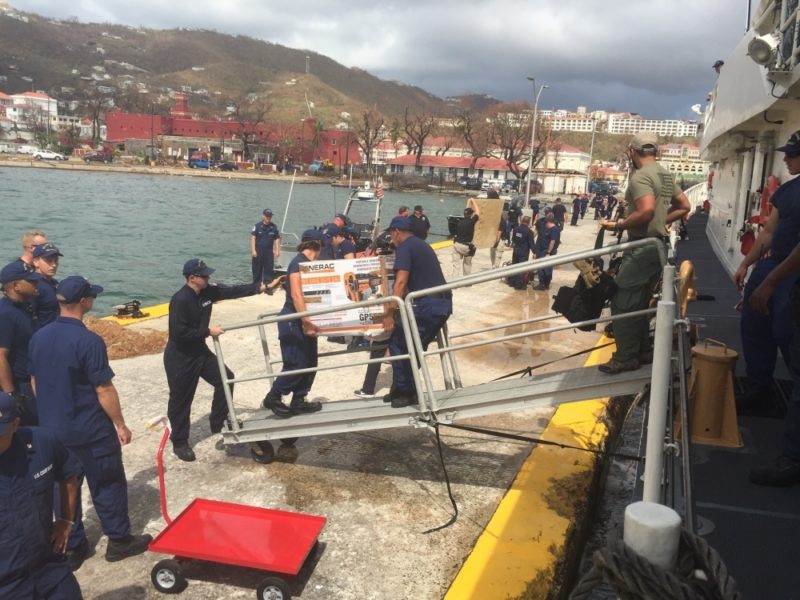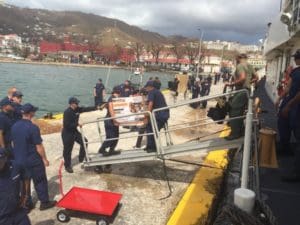 Exaggerated and false social media postings mixed with genuinely scary realities on the ground have ginned up a degree of hysteria that is not helping recovery efforts or giving people a realistic view of the situation on the ground in St. Thomas and St. John. Social media has been incredibly important in getting information out quickly. But very real pressing issues can be lost in the din of false and exaggerated rumors.
One of the rumors being reposted on several Facebook pages and other websites is an anonymous claim, purportedly texted to someone, that "police are hoarding the MRE's (military meals ready to eat) from the Red Cross and saying they are only for police and power employees."
People on the ground on St. John say otherwise.
"The first distribution took place Saturday at the Coral Bay Fire Station and at the Winston Wells ball field," Freelance journalist Judi Shimel told the Source Monday.
"Commodities were distributed Sunday around noon at Wells Ballpark. Gov. (Kenneth) Mapp landed on the field in a Customs and Border Patrol helicopter around the same time," Shimel said.
Shimel reports that supplies arrived in Coral Bay, at the fire station around 1:30 p.m. Sunday by pickup truck and were offloaded by members of the Fire Service.
"I stopped by and picked up two cold waters to carry home to Hansen Bay, and signed for commodities. I came back about an hour later to pick them up because they weren't ready to distribute at 1:30 p.m. I received a case of one liter drinking waters and a box of MREs," Shimel said.
Another misleading rumor being broadcast is that no one can get off of St. John or St. Thomas. That was true for the first couple of days, with closed harbors and airports, but relief has arrived and it is ramping up quickly. (See: Supplies Coming In, People Getting Out of St. Thomas, St. John in Related Links below)
On St. Thomas, several people raised the alarm on social media that some elderly, sick and people otherwise limited in mobility in Fortuna on the western end of the island were trapped because roads were still blocked as of Saturday. Emergency Operations Command officials were unable to verify or dispute the reports initially and reporters on the ground asked around and no one seemed to know anything. Source reporter Kelsey Nowakowski spoke with a farmer from Bordeaux, west of Fortuna, Monday, who reported the main road was not cleared until Sunday and the only way in or out was a back road that could only be traversed with a four-wheel drive vehicle.
Others have reported widespread looting and a growing threat of violence. Reporters on the ground have confirmed that there are rumors of isolated looting but paint a picture more of people working together in a difficult situation.
There is chaos in the aftermath of the storm and there has been ugliness after hurricanes in the USVI in the past. And violent crime is an issue in the territory. The V.I. homicide rate is alarmingly high, with far too many young men shooting each other in an endless cycle of retaliatory attacks. Burglaries are too common. A burglary and kidnapping occurred on St. Croix this week. Fortunately, no one was killed and the suspects have been arrested. False rumors make it difficult to ascertain when bad things are actually happening.
Police Commissioner Delroy Richards said in a statement Monday that there have been some arrests for curfew violations on St. Thomas, but no reports of serious crime associated with the storm or its aftermath.
The same V.I. Government statement asserts that social media posts about stolen firearms and widespread looting on St. John are unfounded.
"Contact has been made with the Jurgen Command in Cruz Bay, St. John, where officers confirm that these and other allegations about lawlessness are false," V.I. officials said in the statement from V.I. Emergency Operations Command.
At a press conference Monday night, Mapp said there had been rumors of children being killed and said the confirmed fatality count from Irma still stood at four, with none of them being children and none victims of violence.
He said that national media are flying into St. Croix Monday night and touring St. Thomas and St. John on Tuesday.
"It is very important that we get our story out," Mapp said. For one, many people stateside have friends and family in the territory and "people are concerned about friends and family that they cannot reach," he said.
Countering the rumors is also important, he said.
"Social media cannot dictate the impressions. … . Folks are getting access to shelter, food and water. … We see that our national government is responding in a very heavy way," Mapp said.
"Tourism is the territory's economic mainstay and it is important for the wider world to see the recovery efforts," Mapp added.
"We don't want people to scratch the Virgin Islands off the list," he said. He wants the world to see that rebuilding is happening, that power systems are up again, "that some hotels are damaged but a number of other hotels are not damaged."