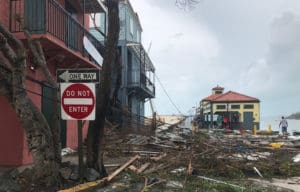 The following is an update on many of the hotels on St. Thomas, St. Croix and St. John.
St. Croix
The Buccaneer: Open for business. Facilities are in good shape, but there may be some limitation of services over the next few days.
Club Comanche Hotel St. Croix: Open and accepting guests as of Friday, September 8.
Divi Carina Bay All Inclusive Hotel: No damage and is open for business.
Hotel Caravelle & Casino: The hotel is open and accepting guests.
Hotel on the Cay: The resort will be accepting guests beginning Tuesday, September 12.
Club St. Croix and Colony Cove: Sustained no damage and are in full operational mode.
St. John
Caneel Bay: Complete power outage at the resort. Team assessing the damage.
Westin St. John Resort Villas: All associates, owners and guests are safe. The resort and the surrounding areas experienced some damage and overall impact is being assessed.
St. Thomas:
Bluebeard's Castle Resort: Everyone who was onsite is safe. The property has sustained major damage, which is currently being assessed.
Frenchman's Reef and Morning Star Marriott Beach Resort: Resort is currently closed. There are no reported injuries. We encourage those planning to visit the hotel to check the news for the most current information and amend their travel plans accordingly. We are waiving hotel cancellation and change fees for specific arrival dates and suggest our customers call 1-800-228-9290 for more information about their reservations. Those in countries outside of the United States seeking information about their reservations should call the Marriott toll-free number in their country.
Margaritaville Vacation Club: With four resorts in the Caribbean, we have been closely monitoring the impacts of Hurricane Irma in St. Thomas and Puerto Rico. At this time, we are able to confirm that all associates, owners and guests who were at Wyndham Rio Mar, Wyndham St. Thomas, Elysian Beach Resort, and Bluebeard's Beach Club during the storm are safe. We will continue to work with our properties to re-establish regular communication and begin the recovery efforts.
Point Pleasant Resort: Everyone at the resort is safe, but without power and cell phone service. The team is currently assessing damage, and will post new information when available.
Ritz-Carlton, St. Thomas: There are no reported injuries.
Secret Harbour Beach Resort: All guests and staff are safe. There is no major structural damage to the buildings. The generator is still working. No cell service except for Verizon.
Updated 9/8/17: Sugar Bay Resort & Spa: All guests and team members are safe. The damage is being assessed and will provide updated information when available.
Windward Passage: Will be closing for six months.