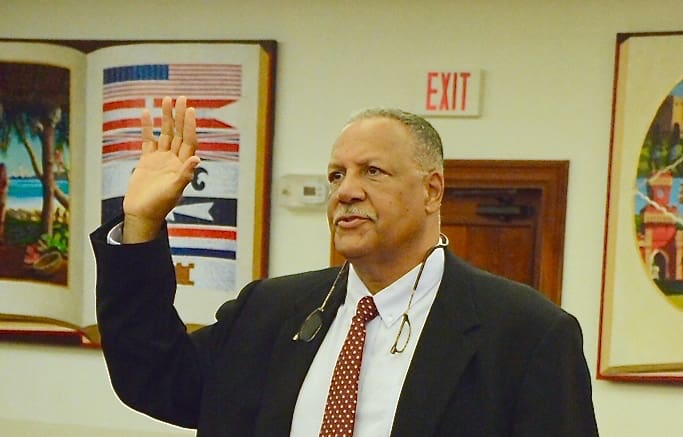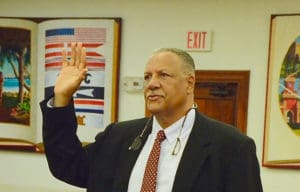 Kent Bernier, Sr., told the Committee on Rules and Judiciary Friday morning he would work to bring Water and Power Authority rates down if appointed to the Public Services Commission.
Bernier said he thought 22 cents a kilowatt hour would be fair (the residential rate is about 33 cents per kilowatt hour.) The senators Novelle Francis, Jr., Jean Forde, Sammuel Sanes, Janette Millin Young, Positive T. Nelson and Janelle Sarauw liked what they heard and voted to move his nomination to the full Senate.
Millen Young and Sarauw had both admitted they had some trepidation when they saw Bernier's nomination by Gov. Kenneth Mapp. Sarauw said, "We have this thing in the Virgin Islands where we recycle people in government."
Bernier worked previously in Gov. Charles Turnbull administration as assistant to the governor for economic and financial affairs and as director of Virgin Islands Public Finance Authority.
However, both senators appeared converted by the passion that suffused Bernier's speech when he said he would work for the people. He said about the present government financial situation and utility costs; "Somebody for the last 10 years enjoyed themselves on the back of the poor people."
However, Bernier appeared light on specifics, saying often that improving the situation was about "education" and "communication." Sarauw referred to one of the answer he gave as "vague."
A couple of the senators expressed the need to move WAPA off fossil fuel as its main fuel for power generation. Sanes said, "Technology is embracing alternative energy; we need to embrace alternative energy."
The only specific mentioned by Bernier about alternative energy was that net metering customers (residents who use WAPA as a battery while supplying WAPA with their surplus energy from home solar or wind systems) be charged a special fee.
This did not go over well with Sen. Wayne DeGraff, who net meters. He said that he was not in favor of such a fee because WAPA was plagued with so many power outages and that shut down his system. DeGraff is not a member of the committee but attended because the panel was slated to hold a hearing on a bill he sponsored.
One specific that Bernier did mention might actually bring WAPA rates up. He said that he was interested in getting the $80 million that VITOL charged WAPA in costs overruns for the propane gas conversion into the rates. The cost overruns almost doubled the cost of the project and the PSC Commission has not approved incorporating the cost runs into residents' rates.
The senator's comments about WAPA were specific about power outages and rates. Francis said he had a particular pet peeve – back billing. He said that his constituents tell him that they are getting bills for $60 a month and then suddenly they get one for $800.
Bernier agreed that with present technology WAPA should not have to back bill 90 days.
Bernier's immediate goals, according to his testimony, were:
– Audit and upgrade current year's financials, policy, and implement new standard operating procedures for WAPA, Waste Management, the telecommunications companies and ferry services;
– Address issues affecting the residents who cannot support themselves;
– Improve staff productivity to better serve the institution.
If approved by the full Senate, his term would be for three years. The commission has nine members.
"I am happy to serve because I know we can do better," Bernier said.
Sen. Myron Jackson was absent Friday. Sarauw replaced Sen. Marvin Blyden on the committee. Blyden was appointed temporarily to fill in until the controversy over the seat Sarauw now holds was ended.