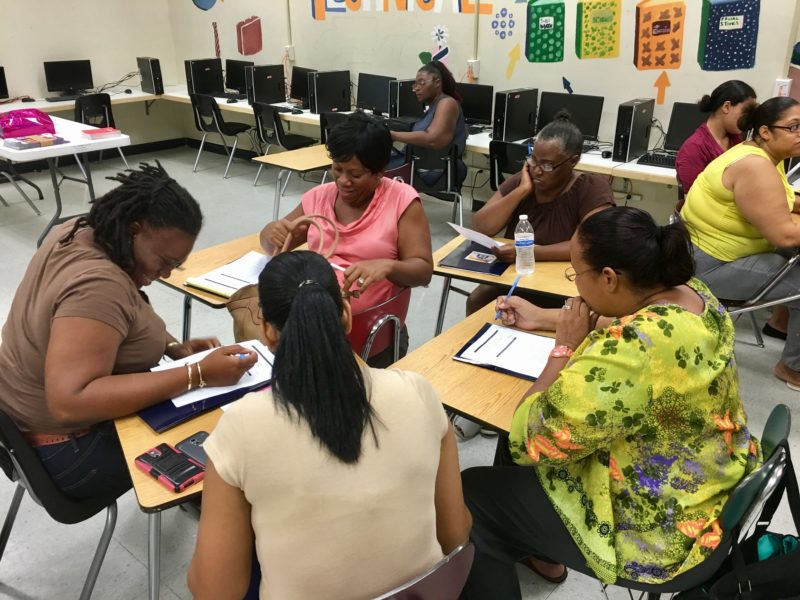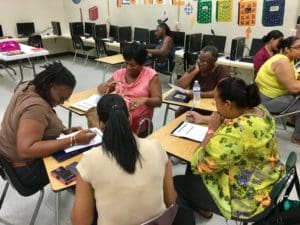 Over the course of the 2016-17 school year, parents in the St. Croix district have acquired valuable parental skills in raising their children to become productive and loyal citizens. These parents attended classes sponsored by the St. Croix Parent University (PU), coordinated by Lorraine Benjamin-Matthew, who works with the Virgin Islands Department of Education (VIDE) as its director of School Community Affairs in the district.
St. Croix's Parent University opened with a three-week general session in the fall of 2016 that was held at the St. Croix Educational Complex. Sessions were held three days a week from 5:30 – 8 p.m. and 11 a.m. to 1 p.m. on Saturdays. In the spring of 2017, PU held two school-based outreach sessions at the Juanita Gardine and Alexander Henderson elementary schools two days per week over the course of two weeks.
"Parent University is a learning experience especially designed to help parents and caregivers get a better understanding of how their children learn and develop; what their child should be learning; how to help their child get the tools they need to succeed in school and how to bring other parents together to work for school improvement," Benjamin-Matthew said.
"More importantly, Parent University provides opportunities for parents to build their own skills and enjoy learning new things," she said.
According to Benjamin-Matthew, the following are positive expectations of parents and students addressed in PU classes:
Limit TV and Electronic Media Time
Praise and Encourage Your Child Daily
Set High Expectations for Your Child
Make Family Time Mandatory
Review Your Child's Homework Regularly
Inquire About Your Child's School Day
Utilize Parental Skills (Exercise Parental Authority Effectively and Fairly)
Communicate With Your Child and School Personnel
Help Your Child Learn
Make the Time to Help Your Child at Home
PU's general session was held from Oct. 25 to Nov. 12 for parents of kindergarten students in elementary public schools. Parents who successfully completed the general session received a backpack filled with school supplies for each child.
The Alexander Henderson Elementary School's Feb. 28 through March 9 outreach session came to an emotional conclusion as participants reported on their experiences at the Parent University. Prekisha Heywood said that although she participated in several sessions, gardening was her favorite. "They taught us how to garden and I really, really enjoyed that," she said. "It is something to do to release stress after dealing with five children on a daily basis."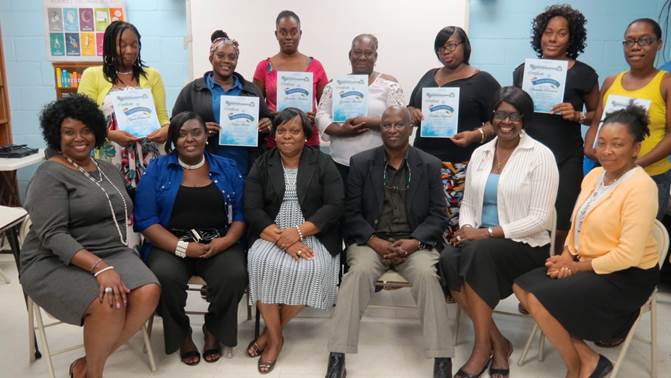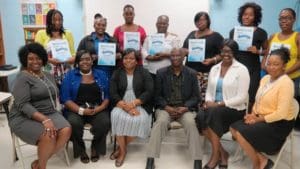 A jubilant Benjamin-Matthew congratulated the parents for attending PU classes regularly at Henderson and for being interactive. "You guys were so engaged and enjoyed the presenters," she began. "We sure did have a wonderful time and you learned a lot, and that was the main objective."
A successful PU outreach program for parents at the Juanita Gardine Elementary School was held from May 9 –18.
PU topics included: How to Manage Stress, Positive Expectations of Parents and Students, Health Awareness, The Importance of Attendance, Farm to School, Child Nutrition, PowerSchool (Parent Portal), Common Core, Testing Skills, Keys to Effective Home and School Communication, School Bus Safety, Cultural Education Awareness and Reading Readiness Skills.
Participants were awarded certificates of completion at closing ceremonies officiated by St. Croix Superintendent Colleen Mae Williams along with deputy superintendents Vaughn Hewitt and Faith George-Boone.