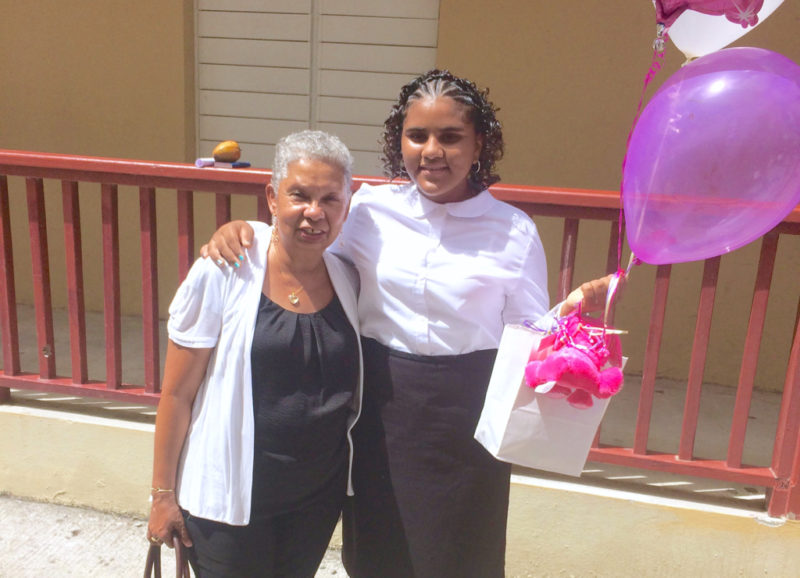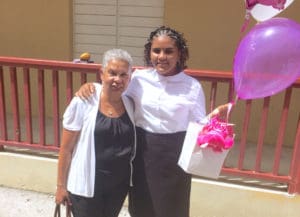 Vianca Medina, a student in the Caterpillar Project at Lew Muckle Elementary School, is accomplishing things in school she never dreamed of doing, like writing a book and reading it to dignitaries and peers. She recently received her first Principal's Award at Lew Muckle.
And it's thanks to the Project Promise program.
Gladys Gonzalez – Medina's mentor at Lew Muckle and a board member for Project Promise, an organization to help at risk youth – said Medina once hated school and had low grades.
Luz Saldana, Medina's mother, said her daughter was not motivated to go to school and struggled with reading. The 12-year-old girl has also been extremely shy.
"She never, ever looked forward to going to school," Saldana said about Medina.
Gonzales said since Medina started the project in 2016 everything about her has changed. The Project's 12 selected students meet with staffers after school doing all types of projects on a daily basis through high school and into college.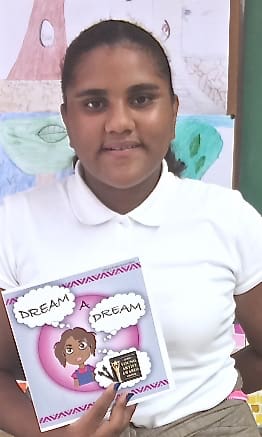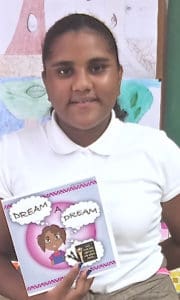 "She's a completely different individual now," Gonzales said.
Gonzales explained she was matched with Medina because both are similar, with a tendency to be shy. Being shy and standing to the back can be very painful, she said. Vianca is a sweet young lady who has come out of her shyness, according to the mentor.
"I want her to be confident and more bold," Gonzales said. "I want her to get up and not always be in fear. I want her to face her fear and not stay in the background."
Gonzales also wanted to sharpen Medina's reading skills. Gonzales, a writer, said she wanted to do something different and out of the norm with Medina. The idea of writing a book jumped out at Gonzales. The two decided to co-author a book about a shy girl and dreams of success. Gonzales and Medina took turns writing paragraphs. A dozen copies were printed locally at Optimal Printing. Medina did a reading of her book, "Dream a Dream," for Soraya Diase Coffelt, a former USVI judge, and her peers in the Caterpillar Project. Gonzales added the book turned out to be a big production and was a fun project.
"I really enjoyed the book project," Medina said. "The whole program has helped me a lot. And I'm actually overcoming my shyness."
She added she has experienced a lot and learned things that will help her be successful.
Medina recently made the principal's list for the last grading period of her elementary school years. Saldana said since kindergarten her daughter felt sad at award times at school because she never received any awards.
"We were very emotional for awards day this year," Saldana said with the sound of joy in her voice. "We cried we were so happy."
Principal Daphne F. Wilson Williams said Medina, one of Project Promise mentees and a recent promoter of Lew Muckle Elementary school, is a humble and loving young lady who recently received the Lew Muckle Elementary School Principal's award due to her remarkable citizenship qualities, significant improvements as a student in and out of the classroom, and enthusiasm for learning.
"Her book is the first of many milestones for Vianca," Gonzales said. "I believe when one dream materializes and comes true there's incentive to work hard and accomplish more dreams."
Medina said she wants Gonzales to continue to mentor her through high school. Gonzales said she will be her mentor as long as God says she can. Gonzales added Project Promise is a worthy and much needed cause to help youth.
More information about the Caterpillar Project, or other Project Promise programs, can be obtained by calling Resa O'Reilly at 340-244-3242. Project Promise is a non-profit organization dedicated to improving the lives of at-risk youth on St. Croix by providing empowerment initiatives, cultural programs and family services. Information is also available online at www.projectpromisevi.com.