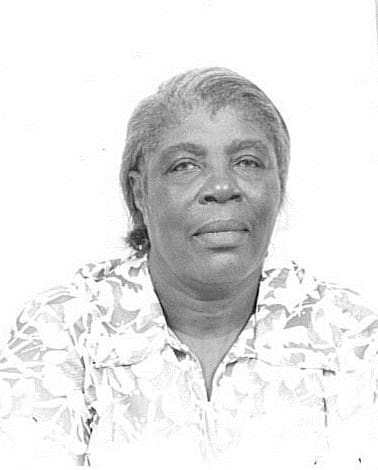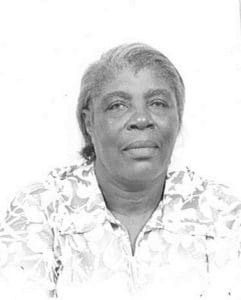 Matile Augusta Soloman, also known as "Mrs. Salo," of Queen Street died on July 1. She was 86 years old.
She was preceded in death by her spouse, Victor A. "Solo" Solomon; mother, Sarah Fleming; father, Samuel Jacob Fleming; sister, Doris Richardson; brothers: Samuel Fleming and Elred Fleming; stepson, Adriane Solomon; great-grandchild, Ciera Byran.
She is survived by her daughters: Doreen Gumbs, Rhona Iola Benjamin, Zenith Jones, Delores Gumbs, Shermaine Davis, Cordelia Solomon and Kathleen Solomon; sons: Leroy Gumbs, Deine Gumbs, Samuel Solomon and James Solomon; stepchildren: Robert L. Brow, Llewellyn Solomon, Curliss Solomon-John and Sandra Solomon-Samuel; and grandsons: Mitchell Bryan, Benjamin F. Jones III, Steven Benjamin, Michael Jones, Jermaine Gumbs, Dion Gumbs, Ozaze Gumbs, Shemar Davis, Rasaan Davis, Isaiah Solomon and Lucas Solomon.
She is also survived by granddaughters: Jaunita Gumbs-Hunt, Tasia Cotton, Cleopatra Pendleton, Tashima Gumbs, April Benjamin, Natasha Sprowl, Nickie Gumbs, Lakeisha Hooks, Shanice Davis, Aleiyah Gumbs-Sprowl and Zoe Solomon; and great-grandchildren: Cameron Bryan, Isaac Bryan, Brandon Bryan, Xavier Benjamin, Gabriel Gumbs, Gabriella Nathan, Abigail Nathan, Tabitha Cooks, Michael Sims, Owen Faison, Jermaine Gumbs Jr., Saniya Grant, Zaiyone Grant, Kay Loveless, Iyanah Rozier, Ashler Taylor, Narquel Thomas, Deja Jones, Cali Jones, Jada Jones, Benjamin Jones IV, Farrell Jones, Laneece Jones, Shelby Jones, Tatiyana Sailor, Little Sailor Jr. and Au'Lyric Sailor.
More survivors are sisters: Miriam Hodge and Leonie Richardson; nieces: Marion Richardson, Bernadine Richardson, Jamine Webster, Lynette Romney, Rona Hodge-Lake, Shirley Stryjewski, Norma Hodge, Lydia Geraud, Vida Fleming, Cynthia Fleming, Lauretta Fleming, Loma Richardson, Verlyn Richardson, Jasmine Richardson, Jane Richardson and Emmeline Richardson.
Other survivors include nephews: Ruben Richardson, Oliver Richardson, Austin Richardson, Vernon Richardson, Ernest Fleming, Emrith "Vandyke" Hodge, Livingston Fleming, Lucian Fleming, Delvin Fleming, Urbane Fleming, Jerome Fleming, Malvern Richardson, Clifton Richardson, James Richardson and Davis Richardson; special friends: Iris O'Donoghue, Ruby Gumbs, John A. Bell, Vincent "Courtesy" Phillips, Iris Perdereaux, John French, Auguste Richardson, Altia Marshall, Doris, the Hendrikson family and the Seale family; as well as other relatives and friends too numerous to mention.
The viewing will begin at 8 a.m. followed by a funeral service at 9 a.m., Friday, July 7, at St. John's Anglican Church, Christiansted. Interment will be in Christiansted Cemetery.