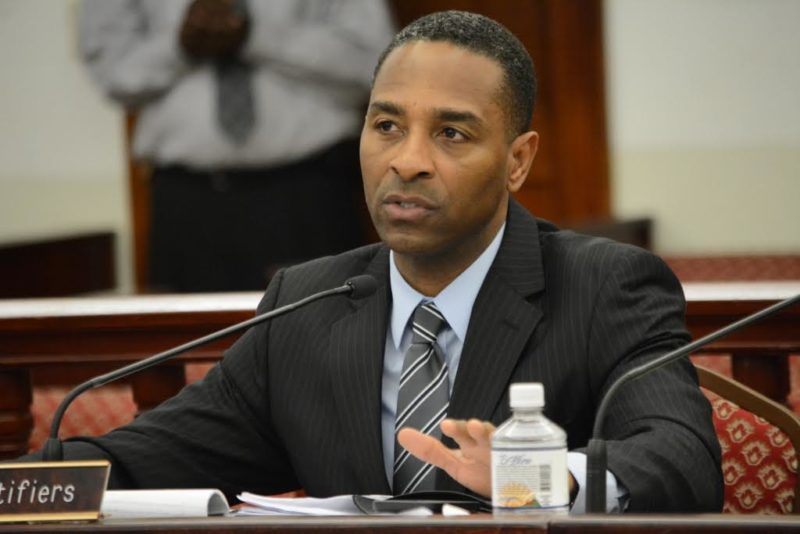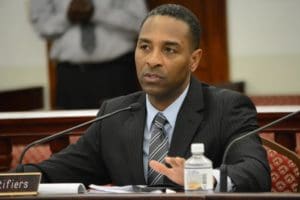 The V.I. Department of Justice is investigating campaign donations from slot machine company VIGL's local representative prior to last year's Senate votes that gave VIGL a horse racing and slot machine franchise, Attorney General Claude Walker confirmed Thursday.
The Legislature approved legislation and contracts negotiated by Gov. Kenneth Mapp's administration giving VIGL a long-term exclusive franchise to run the territory's two horse tracks and put slot machine parlors at the tracks. The agreement requires VIGL to invest $27 million in improvements to the tracks.
In November 2016, before the votes took place, the Source reported that Front Row Associates, whose president is the wife of VIGL local consultant Jack Hearon, had given campaign donations to several senators, in apparent violation of V.I. law. (See "Gaming Company Gaming Legislature?" in Related Links below.)
During hearings Thursday on related bills establishing anti-doping laws for horse racing and consolidating the territory's horse racing commissions, Sen. Dwayne DeGraff (D-STT) asked Walker whether any investigation into the donations could affect the contract with VIGL, if the donations are found to be illegal. DeGraff referred to a very recent series of articles about the donations in the V.I. Daily News,.
"I received money that I returned," DeGraff said and asked Walker to explain the legal doctrine of the "fruit of the poisonous tree" and whether an investigation will affect the contract, based on that doctrine. Walker said the doctrine has to do with courtroom proceedings involving evidence gathered illegally and not contracts. If a criminal case is founded on evidence obtained illegally, later evidence of guilt may be thrown out as "fruit of the poisonous tree," to discourage illegal actions by law enforcement, Walker explained.
Then, Walker said that "at this time I cannot publicly comment on that matter I can say that the Department of Justice is conducting an investigation and we cannot provide further information."
According to campaign finance disclosure documents filed with the V.I. Elections Office, at least seven senators received campaign contributions before the November 2016 election from Front Row Associates, whose president is the wife of VIGL local consultant Jack Hearon. At least 12 received donations from Southland Gaming of the Virgin Islands or its president Robert Huckabee. Southland Gaming opposed the legislation the Senate ultimately approved. Southland Gaming runs "video lottery terminals" on St. Thomas that Southland Gaming Vice President Shaine Gaspard told senators last year are "virtually the same machines, certified by the same labs against the same standards" as slot machines."
Gaspard argued to the senators that the VIGL franchise infringed on his company's exclusive license for video gambling machines on St. Thomas and St. John. He and St. Thomas and St. John video gambling parlor owners also argued their business model contributed more in taxes and to the local economy than the horse racing slot machines would.
Several, but not all senators have since returned the donations, which range from $500 to $1,500. Some, including Sen. Janette Millin Young, returned the Front Row donations before voting on the contract.
Family members of casino agents or intermediaries are not specifically enumerated in the V.I. statute prohibiting campaign contributions from casino owners or principals, employees, agents or intermediaries, but, according to the V.I. Casino and Resort Control Act, any direct or indirect contributions from VIGL would be.
According to the law, "no applicant for or holder of a casino license, nor any holding, intermediary or subsidiary company thereof, or any officer, director, casino key employer, or principal employee of an applicant or holder of a casino license or of any holding, intermediary or subsidiary company thereof, nor any person or agent on behalf of any applicant, holder, company or person, shall directly or indirectly, pay or contribute any money or thing of value to any candidate for nomination or election to any public office in the territory, or to any committee of any political party in this territory, or any group, committee or association organized in support of any such candidate or political party."
The donors, not the recipients, are legally responsible for improper donations.
As the law applies specifically to casino license holders, it appears on its face to potentially apply to representatives of VIGL but not Southland Gaming, which, although it operates gambling machines, does not do so with a casino license.
The V.I. Casino Control Act allows gambling machines only on St. Croix. It defines the types of games regulated under its purview as "(a)ny banking or percentage game located within the casino or simulcasting facility played with cards, dice or any electronic, electrical, or mechanical device or machine for money, property, or any representative of value;" and "gambling" as "the dealing, operating, carrying on, conducting, maintaining or exposing for pay of any game," and "gaming equipment" (gambling equipment) as "any electronic, electrical, or mechanical contrivance or machine used in connection with gaming or any game." (emphasis added.)
Since 2003, the Legislature, courts, successive governors and Casino Control Commission have all treated Southland Gaming's VLTs as devices that are neither slot machines nor covered by the Casino Control Act.
Present at the hearing were: DeGraff, Sens. Marvin Blyden (D-STT), Nereida Rivera-O'Reilly (D-STX), Tregenza Roach (I-STT), Sammuel Sanes (D-STX), Brian Smith (D-At Large), Kurt Vialet (D-STX) and Neville James (D-STX). Sen. Positive Nelson was absent.