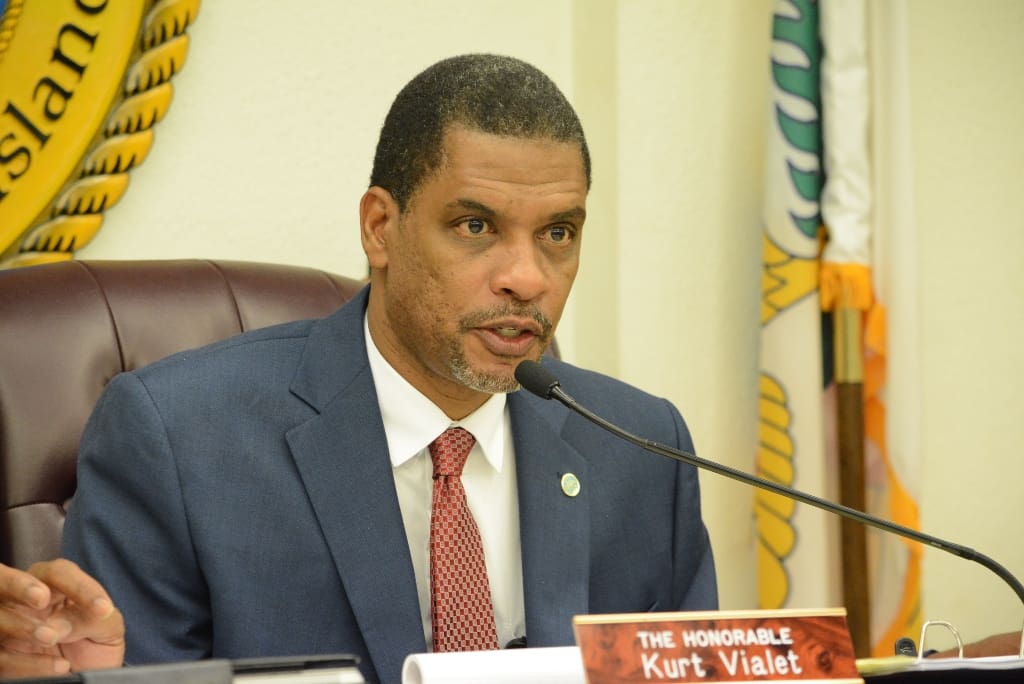 Bills setting new anti-doping regulations for horse racing and consolidating the two territorial horse racing commissions into a single commission moved forward in the Senate Thursday.
Senators considered the bills during a special session in May, but sent them to committee for testimony, debate and amendment. Gov. Kenneth Mapp proposed the bills last year as part of a package of changes to V.I. law and contractual agreements giving VIGL an exclusive franchise to run the territory's two horse racing tracks. VIGL would also get to operate slot machine parlors at both tracks. In exchange, it is required to invest $27 million in upgrades to the two horse tracks.
In December, when the Legislature approved the deal, senators declined to act on the ant-doping and commission consolidation bills but said they would hold hearings on them in the coming year.
In May, Mapp called a special session to consider the measures, saying failure to approve the anti-doping rules could jeopardize the deal with VIGL to improve the tracks. Senators sent the bills to committee for more testimony, debate and amendment.
The Committee on Economic Development and Agriculture sent on a substitute version of the anti-doping bill and the governor's original version of legislation consolidating the two horse racing commissions, Thursday.
Sen. Kurt Vialet (D-STX) said anti-doping rules had to be in place in order for V.I. horse races to qualify for simulcasting. Simulcasting the races would broaden exposure and gambling opportunities on V.I. races.
Several testifiers said the horse racing industry worldwide has long had systemic problems with doping, but that the trend was now toward tighter regulation. Doping is the practice of trying to get better performance out of the horses through performance enhancing and pain killing substances.
"The heart of the question now becomes, whether the Virgin Islands is going to advance with the rest of these jurisdictions, as well as the whole of Europe, which has adopted strict anti-doping laws – or will it continue to allow unregulated doping – a practice which is unfair, dangerous, and unethical?" Attorney General Claude Walker said.
Dr. Bethany Bradford, director of veterinary services for the V.I. Department of Agriculture said, "While various drugs have an important role to play therapeutically in the career of a racehorse, the overwhelming judgement of the racing community is that they have no role in the race."
Because the territory is one of only a few locations without anti-doping rules, older horses that cannot run without drugs are sometimes sold to local owners at a lower price, Bradford said. With new regulation, those horses will no longer be able to run and the overall field of horses will improve, she said.
She said the bill needed provisions to account for how old horses are taken care of or disposed of, once they retire. As horses do not leave the territory once they arrive, and live for up to 20 years after they can no longer race, the number of retired horses in the territory will rise if there is more horse racing, she said.
Agriculture Commissioner Carlos Robles testified his department wants language added to ensure the chain of custody of horses, to help ensure "a humane and dignified end to the career" of horses.
The original and substitute bills do not address retired horses. The substitute bill adds some definitions, including a definition of banned batter-operated devices used to spur horses to run faster. It also bans re-use of needles, adds rules for collecting samples, lays out terms for what happens when a horse is banned for failing the anti-doping tests and creates an appeals process.
Senators debated whether a consolidated horse racing commission should have members from each district set policies affecting that district. Sen. Neville James (D-STX) spoke about the differences between the two districts, noting that St. Croix has a small horse breeding industry that St. Thomas lacks. Sen. Tregenza Roach argued that there should not be and what he sees as difficulties in having a truly joint commission, and that St. Croix has breeding of horses that St. Thomas does not.
Sen. Tregenza Roach said the bill proposed by Mapp required members from both districts to establish a quorum and pointed out that many boards and commissions have difficulty making quorums. He suggested a joint commission should not add restrictions making it more difficult to make a quorum and act.
The two horse racing commissions have broad authority over horse racing and horse race gambling. But they do not hold open meetings and do not account for their actions in a public forum such as the budget hearings most V.I. agencies undergo annually.
Sen. Jean Forde (D-STT) asked Walker who would investigate doping. Walker said the original legislation from Mapp placed that authority in the attorney general's office.
The amended version the committee ultimately approved Thursday gave power to the horse racing commission. That is problematic, Walker said, because "the horse racing commission lacks police powers."
He said the horse racing commission does not have the resources to investigate and prosecute violations of the law and that "those things need to be in the statute."
Voting to send the amended anti-doping bill on to the Rules and Judiciary Committee were:
James, Vialet, Sens. Marvin Blyden (D-STT), Dwayne DeGraff (D-STT), Sammuel Sanes (D-STX) and Brian Smith (D-At Large). Roach and Sen. Positive Nelson (ICM-STX) voted no. Sen. Nereida Rivera-O'Reilly was absent at the time of the vote but attended most of the hearing. Forde attended but is not a committee member.
The bill consolidating the horse racing commissions was sent out of committee with Roach voting no and O'Reilly absent.