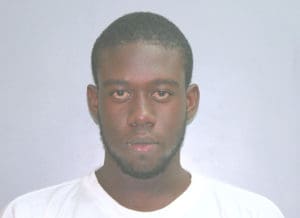 Two of the three suspects in the May carjacking and rape of a minor appeared in Superior Court before Magistrate Jessica Gallivan Wednesday for arraignment.
According to the initial police report, the young victim and a friend were driving May 6 on St. Croix's Eastern Road. Their vehicle was struck from behind and then cut off and forced to stop. One woman escaped and called 911 while the victim was taken to another location and raped by the three males armed with a handgun. According to Virgin Islands Police Commissioner Delroy Richards, Sr., the gun was not discharged.
On May 19, Youan Rodriguez, 22, was charged with first-degree rape, kidnap for rape, third-degree burglary and first-degree robbery. Link Baltimore, Jr., 18, was charged with first-degree rape, kidnap for rape, third-degree burglary, unauthorized possession of a stolen vehicle and first-degree robbery.
Rodriguez entered a "not guilty" plea on Wednesday and Gallivan set Sept. 22 as the date for his pre-trial hearing. Ronald Wood, Esq. was named his attorney. He was not present at the arraigbnment.
Baltimore's arraignment was continued until Friday, by Gallivan, to allow a defense attorney time to review the case and meet with the suspect.
At a May 19 news conference on the case, the VIPD said the whereabouts of a third suspect, who was said to be on the mainland, were known and an arrest was imminent. However, according to VIPD spokesman Glen Dratte, the suspect fled before the police arrived at the location.
Currently, Dratte said, local police are working with federal law enforcement to bring the man into custody.
"We just missed him. But we'll get him," Dratte said.
The cases against two other suspects arrested in conjunction with the rape/carjacking incident were dropped this week according to Joseph Ponteen, V.I. Chief Deputy Attorney General.
"We reviewed the case and determined not to charge them at this time," he said.
Carl Cornelius, 19, and Bethzaida Berrios, 50, had been arrested and charged with possession of stolen property after property stolen during crime was recovered from their residences. According to VIPD, the stolen property was discovered after the stolen truck used in the crime was located.
Ponteen added that it was "not a simple case" and according to V.I. law charges can be re-filed anytime in the next three years.