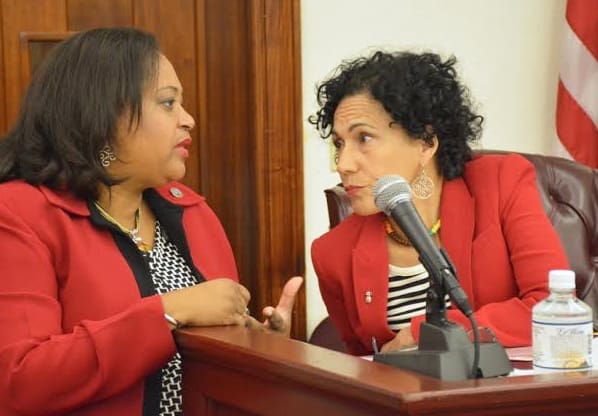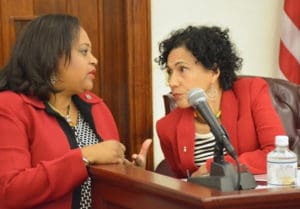 Senators voted during their Wednesday session to let store owners continue using plastic bags in stores until the end of August.
The ban, proposed by Sen. Nereida Rivera-O'Reilly (D-STX) and mirrored in a proposal from Gov. Kenneth Mapp, was approved in September 2016 and went into effect April 1 of this year. But several stores continued to use the bags despite the ban.
"This is codifying what the Waste Management Authority is already doing," Sen. Kurt Vialet (D-STX) said when offering the measure. Some stores had purchased "trailers" of the bags before the ban was enacted, he said, and "instead of having them dump all those bags in our landfill we decided to let them use them."
The measure requires stores to prove they ordered the bags before the ban was enacted.
The extension was one of many unrelated legislative actions attached to an uncontroversial bill from Sen. Positive Nelson (ICM-STX) celebrating June 26-July 3 as Emancipation Week, commemorating the successful, nonviolent 1848 uprising that led to the abolition of slavery in the then- Danish West Indies- now U.S. Virgin Islands.
Another measure from Vialet modifies recent increases on excise taxes on alcohol to clear up how keg beer is treated.
A measure from Senate President Myron Jackson (D-STT) would prorate a senator's salary and office allotment from the date they take office instead of giving pay simply by year. This measure would affect the pay and allotment of a senator who takes office months after the original election. One seat in St. Thomas is affected. In 2016, Kevin Rodriquez got enough votes but his eligibility was tossed out by the V.I. Supreme Court because he claimed residency in Tennessee on court documents. Janelle Sarauw won a recent special election to fill the seat but the St. Thomas/St. John Board of Elections is debating whether to certify that election. The matter is in court.
Other measures included in the bill:
– Requires the Water and Power Authority to correct billing within one month instead of over three months as in current law;
– Places the Parole Board under the Bureau of Corrections instead of the Department of Justice;
– Approves an unfunded appropriation of $150,000 to match possible, unconfirmed funds from Denmark to help build schools on St. Thomas and St. Croix;
– Appropriates $25,000 to Gov. Juan F. Luis Hospital for gastroenterology equipment;
– Changes V.I. law to make clear that a new requirement that insurance companies cover autism applies to children in school;
– Changes scholarship funding rules so that $200,000 in existing funding is for "discretionary scholarships in critical areas.
– Appropriates $5,000 from the St. Croix Capital Improvement Fund to buy land in Estate Calquohoun.
Voting for the heavily amended bill were: Vialet, Jackson, O'Reilly, Sens. Marvin Blyden (D-STT), Jean Forde (D-STT), Novelle Francis (D-STX), Neville James (D-STX), Sammuel Sanes (D-STX) and Brian Smith (D-At Large).
Voting no were: Sens. Dwayne DeGraff (D-STT), Alicia "Chucky" Hansen (I-STX), Tregenza Roach (I-STT), and Janette Millin Young (D-STT). Nelson was absent.