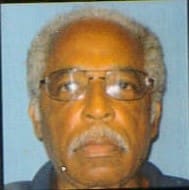 Retired U.S. Air Force Veteran Walter A. Todmann of Estate La Grange died on Monday, May 15, at his residence. He was 80 years old.
He is survived by his brother, Winston Todmann; sister, Claire I. Marshall, Lorraine Nanton, Delores Clendinen and Myrl P. Hendricks; sister-in-law, Leatrice Todmann; brothers-in-law: Alphonso Marshall, Cletis Clendinen and Dr. Olaf Hendricks; and nieces: Tyree Y. Knight, Debra T. Tutien, Aretha Marshall, Cynthia Clendinen, Elka George, Pamela C. Samuels, Cassandra Todmann, Winona Todmann, Leatrice Todmann, Twala Tonge and Rabia Hendricks.
He is also survived by nephews: Arthur A. Richards, Duane L. Richards, Cletis Clendinen III, Christopher Clendinen, Kenneth Todmann, Richard Todmann, Dexter Todmann, Michael Todmann, Warren C. Todmann, Wentworth C. Todmann, Willis C. Todmann, John Utley and Milton Utley; special cousins: Gwendolyn C. Blake, Myrilin Blake Sylvia Blake, and Thomas Blake; special grandniece, Kissa M. Tutein; special friends: Jeanette Richards and Eugene MacBean; as well as other relatives and friends too numerous to mention.
There will be a funeral service held at 10:30 a.m., Friday, May 26, at St. Patrick's Catholic Church. Interment will follow at Kingshill Cemetery Veterans Section.