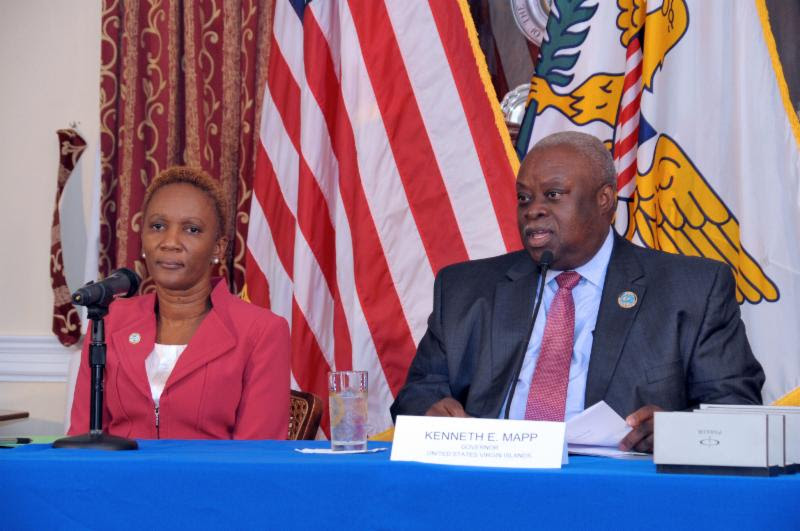 Nineteen thousand more Virgin Islanders are now eligible for healthcare and prescription drug coverage under the federal Medicaid program under expanded funding in the federal Affordable Care Act.
At a press conference Friday, Gov. Kenneth Mapp gave his administration the credit for getting the federal government to raise the poverty level, the income level eligible for Medicaid from $6,500 to $11,770. This adjustment will amount to an additional $18 million in federal reimbursement, Mapp said. The local government will now be reimbursed 55 percent to 100 percent of the cost of medical service for 31,000 V.I. residents. Without the increase in the official poverty level, the local government would have remained responsible for 100 percent of the cost of treating those previously ineligible.
Mapp said this makes his request for the Legislature to approve an additional $10 million for federal matching funds that much more urgent. The cost of the 45 percent local match – the amount the territory has to put up to get the federal government's 55 percent- is far less than the cost of the uncompensated care as people go to the hospital but are unable to pay, Mapp pointed out.
"The Medical Assistance Program is geared towards helping the most vulnerable in our community," Mapp said. Not being able to pay for care has dire consequences. Even those who are able to see a doctor often cannot afford the prescribed medication, he said. "They get sick, they deteriorate and, ultimately, they do not survive," Mapp said.
Commissioner of the Department of Human Services Felicia Blyden said Human Services will begin identifying eligible clients when they require medical or other federally subsidized services, such as SNAP, so that they can be enrolled in the expanded Medical Assistance Program. This is expected to greatly improve cash flow at the two local hospitals, which often require cash infusions from the central government because of the amount of uncompensated care provided.