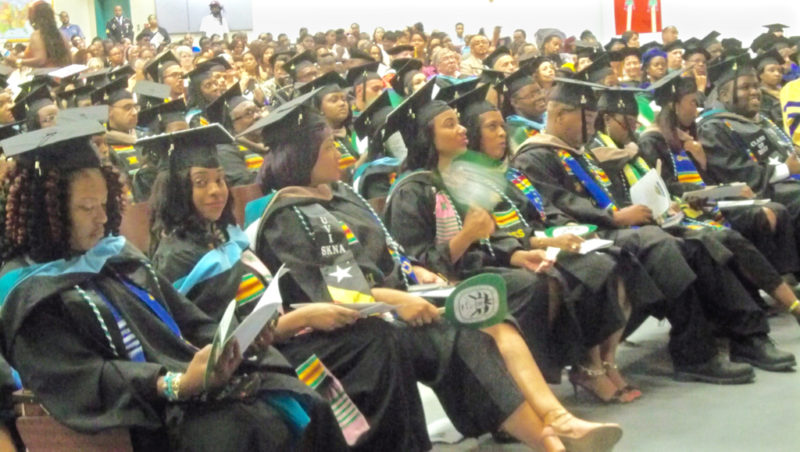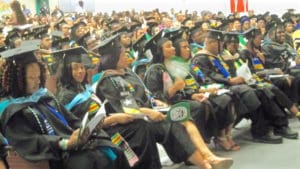 Relentless rain Thursday forced a last-minute change of venue for the University of the Virgin Islands 53rd commencement ceremony, but it didn't hurt the enthusiasm of the students, faculty, family and friends who gathered to celebrate.
The event had been scheduled to be held under a tent on the lawn of the St. Croix campus, but was moved to the auditorium at St. Croix Educational Complex after rain that began early in the morning persisted into the afternoon.
UVI President David Hall opened the ceremony commenting on the superb cooperation between Complex and the university making the transition in a couple of hours.
Well wishers, dignitaries, professors, families and friends of the class of 2017 cheered and clapped as the graduates entered the packed auditorium Thursday to the tune of "Pomp and Circumstance." More than 100 degrees were awarded along with special honorary degrees during the afternoon ceremony.
Local music icon Stanley Jacobs danced to the podium with a wide grin to receive an honorary UVI diploma for a doctorate of Humane Letters. For more than 40 years Jacobs has been a quelbe band leader and performer representing the USVI as an ambassador locally and globally. Jacobs has a reputation as master musician, maestro, historian and preservationist of quelbe music, the territory's indigenous musical art form.
Iyanla Vanzant, who was the commencement speaker at Thursday's St. Croix commencement and is scheduled to repeat at Friday's ceremony on St. Thomas, also received a doctorate of Humane Letters from UVI. Vanzant is described as a prolific author, inspirational speaker, television personality and healer of people. The former welfare mom from the projects of Brooklyn is the author of 19 books, six of them which made the New York Times Best-Sellers List.
She began Thursday by having the male graduates stand to be recognized. She said they aren't the faces on the news.
"I just want you to rise up and keep on rising," Vanzant said.
In her address she encouraged the graduates to not be content with littleness.
"Expect to be magnificent," Vanzant said. "Think with majesty and magnitude. Don't make little choices. Be not content with little choices. Make big choices, think big and do big things."
Carlotta M. Walcott was chosen by her 2017 classmates to give the class speech. She compared the college experience as being in the boxing ring taking some punches and getting knocked down but having the ability to get back up and win the fight.
"I believe we have the power to rise and be undefeated," Walcott said. "We are now on the pathway to greatness."
Raul F. Flemming, Afiya-Marie Williams, Diana M. Chardon and Jrose Mariel Daniel graduated summa cum laude, an honor added to a diploma or degree for work that is considered to be of the highest quality.
Gov. Kenneth Mapp and other dignitaries including Hall also gave remarks.
Julia Bailey attended to support of her triplet sister, Juliet Mona John-Hope. Bailey said John-Hope worked extremely hard to get her master degree in education while working full time.
"I'm very proud she accomplished her goal," Bailey said with a wide smile. "This is a really big thing, getting a master's degree, she can be proud of herself. She had a lot of late nights studying and she got discouraged but we gave encouragement."
Friday at the Sports and Fitness Center on the St. Thomas Campus educator Ruth Elma Thomas is to receive an honorary doctorate of Humane Letters from UVI.
Thomas is a respected linguist, community activist and educator who served the Virgin Islands as a principal for 33 years until her retirement in 1982. Since retirement she has stayed active teaching at UVI, and served on such boards as the Girl Scouts and Community Foundation of the Virgin Islands.
More than 200 degrees will be awarded Friday on the St. Thomas Campus, and 15 of those students will graduate summa cum laude. The class speaker is Monel Marcellin.
UVI Concert Band under the direction of Valrica Bryson, the Albert A. Sheen Campus Steel Ensemble and UVI Voices of Inspiration Community Choir provided music Thursday.