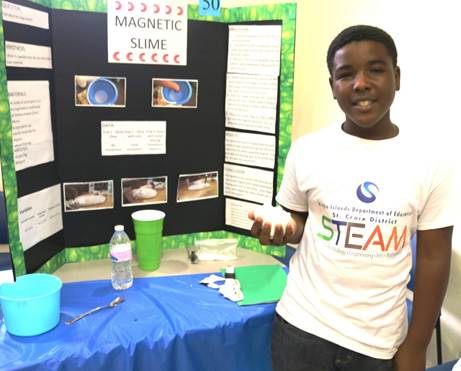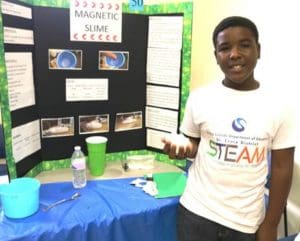 Parents, educators and many others in the community showed their support for students who displayed their top projects during the St. Croix District 2017 Science, Technology, Engineering Art and Mathematics (STEAM) Fair held at the University of the Virgin Islands' Great Hall, May 1 – 5.
An array of impressive, creative and intricate projects were displayed in grade-level specific categories, including Kindergarten, primary (grades 1-3), intermediate (grades 4-6), junior high (grades 7-8) and senior high (grades 9-12).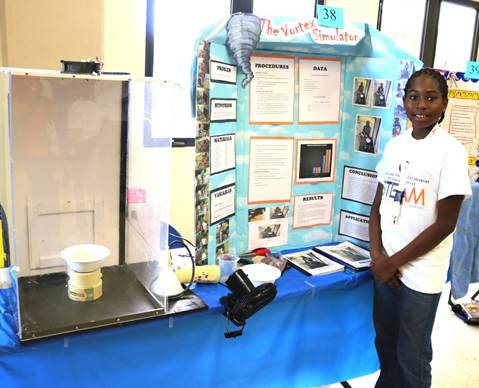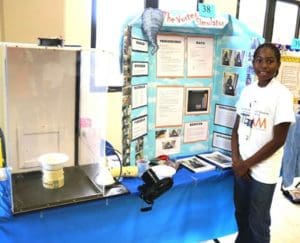 At an elaborate awards ceremony on Friday, May 5, winners in first, second and third place of each category received monetary prizes for their ambitious endeavors and hard work.
Following are the official STEAM Fair results, supplied by Mathematics Coordinator Juanita Boneque and Science Coordinator Rosa White:
KINDERGARTEN
1st Place: Marvelous & Magnificent M & M's No. 5, by Chinity Pickering, Pearl B. Larsen Elementary School
2nd Place: Flower Power No. 7, by Zaylia Authers, Ricardo Richards Elementary School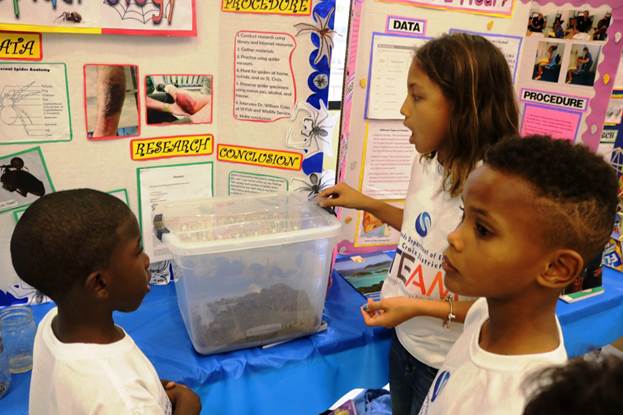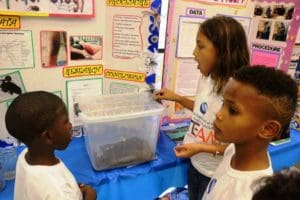 PRIMARY
1st Place: Rainbow of Tasty Colors No. 3, by Bella Peter, 2nd grade, Claude O. Markoe Elementary School
1st Place: How Can Mangrove Forest Protect the Coastline During a Tsunami? No. 24, by Khaleel Williams, 3rd grade, Eulalie Rivera Elementary School
1st Place: Build a Light Bulb No. 10, by Joshua Emmanuel, 2nd grade, Alfredo Andrews Elementary School
1st Place: Kassidy's Art Box No. 23, Arts Award by Kassidy St. Prix, 1st grade, Eulalie Rivera Elementary School
1st Place: Sunken Treasure No. 22, Math Award, 2nd grade, Soriyah Evans, Eulalie Rivera Elementary
1st Place: Soda or Water, by Ernel Willie, 1st grade, Lew Muckle Elementary School
2nd Place: Pineapple Enzyme No. 25, 3rd grade, Mah'Kaijah Jean, Eulalie Rivera Elementary School
2nd Place: Gummy Bear Lab No. 20, 3rd grade, Yamaliz Carmona, Alexander Henderson Elementary School
2nd Place: Sun Powered Car Day & Night No. 17, 3rd grade, Adaina Smith, Alexander Henderson Elementary School
2nd Place: Why Doesn't the Ocean Freeze? Janiery Adams, 2nd grade, Lew Muckle Elementary School
3rd Place: Grow Crystals No. 13 by Leilanie Batista, 2nd grade, Alfredo Andrews Elementary School
3rd Place: Gassy Beverage No. 16, by Samyrah Lake, 2nd grade, Alfredo Andrews Elementary School
Honorable Mention: How Do Crystals Form? No. 11, 3rd grade, by Manual Encarnacion, Lew Muckle Elementary School
INTERMEDIATE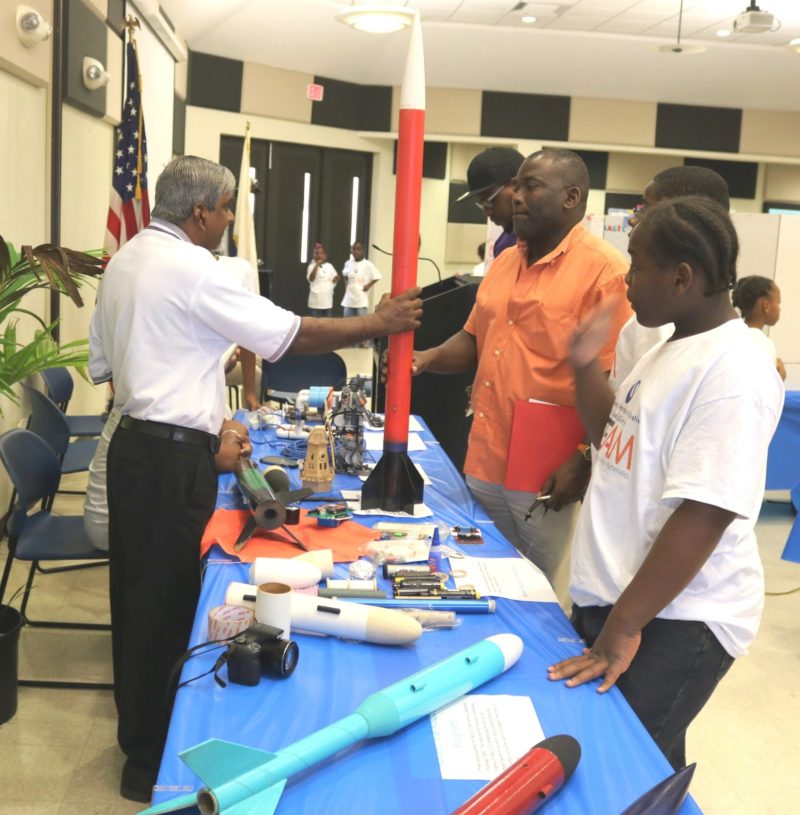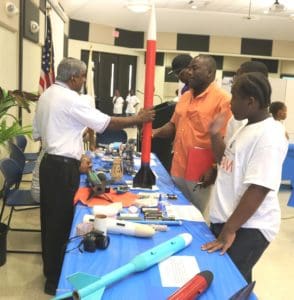 1st Place: All Hands In: Let's Recycle No. 2, 6th grade, by Bry'Nice Berley, Ricardo Richards Elementary School
1st Place: PEMDAS No. 22, 6th grade Math, by Shamaar Evans, Eulalie Rivera Elementary School
1st Place: How to Make an Air Conditioner No. 24, by Kimona Plante, 5th grade, Claude O. Markoe Elementary School
1st Place: 2 See or Not 2 See No. 26, by De'Mario Obeius, 6th grade, Ricardo Richards Elementary School
1st Place: – Hydralic Arm No. 30, by Lazaro Ransom, 6th grade, Alfredo Andrews Elementary School
1st Place: – The Vortex Simulator No. 38, Engineering, by Jared Brown, 6th grade, Alfredo Andrews Elementary School
1st Place: – Do You Hear What I Hear? No. 40, by Carmindy Pickering, 6th grade, Pearl B. Larsen Elementary School
1st Place: Geometry Keeps You in Shape No. 41, Math, by Angelina Springer, 6th grade, Pearl B. Larsen Elementary School
By Erin Flynn, 6th grade, Pearl B. Larsen Elementary School
2nd Place: Gooseberries vs. Blueberries No. 1, by Zion Delauney, 5th grade, Ricardo Richards Elementary School
2nd Place: Parakeets in Tunes No. 4, by Kaiden Sobrath, 4th grade, Ricardo Richards Elementary School
2nd Place: Hair & Humidity No. 8, by Sakura Flores, 6th grade, Alexander Henderson Elementary School
2nd Place: Engineering to Gossembrot Labyrinth or Building a Maze No. 45, by Lielah Loving-Lee, 4th grade, Pearl B. Larsen Elementary School
2nd Place: Fashion Sense & Self Esteem No. 46, by Jaelyn Bailey, 5th grade, Pearl B. Larsen Elementary School
2nd Place: What is the Effect of Music on Memory? No. 47, by Gabriel Lewis, 6th grade, Alfredo Andrews Elementary School
2nd Place: How Accurately Can You Measure Water Pressure? No. 17, by Lebron James, 6th grade, Claude O. Markoe Elementary School
3rd Place: How to Make a Generator No. 14, by Neisha Modeste, 5th grade, Claude O. Markoe Elementary School
3rd Place: Spider-ology No. 39, by Alexandra Bonafe, 6th grade,,Pearl B. Larsen Elementary School
3rd Place: DeSalination for Hydration No. 18, by Alijah Lynch, 4th grade, Ricardo Richards Elementary School
3rd Place: Multitasking Mathematicians No. 6, Sociology, by Sariah Jonas, 4th grade, Ricardo Richards Elementary School
Honorable Mention: Battery that Make Cents No. 16, by Janika Charles, 6th grade, Claude O. Markoe Elementary School
JUNIOR HIGH
1st Place: Solar and Battery Power Generator No. 24, by Akyel Prince, 7th grade, Arthur A. Richards Junior High School
1st Place: Air Compression No. 9, by Tyron Orendain, 7th grade, John H. Woodson Junior High School
1st Place: Environmentally Friendly Fish Pot No. 15, by Vernan Stapleton, 7th grade, Elena L. Christian Junior High School
1st Place: Explosions 101 No. 19, by Eliani Osorio, 7th grade, Arthur A. Richards Junior High School
2nd Place: Electrolyte Challenge No. 1, by De-Andre Taylor, 8th grade, John H. Woodson Junior High School
2nd Place: Fertilize or Not No. 2, by Jewel Joseph, 8th grade, John H. Woodson Junior High School
2nd Place Right vs Left No. 3, by Helena Gonzales, 8th grade, John H. Woodson Junior High School
2nd Place: Battery Powered Electric Car No. 16, by Maelen Hodge, Philogene and Denelle Stevens, 8th grade, Arthur A. Richards Junior High School
3rd Place: Can I Trick Your Brain? No. 4, by Yahn Velasquez, 8th grade, John H. Woodson Junior High School
3rd Place: Do It Yourseld Generator No. 12, by Veremy Peguero, 7th grade, Elena Christian Junior High School
3rd Place: Home-made Vacuum Cleaner No. 13, by Aleja Thomas, 7th grade, Elena Christian Junior High School
3rd Place: Miniature-Steam Power Generator No. 14, by Xandria Acevedo, 7th grade, Elena Christian Junior High School
3rd Place: Electromagnetic Induction No. 7, by Aaliah Saret, 7th grade, John H. Woodson Junior High School
3rd Place: Hover Board No. 6, by Yaira Ortiz, 7th grade, John H. Woodson Junior High School