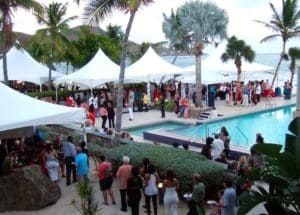 Since 2001, when restaurateurs Kelly Odum and Katherine Pugliese started A Taste of St. Croix to showcase the island's cuisine, the event has expanded to a week of events along with the St. Croix Food and Wine Experience, and is recognized by ForbesTravel.com as one of the top ten international food and wine events.
"There's something for everybody. It's about restaurants and supporting the work we do with them throughout the year. It's about connecting with farmers and fishermen. It's about the community," Pugliese said.
Events for adults and children interested in the culinary arts and just plain food take place throughout the first week of April and tickets are still available for all events, according to Pugliese and Lilli Cox of the St. Croix Foundation:
April 3
A Taste of St. Croix Farmers Market comprising local farmers, fishermen and crafts people will allow chefs from more than 50 participating restaurants to select the freshest ingredients at the La Reine Farmers' Market.
April 4
The Nature Conservancy's Kemit-Amon Lewis will talk to the public about the Reef Responsible Sustainable Seafood initiative.
April 5
Taste of the Town guests will enjoy a progressive dinner in downtown Christiansted at Martini's, balter, Zion Modern Kitchen and Aqua Studios.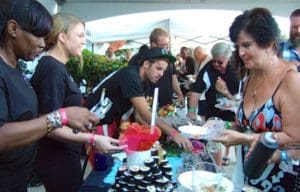 April 6
The inimitable A Taste of St. Croix unfolds at Divi Carina Bay Resort. Chefs from hotels, restaurants, farms and caterers compete for coveted awards. Food, drinks and music abound.
April 7
School Lunch Make-Over pairs professional chefs with students and food service workers to create new items for public school lunch menus.
Sunset BBQ will showcase celebrity chefs, local grillers and culinary students from the St. Croix Educational Complex on the Frederiksted Pier. Children are welcome at the event.
The Cork & Fork dinner features an elegant five-course meal with wine pairings at a private home.
April 8
Taste Buds will introduce children from ages 7 – 12 to healthy cooking basics with professional chefs at Pearl B. Larson School.
Wine in the Warehouse will see a new venue this year at the Bohlke Airways Hanger and has been renamed Night Flights. The event focuses on wines from around the world, chats with winemakers, music and gourmet bites.
April 9
Golfers and duffers alike can sample food and drinks around the links at Carambola Golf Course prepared by local chefs during Cuisine on the Green.
April 10
The Gourmet Vintner Dinner, a four-course dinner with wines, will be prepared by several celebrity chefs at the Ha'Penny Beach Club.
This year's celebrity chefs include Robyn Almodovar, Sam Choy, George Reid, Ron Duprat, Tony Castellucci, Tiffany Derry, Kevin Fonzo and Marthayom Vacharat.
From St. Croix, chefs Digby Stridiron, Negust Kaza and Billy Desimone will also take part in various activities.
Almodovar won the Food Network's Chopped and Cut Throat Kitchen. Choy, a frequent guest at Taste of St. Croix, is a James Beard and Iron Chef winner, and Reid is chef at Anguilla's Four Seasons Resort.  Duprat has prepared meals for President Barak Obama, Jay Z, Beyoncé and Usher. Castellucci, the executive chef for Facebook's corporate offices, was instrumental in initiating internships for St. Croix culinary students on the California Facebook campus. Derry is an alum of Bravo's Top Chef and Fonzo founded the Edible Education Experience. Vacharat is from St. John Catering.
Stridiron is the USVI Culinary Ambassador and owner and head chef at balter restaurant. Kaza is a former member of the Virgin Islands Olympic Culinary team and executive chef at the St. Croix Yacht Club. And, Desimone was a member of the Facebook culinary team and is now executive chef of Billy D's on St. Croix.
The celebrity chefs headline high-ticket events such as Reid at the Cork & Fork dinner ($1,000 per person) and the Gourmet Vintner Dinner ($250 each) with Almovodar, Castellucci, Choy and Kaza.
The guest chefs are also featured at the Sunset BBQ ($50 each) and Cuisine on the Green, and the Sunset BBQ will feature Choy, Castellucci and Kaza. Wine in the Warehouse bites ($125) will be prepared by Choy and Ralph Motta.
Duprat, Vacharat, Fonzo and Derry will teach Taste Buds classes and the School Lunch Makeover.
The weeklong food festivities have dozens of sponsors including the V.I. Department of Tourism, H. Douglas and Jeannine Schrock, Southern Glazers Wine and Spirits, Reliable Rentals and Crucian Point Consulting.
Proceeds from A Taste of St. Croix benefit community programs, hospitality and tourism scholarships to the University of the Virgin Islands and a travel fund for students competing in off-island culinary events.
Proceeds from St. Croix Food and Wine Experience events benefit the St. Croix Foundation.
The schedule and ticket prices can be found at stcroixfoodandwine.com and tasteofstcroix.com.