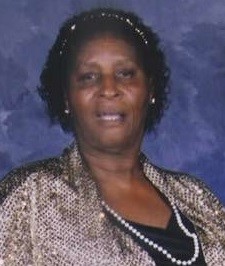 Iris T. Martin Browne, also known as "Tia," of Estate Strawberry Hill died on March 4. She was 77 years old.
She was preceded in death by her husband, Ruthledge Browne; sisters: Anna Martin and Deborah Martin; brothers: Joseph "Moonlight" Martin, Fernando Martin and Raymond "Skullet" Martin.
She is survived by her daughters: Patricia Torres, Alexis Roberts, Rosemary Browne and Beverly Browne-Hines; grandchildren: Anthony Walker Jr. Adrian Torres, Sheniqua Jarvis, Jaleesa Woodrup, Julissa Daniel and Brittany Hines; great-grandchild: Amayah James; sisters: Evelyn Allen, Delores "LoLo" Edwards, Cassandra Thompson and Rose Sheppard; brothers: Terrance "Tasco" Martin, Gerald Martin Sr., Charles Martin and Allan Yarwood, uncles: Sinclair Jones, Bromley Martin Jr. and Henry Martin; sons-in-law: Anthony Walker Sr. and Hugh L. Hines; and brothers-in-law: Macauley "Mackie" Thomas, Neville Browne, Masden Browne and Hillroy Browne.
She is also survived by sisters-in-law: Eileen Richardson, Yvonne Harmon, Rosemary Morrisey, Eldina Henry, Ethla Joseph, Catherine Browne, Imar Browne, Esther Josiah and Yvette Gayle; godchildren: Shenett Thompson-Camacho and Shana McLene; special friends: Juliet Charles and family, Judith James and family, Margaret and family, Setna Yarwood, Dolores Acosta, Gale Lewis, Miriam Griffith, Tishawn Gabriel, the Winston family, Pedro and the Gibbs family, Strawberry and the DeChabert family, and the Luz James family; as well as other relatives and friends too numerous to mention.
The viewing will take place at 9 a.m. and the funeral service at 10 a.m. on Wednesday, March 22, at the St. Ann's Catholic Church. Interment will follow at Kingshill Cemetery.