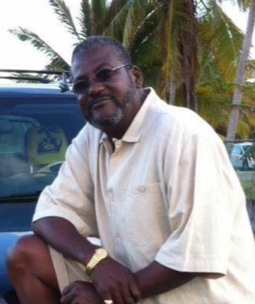 Gerard A. Padmore died on March 8.
He is preceded in death by his father, Frank Padmore.
He is survived by his mother, Dorothy Padmore; stepdaughter, Jameela Joseph; brother: Shafeeq Muhammad and Lincoln (Wayne) Padmore; sister, Jewel Rita Padmore-Morris; aunt, Alma Wiltshire; uncle, Cameron Wiltshire; nieces: Tenielle Muhammad, Dawn Smith, Norissa Smith and Jourdan Challenger; and nephews: Najee and Nataki Morris, Naim Muhammad, Wayne Woods, Shaheed Padmore and Ashton Harris.
He is also survived by cousins: Carlson Wiltshire, Colleen Tiffenson and husband, Coanne, Anthony Alfred, Fenwick (Doc) Prescott, Shirley Williams, and Jane Ferdinand and family; godsons: Rakeem Christmas and Correy Wiltshire; special friends: Oscar and Antonette Alleyne and family, Julia O'Connor, Cynthia Surley-Martin and family, the Mitchell family, the Moe family, the Jerome family, Wayne Mohammad, the Farrow family, Pam and family, and Marilyn Charles; as well as other relatives and friends too numerous to mention.
A viewing will be held at 9 a.m. and a funeral service at 10 a.m. on Monday, March 20, at St. Peter's Episcopal Church, Sion Farm, St. Croix.
Gerard A. Padmore