Lissette Esquilin died on March 10.
She is survived by her companion, Moises Guadalupe; mother, Matilde Rivera; da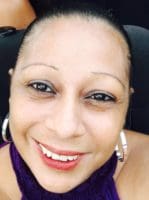 ughters: Stephanie Galvan Rivera, Sheila Esquilin, Keishla Garcia, Melanie Garcia and Lismary Garcia; granddaughters: Yarieliz Lisette Carmona, Yamaliz Emilia Carmona, Yaleniz Lishanie Carmona, Kenyra Nichols, Keshaila Belle and Maribel Arthurton; grandson, Melvin Lawrence; sisters: Carmen Esquilin; brothers: Sixto Esquilin Jr., Raul Esquilin, Jose Enrique Esquilin and Daniel Esquilin; aunts: Rosita Rivera, Carmen Rivera, Anita Rivera, Candita Rivera, Sonia Rivera and Gloria Rivera; and uncles: David Rivera and Aurelio Rivera.
She is also survived by nieces: Aymara Esquilin, Tainisha Esquilin and Kassandra Esquilin; nephews: Daniel Esquilin, Edictor Esquilin and Tomas Esquilin; cousins: Rivera, Esquilin, Velazquez, Rodriguez, Otaño, Canegata and Parrilla family; father-in-law, Anselmo Guadalupe; mother-in-law, Librada Guadalupe; sisters-in-law: Elizabeth Guadalupe-Perez, Mariela Guadalupe-Avila and Johanna Guadalupe-Lopez; brothers-in-law: Edward Perez, Andres Avila, Edwin Lopez and Jose Lopez; sons-in-law: Fayne Moise, Gregory Erskine, Akeem George and Dave Arthurton Jr.; as well as other relatives and friends too numerous to mention.
A viewing will be held at 9 a.m. followed by a funeral service at 10 a.m. on Thursday, March 16, at Iglesia De Dios Inc., 159 Estate Profit, St. Croix.