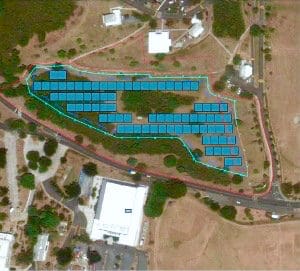 In July of 2013, amidst great fanfare, the University of the Virgin Islands signed a power purchase agreement with New Generation Power (NGP) USVI.
NGP was to build a three-megawatt photovoltaic system that was expected to produce enough electricity to power more than 600 homes, but which would be used by the university.
Earlier this month, with no sign of project development on either campus (the solar installation was to be evenly split between St. Thomas and St. Croix) the Board of Trustees listed as one of the reasons for going into executive session a discussion of the solar project.
When UVI President Dr. David Hall was contacted several days after the trustee meeting about where that project was, he commented, "We are in discussions with the developer and WAPA to see how to move forward on the project."
He did elaborate on other energy consumption reduction measures that have been successful. Asked how the university was able to cut consumption by 10 percent in recent years, he said, "Over the last five years, UVI has installed lighting sensors in classrooms to automatically operate the lights based on occupancy. UVI has installed solar powered street lights on the Albert A. Sheen (St. Croix) campus and solar-powered parking lot lights in the administration and Conference Center parking area. Variable frequency drives were installed on select HVAC units to make them more efficient. HVAC units are running on time clocks which either shut off or reduce operation according to predetermined schedules."
Hall also said solar-powered water heating, LED lighting conversions in various classrooms and parking lots also have contributed to the decrease in energy use.
When the 2013 agreement was signed, UVI's stated energy goal was to reduce energy costs and carbon footprint by 50 percent. Hall said those goals still stand. In an email to the Source he wrote, "As part of its energy program, UVI's energy manager is developing energy projects and identifying grant funding to move the projects forward. These projects include LED lighting upgrades, replacement of old inefficient HVAC units, building automation systems, and advanced energy monitoring systems. The goal is to reduce consumption and increase efficiency as much as possible."
Hall does not rule out the UVI having solar charging stations for electric cars in the near future.
"The energy manager intends to include solar powered charging stations and electric cars in the five-year energy plan," he said.
As for the 2013 agreement and project, there has only been one update on both the UVI's website and New Generation's website since the signing. In May 2014 a $3 million United States Department of Agriculture grant from the High Energy Cost Grant Program was awarded to Veriown Energy, whose parent company is New Generation Power. The grant was to be used to enhance the UVI solar installation project.