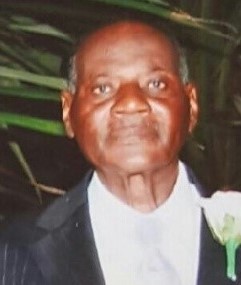 Arnold Augustus Johannes, also known as "Classic," of Strawberry Hill died on Monday, March 6. He was 84 years old.
He was preceded in death by his mother, Consuela Johannes; father, Peter "Papa" Johannes; sisters: Miriam Parris, Adena Coggins and Eucelina "Lady" Johannes; and brothers: Rupert A. David and Leroy A. Johannes.
He is survived by his wife, Ruth Naomi Johannes; daughters: Eleanor Johannes and Sharon Florent; sons: Anthony A. Johannes, Troy K. Johannes and Jermaine A. Johannes; grandchildren: Anthony Dewayne Morris, Raymond Allen Taylor, Kaleb Florent, Joshua Florent, Jahzarah Monica Johannes and Taccari Jermaine Johannes; and nieces: Rita M. Johannes, Patrici A. Francis, Arleen C. Johannes, Renita N. Johannes-George, Eleanor A. Johannes and Lynette E. Johannes-Harris, Racquel Parris Francis, Jule Canton, Vanessa Williams, Kimberly Fludd, Carolyn "Glennis" James and Adrienne Williams.
He is also survived by nephews: Rodney E. Parris, Ricky R. Parris, Gregory Williams, Sr., Kevin Williams, Sr., Lyndon Simmon, Lincoln Liburd & Lester Liburd; great nieces: Chyla M. Ritter, Liesha Matthias, Sharnelle Vanterpool, Denel A. M. Petersen and Diara Canton; great nephews: Justin A. Watkins, Kafele Clarke and Rynel J. Harris; great-great nephew, Justin A. Watkins Jr.; great-great niece, Alexandria E. Watkins and A'Chlya Ritter; daughter-in-law, Tiffany Morton-Johannes; son-in-law, Cuthbert Florent; and brothers-in-law: Lorenzo Simmon, Hastings Williams and Elsie Williams.
Other survivors include sisters-in-law: Gloria Liburd and Eula Simmon; special friends: Ionie Noel, Margurette Bramble, Stanley Parris, Mr. and Mrs. Accelyn Morton, Mr. and Mrs. George Stokes, Audrey Leona Johnson, Pastor Francis and the Beeston Hill Wesleyan Holiness Church members, the Sackey family, the Christian family and the V.I. Fire Service family of St. Croix; cousins and other relatives: Douglas Johannes and the Johannes families of Lavalle and N.Y., the Cornelius family, the Acoy family, the Francis family, the James family, Richard Schrader and family, the Williams family and the Innis family; as well as other relatives and friends too numerous to mention.
A viewing will take place at 9 a.m. followed by a funeral service at 10 a.m. on Friday, March 17, at the Beeston Hill Wesleyan Holiness Church viewing. Interment will be at Kingshill Cemetery Veterans Section.