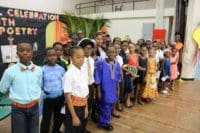 One by one, people stepped up to the microphone, dressed in vibrant colors and prints representing the U. S. Virgin Islands. Some were bold and confident, others soft-spoken and reserved, but all displayed exceptional talent as they recited original works of poetry at Claude O. Markoe Elementary School's "Centennial Poetry Celebration Featuring Virgin Islands History & Culture with a Taste of Virgin Islands Cuisine" event that was held Tuesday, Feb. 21, in the school cafeteria.
The evening affair was organized as part of the school's Virgin Islands Centennial Commemoration and featured more than 32 students praising the beauty of the Virgin Islands, primarily that of St. Croix, and its culture.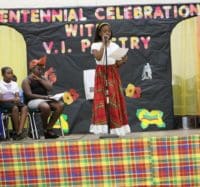 The topics of the poems included heroines such as Queen Mary, the historic Fireburn in Frederiksted, the historic significance of Frederiksted/Freedom City, the V.I. Flag, agriculture, carnival, moko jumbies, the Annaberg Plantation on St. John, Salt River Bay, bush tea, the St. Croix Agricultural Food Fair, quadrille dancing, yellow cedar flower, sugar/sugarcane, Buck Island, slavery and farming. The wide range of topics presented a warm mix of humor, whimsy and social awareness.
Also, school administrators and other guests were invited to perform original works of poetry, as well. Assistant Principal Dureama Moorehead presented "My Childhood Days" that took listeners down a memory lane of some of her childhood memories. Assistant Principal Dr. Sharon Charles presented a riveting poem on the brutalities of slavery. Special invited guests, She Free Poetry and Geron Richards, presented motivational poems that inspired students to follow their dreams and succeed.
Following the poetry presentations, students and audience members were treated to tasty dishes of traditional Virgin Islands food, juices and pastries. Deputy Superintendent Faith Dane George-Boone offered both the welcoming and closing remarks, both times expressing her pride in the young poets' efforts. She also challenged the school to compile the students' writings into an anthology so they can be preserved as part of the school's history.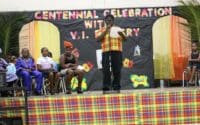 Technology integration teacher Janice Simon organized the event and Leanne Moranicie served as mistress of ceremonies. Emergent leaders Kenya McIntosh and Ashley Morrell gave the opening prayer and the opening poem, respectively.
These sponsors contributed to the success of the event: Claire Roker (parent chairperson), Betty Lynch, Ernest Trucking and Backhoe, Headline Supermarket, In the Mix, Crucian Gold, Plaza Extra – West, Shop & Save, Stop and Shop, Cost-U-Less, Annaly Farm, Thomas Bakery, Frontline Bar and Restaurant, La Reine Chicken Shack, Villa Morales, Complex Catering, Food Town, Noella Valmont and Henry Soblatte.