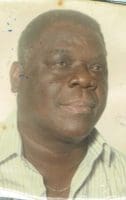 Kenrick "Ken" Waldemar James died on Monday, Jan. 30, at home in Christiansted. He was 83 years old. He was born in Newfield, Antigua to Joe James and Mary James.
He is preceded in death by sister, Mavis James; and brother, Olivor James.
He leaves to cherish his memories a devoted and loving wife of 52 years, Marjorie Edris Henry James; sons: Vernon Brown, Lauchland "Babu" Williams, Gregg James and Alex James; daughter, Wendy James; grandchildren: Tanya James, Aisha Thomas, Oshane Thomas, Keon James, Alexandria James, Khalid James, Rashaun Simon, Teshanie Williams, Buai, David, Omarie Williams, Jahmai Williams, Amniel Williams and Aminah Williams; and great-grandchildren: Trevhon James, Teairra James, Angel Figueroa, Ada-Ja Hamilton, Kymanie John and Tay-Korra James.
He is also survived by sister, Eren Blindia Victorin (England); nieces: Matha Magetirlin Cottin (England), Setsina Victorin (England) and Gail Reynolds; nephew, Barry Reynolds; cousins: Margret James (England), Estella James (England) and Oswald James; daughters-in-law: Esther Williams and Tangela King; son-in-law, Henry Thomas; special friends: Richie "Lupie" Sealey, Ana Morales, Ethlyn George, Arthur George, Dane George, Edwin Thomas and family; as well as relatives and friends too numerous to mention.
There will be a viewing held at 9 a.m. followed by a funeral service at 10 a.m. on Monday, Feb. 27, at Divine Funeral Services Chapel, 129 Peter's Rest. Interment will be at Kingshill Cemetery.