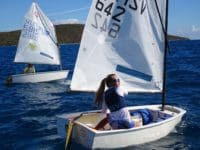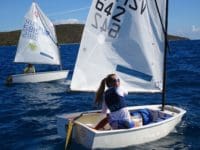 The 2017 Cruzan Open Regatta drew 55 junior sailors from across the USVI, the BVI and Puerto Rico this past weekend. While beginner Green Fleet Optimists competed in Teague Bay, Advanced Optimists and 29ers raced in the Buck Island Channel, accompanied by dolphins.
Hosted by the St. Croix Yacht Club, the Cruzan Open served as an ISV (Virgin Islands) team qualifier for the North American Championships from June 25 through July 2 in Toronto.
Mia Nicolosi from St. Thomas won first place among Advanced Optimists and will head to Toronto this summer. Other top place USVI winners who qualified include Caroline Sibilly (St. Thomas), Julien Van Den Driesshe (St. Thomas) and Mathieu Dale (St. Croix).
Six former Optimists tested their skills aboard three new 29ers acquired by the St. Croix Yacht Club two months ago. With two sailors per boat, the sleek 29ers zipped across the water.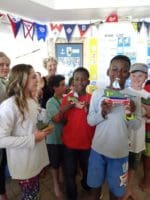 "It's way different from sailing Optimists," said Atlee Kohl. "A person hangs out on the wire — a trapeze. And these boats tip over. We capsized 20 times in the first week we sailed them. Sailing 29ers is harder than sailing the 420s, too."
From St. Croix, Kohl and his brother Dawson took top honors in the 29er division; Scott McKenzie and Sean Hennessy of St. John placed 2nd while Taylor Hasson and Rider Odom of St. Croix placed 3rd.
Meanwhile, 22 Green Fleet sailors battled it out in Teague Bay. Throughout the two days of races, brothers Ryan and Rodney Moorehead (St. Croix), Ariana Schwartz (St. Croix) and Kael Chawell (BVI) took turns in the lead with Ryan Moorehead ultimately capturing the title.
Thanks to primary racing coach Santiago Galan (Tino), St. Croix now boasts a host of accomplished young sailors, three of whom completed in the 2016 World Championships in Paraguay. "Tino put us on the map!" said Barbie Kohl, mother of Atlee and Dawson Kohl.
"From a parent's standpoint, it's dramatic," said Race Committee member Morgan Dale. "Kids learn to focus critically on their skill set; they take responsibility for their gear and make independent decisions on the water."
The Cruzan Open Regatta marks the second of three racing events used to determine the ISV team for the 2017 World Championships in Thailand this July.
2017 Cruzan Open Division Winners:
Blue Fleet-Caroline Sibilly (St. Thomas)
Red Fleet–Mia Nicolosi (St. Thomas)
White Fleet–Alejo Di Biasi (St. Thomas)
Green Fleet–Ryan Moorehead (St. Croix)
For full results, visit http://www.regattanetwork.com/event/13832.