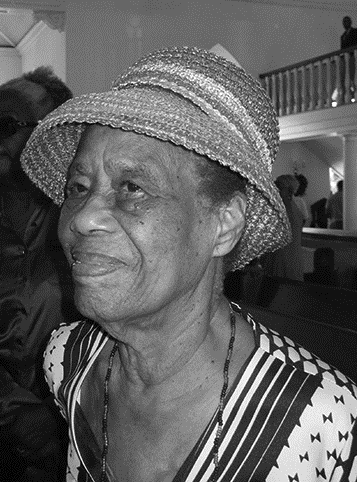 Jane Eleutha Friday Louison, a devoted and beloved wife, mother, sister, aunt and friend, died peacefully at the age of 96 on Dec. 21 at Gov. Juan F. Luis Hospital in the presence of her only child, Gayle.
Jane Friday Louison truly lived a full good life, holding her God, her husband Gerald Louison, her daughter Gayle Louison and her family above all. And family always included dear friends, for once Jane embraced someone, they became as dear to her as any blood relatives.
Jane was born in the Des Isles area of Sauteurs, St. Patrick's, Grenada, West Indies on June 10, 1920, to Mary Martin Friday and Hudson Friday. She was the fourth of nine children. Only her brother Wilfred, residing in Grenada, remains.
At age 18 after her schooling in Grenada, she worked for six years as a stenographer at the U.S. Base in Chaguramas, Trinidad. She then trained as a nurse and went to Aruba, where she was employed as a nurse at Lago Hospital. Jane made many lifelong friends on the island. Most importantly, she found a lifelong partner in her husband Gerrie. Her only child, Gayle, came out of that union. Retiring from Lago in 1962, she travelled to England, where the family lived while Gerrie completed his university studies. The family eventually settled in Brooklyn, N.Y., where Jane worked as a nurse at St. Mary's Hospital until her retirement in 1985.
Jane and Gerrie retired to St. Croix, U.S. Virgin Islands, in July 1987. As she had done all her life, she made a home here based on faith, family and friends. Jane was joyful in spirit, firm in her beliefs, steadfast in friendships and undaunting in her faith in God. For 29 years, she worshiped at St. Paul's Anglican Church in Frederiksted.
A quiet foil to her more boisterous husband, Jane's passion for her Gerrie endured for almost 69 years (including 62 years of marriage). Her love for Gayle, her only child, was boundless. The matriarch of her extended family, she always encouraged strong family ties and took pride in family achievements. A shining example of grace and civility, she showered kindness upon all she met and never had a harsh word for anyone. Moreover, she never forgot her friends, always keeping in touch with those she met on her far-flung world travels.
Jane Friday Louison is—and always will be — lovingly remembered and terribly missed by her devoted husband, Gerald Louison, her darling daughter, Gayle Louison, her treasured son-in-law, Philip Nabozny, her beloved surviving brother, Wilfred Friday, and her cherished sister-in- law, Paula Friday.
She leaves behind three generations of relatives. She was especially fond of nieces: Amy Archer, Lynette Henry, Linda Charles Fraser, Lorraine Friday Jackson, Arlene Friday and Bette Friday-Etienne (who is also her goddaughter); and nephews Carlton McLean and Jason Friday.
Mourning her loss deeply are many dear friends including May Dubois, Vilma Garcia, Clara and Ellis Nock, Genevieve Edney, Lucy and Joe Baker, Mark Christian, Ernestine Christian, Neville Williams, Juliana and Daniel Polidore, Sandra and John Gutierrez, Amelia Smith, Cherry Morris, Tracie Morris, Esmée Swann Friday, Hazel Alexis and family, Joe Damon, Marjorie Hubbard, Josué and Lillian Belardo, Ann Huggins, Rev. Edward and Vashti Thompson, Juanita Perez, John Louison, Selma Friday Knight, Victor Roseman, Shirley Howell, Annmarie and Kieran St. Ange, Ben Barzey, Betty Lynch, Cherubin, Gloria Graham and family, Evelyn Ratcliffe, Ercelle and John Speck, Maslin Alexis, Dorothy Chichester, Elizabeth Madir, Leon Peterson, Winifred and Olric Carrington, and Phyllis Spaulding.
Gerald Louison and Gayle Louison offer special praise and profoundly heartfelt thanks to Dr. and Mrs. Rafael Garcia, Dr. Atul Chokshi, Dr. Jorge Melendez, Merle Kieran Dujon, Cherryanne and Linus Assan, Diane Amrol, Tracy Sanders, Canon Samuel T. Knight, Emelda Thomas, Anna Fenton, Wynella Cherubin, Shannon Tonin, Florence Percival and the Emergency Room staff at Gov. Juan F. Luis Hospital.
A viewing will take place at 9 a.m. followed by a funeral service at 10 a.m. on Tuesday, Jan. 3, 2017, at St. Paul's Episcopal Church. Interment will be at Kingshill Cemetery.
All funeral arrangements are by James Memorial Funeral Home Inc.