On Christmas Eve, H.H. Tire & Battery officially reopened their doors in a new location after the original site suffered from a devastating fire a month ago. (See Related Links below)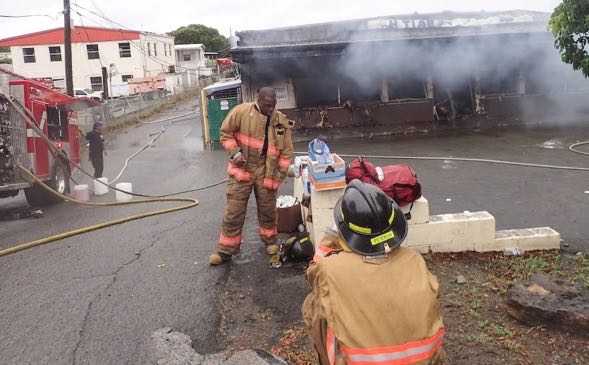 The new H.H. Tire & Battery location is across the street from Junie's restaurant at the intersection of Hess Road and South Shore. If you are traveling from the east end, turn left after Gateway Gas station and they are at the first intersection. The company moved to the location within a few days of the fire, on a temporary basis, but has now taken up residence permanently.
The H.H. Tire & Battery team proudly returned to their routine of providing tires, batteries and automotive care for their loyal patrons. The morning was full of smiles and pride as the employees have worked tirelessly to get the business back up and running as it has for the last 52 years, according to the company.
"There are many people to thank for their support in helping us reopen our doors to the St. Croix community in a little less than a month. Our priority was to get our long time employees back to work so they could continue to support their families, which was accomplished this past weekend. We are elated to be back in business and look forward to welcoming back our loyal customers," third generation owner Kevin Hensley said
In true H.H. Tire fashion, the day was a family affair as Hensley was joined by his father, second generation owner Patrick Hensley, his mother, Patricia Hensley, and his brother, Scott Hensley, for the opening of the new storefront.
The business has resumed its normal operating hours of Monday through Friday from 8 a.m. until 5 p.m. and Saturday from 8 to noon. Appointments for vehicle repairs are available at 340-778-5962. H.H. Tire is closed Jan. 2 and 7, and will close at noon on Jan. 6.