The walkways around the interior courtyards of the St. Croix Career and Technical Education Center on Thursday were crowded with youngsters thinking about life after school. More than 20 exhibitors were talking to students about future careers as varied as armed forces services to health services.
Representatives were there from the Department of Labor and other government agencies as well as private firms. The University of Virgin Islands was also represented.
The 19th annual Career Fair and Open House had a theme of Career and Technical Education – Moving St Croix Forward.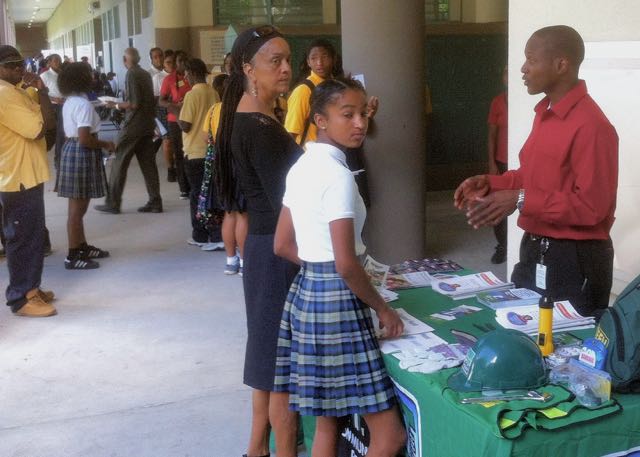 "It was a wonderful success," said Myrl Hendricks, CTEC principal.
She pointed out that this was not just CTEC students. She said students from private and parochial junior and senior high schools were also attending.
The students could be seen during the morning actively engaging with exhibitors with questions, viewing their displays, observing demonstrations, and finding paths to different careers.
Hendricks highlighted the participation at the event of programs under the National Academy Foundation that were started at CTEC two years ago. The four programs under the foundation are the National Academy of Finance, National Academy of Health Science, National Academy of Hospitality and Tourism, and National Academy of Information Technology.
She said that students who complete those programs receive national certification. She said the new programs "show we do great things at the vocational center."
St. Croix Educational Complex ninth-grader Christian Rojas said he enjoyed spending his morning learning about what a mill wright does and what an air-conditioning technician does.
"It was interesting so I took my time looking and listening to what the presenters said and displayed," Rojas said. "And it was worth it." He said the incomes in those fields looked good to him for career choices.
Hendricks said, "Here students are learning about real life options."
Exhibits and presentations were made by UVI University Bound, Williams Family Chiropractic, Women's Coalition, V.I. Board of Education, Career & Technical Education Board, VITEMA, Customs and Border Patrol, Innovative Communications, UVI Admissions Office, Regional Library for the Blind and Physically Handicapped, Customs and Border Patrol, Job Corps, V.I. Department of Labor, Youth Services, V.I. Fire Services, VIPD Crime Prevention, Rotary Club of St. Croix-Mid Isle, The Buccaneer, Dept. of Health, National Academy of Finance Advisory Board, VIPD Weed & Seed, U.S. Marshalls Office, VICTAI Youth Aviation Club, Boy Scouts of America, V.I. Army National Guard, U.S. Coast Guard Recruiting, V.I. Air National Guard, U.S. Marine Corps, Professional Apparel Business Apparel Store and Merch Carnival.