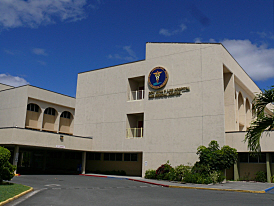 The Center for Medicare and Medicaid Services has issued a notice of termination to the Gov. Juan F. Luis Hospital on St. Croix as a result of a recent site visit, according to Government House. The termination would mean JFL ceases to receive reimbursement for Medicare and Medicaid patients, which would mean the loss of millions of dollars for the financially struggling hospital.
During a hospital board meeting Tuesday, acting Chief Executive Officer Richard Evangelista said CMS conducted a one-day survey based on a specific complaint at the hospital and, in response, the hospital had taken action to monitor patient charts and infection controls. He said Tuesday that CMS had not yet given the hospital a report on the site visit.
According to Government House, CMS says the termination can be averted by correcting the problems and submitting a plan of correction and verification by Dec. 9.
Gov. Kenneth Mapp sent a letter Wednesday to Senate President Neville James asking the Legislature to act on his capital projects plan and increase the line item for hospital repairs from $10 million to an amount not to exceed $20 million. The Senate approved a borrowing bill earlier in November authorizing $247 million in borrowing, with $25 million for the territory's two hospitals. It has not acted on a larger capital borrowing measure proposed by Mapp that includes more funding for the hospitals.
This is the second time in just more than two years that CMS has given JFL a notice of termination. In September of 2014, CMS threatened to cut off funding due to poor oversight and management after its governing board lost its quorum under pressure from several senators. (See: Hansen, Griffith to Blame for the JFL Decertification in Related Links below)