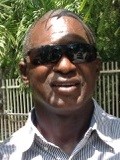 Donald Alphonso Christian, also known as "Duke," of Upper Love died on Tuesday, Nov. 15. He was 52 years old.
He is survived by his daughters: Akilah and Shanika Christian; mother, Ecilma Christian; companion: Stacy Joseph; sisters: Rita Lawson, Carol Williams, Joyce Caines and Angela Christian; brother, John Christian; nieces: Maya Christian, Omisha Williams and M'Kaila Caines; nephews: Kenneth Lawson and Mateo Martin; aunts: Inez Williams, Zula Byron, Florabel Miller, Agneta Bailey and Arlene Hopkins; uncles: Christel Byron, Glenworth Byron, Peter Christian, Augustin Christian and Bernard Christian; and brothers-in-law: Kenneth Lawson, Norman Williams Jr. and Dwight Caines.
He is also survived by godchildren: Letisia Williams-Thomas, Le'Necia Brewster and Masoy Henry; special friends: Delroy Byron (special cousin), James Henry (special cousin), Indolacia Matthew and the Virgin Islands Cycling Federation; cousins and other relatives: the Byron, Christian, Francis, Bailey, Miller and Williams families, Carmellia Joseph, Gale Joseph, the McAlpins, the Bairds, the Edneys, Leticia Hurley and Adrian Martin; as well as other relatives and friends too numerous to mention.
There will be a viewing held at 9:30 a.m. followed by funeral services at 10:30 a.m. on Wednesday, Nov. 30, at St. Joseph Catholic Church, Mount Pleasant. Interment will be at Kingshill Cemetery.
All arrangements are by James Memorial Funeral Home Inc.