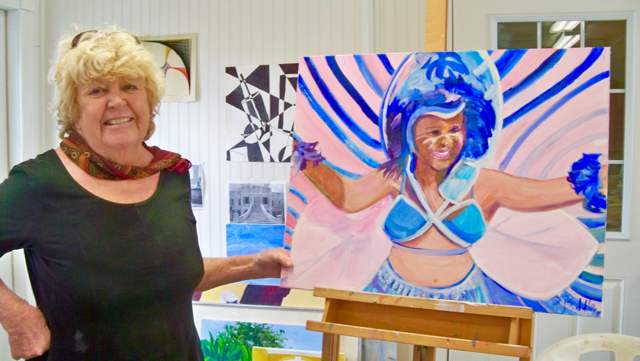 Phyllis Biddle, artist and art teacher, said St. Croix is truly an inspiring place for artists to be creative. St. Croix's people, architecture, beaches and landscapes are her inspiration and she turns them into paintings and portraits in oils and pastels that, she hopes, inspires others.
"The people here are beautiful," Biddle said. "And all the colors here are so amazing and beautiful too."
She complements that inspiration by working herself to inspire youngsters and adults to bring their creativity to fruition.
Biddle said children are her life and she loves nothing more than teaching art and art history to high school students. She enjoys working with older students and guiding them to express themselves in all types of mediums, from pastels to colored pencils.
That love was evident in her classroom during a recent interview, as she flitted from one student to the next answering questions, giving tips and encouragement.
Weekdays she teaches ninth through 12th grade art classes at Good Hope Country Day School, and on Saturdays she teaches adults water color, acrylic and oil painting at the school.
Oil paints and pastels are Biddle's favorite mediums. She has always liked oils because they are forgiving and don't dry as fast as acrylics. She doesn't have a name for her particular style, adding that art critics are the ones who name styles.
Sepia-toned and black and white photographs from Whim Museum, images taken in the early 1900s, really inspire her, Biddle said.
"I'm absolutely captivated by the images in old photos of people working in the cane fields, at the market or by the ocean fishing," Biddle said.
Carnival with all its bright colors and glitz are the focus of a lot of her creations.
Biddle's art will be on display through December at the Art @ Top Hat gallery on Company Street in Christiansted. Biddle also does commissioned portraits.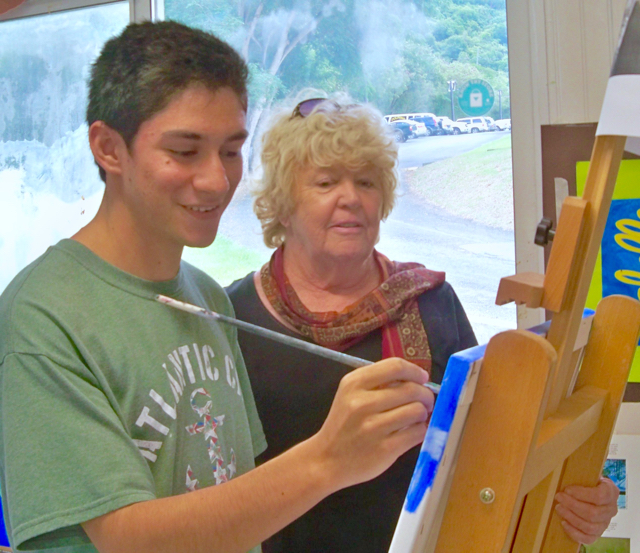 She has been actively involved in the Good Hope Country Day Caribbean Fine Art Exhibit show and sale, and she is instrumental in organizing an art show held in April for the GHCD art students. She is co-advisor for the National Art Honor Society at the school.
Biddle was born and raised in Philadelphia, Pennsylvania. As a child she was intimidated by the artwork of her mother, who was a graduate of Parsons School of Design and a clothing designer. She said she felt her art couldn't compare to her mother's or her the art of her older sister, also an artist. Biddle said she didn't take art seriously until an art teacher she had in boarding school encouraged and inspired her while in her teens.
Biddle said her great grandfather St. Clair Augustine Mulholland, a colonel in the Union Army during the Civil War, was also an accomplished artist, so artistic abilities may be run int he family.
She graduated from Albertus Magnus College in liberal arts and from Virginia Commonwealth University with a master of fine arts degree in painting and printmaking. Biddle taught at Hopkins School in New Haven, Conn., and later was head of the art department at St. Catherine's/St. Christopher's Schools in Richmond, Va.
Biddle was program director at The Richmond Children's Museum prior to coming to St. Croix in 2000 to be director of visual studies at The Good Hope School. Biddle made the move to Country Day when the two schools merged. She is artist in residence and teaches high school studio art, advanced placement art and art history.
Biddle loves teaching art so much she does not plan to retire any time soon and will continue to work as long as she is healthy and able to.