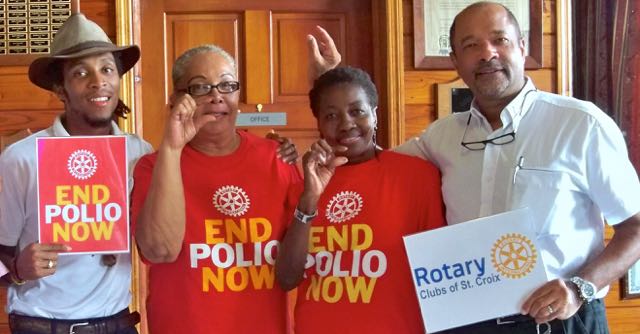 The four St. Croix Rotary Clubs came together Wednesday at Gertrude's restaurant to announce current and longstanding initiatives. The clubs will be marking World Polio Day locally, illuminating two iconic St. Croix structures with the End Polio Now logo.
On Friday, Rotarians will be illuminating the McBean Clock Tower in Frederiksted and they will illuminate Fort Christiansvaern on Monday.
Marcel Galiber, MidIsle Rotarian and assistant district governor St. Croix, said Wednesday they are close to making history by eliminating one of the world's most devastating diseases.
Since 1988, Rotary clubs have raised more than $1 billion for polio eradication.
Willard John, MidIsle Rotarian and area coordinator for Rotary Foundation, said Rotary's role is to raise funds, advocate, volunteer and raise awareness about polio.
According to Sandra Gerard-Leung, president of Rotary Club of St. Croix, since Rotary and its partners launched the Global Polio Eradication Initiative almost 30 years ago, the incidence of polio has plummeted by more than 99.9 percent from about 350,000 cases a year to 26 confirmed cases Oct. 18, 2016.
Gerard-Leung said the focus is on Afghanistan, Pakistan and Nigeria. With the two new cases of polio in Nigeria this year after almost two years of being polio free, Rotary and its partners are working harder than ever to eradicate this disease.
"We're extremely close to eradicating polio," Gerard-Leung said.
The name of the current campaign is "We're This Close."
Desiree Wilburg, president elect of Harborside, said she took part in a National Immunization Day in India saying it was an incredible experience for her to help so many children.
Rotarians encourage the community to come out for the lighting of the clock tower Friday and stay to enjoy Sunset Jazz. On Monday, the Police Athletic Association PAL youth band Mind, Body and Soul will provide entertainment.
On Saturday, Rotarians will be joining with V.I. Fire Service and other organizations in a Boot Drive to raise funds for Haiti. The locations for the Boot Drives are Sunny Isle and Hannah's Rest intersections from 10 a.m. until 2 p.m.
"The Haitians are in severe need of supplies and goods to recover," Galiber said.
Galiber said all of the donations of cash will go to district and then on to Rotary counterparts in Haiti who will handle and purchase relief supplies in Haiti to directly help the economy.
Liz Gogins, Rotary Club of St. Croix member, said Rotarians approached V.I. Fire Service for their assistance in the fundraiser. Gogins said they can always count on them to help out and they are great partners.
Additional donations can be mailed to Rotary Club of St. Croix, PO Box 223114, Christiansted, VI 00822.
The local clubs are Rotary Club of St. Croix, Rotary Club of St. Croix West, Rotary Club of St. Croix MidIsle, and Rotary Club of St. Croix Harborside.
More than 1 million Rotarians have volunteered for the cause, helping to immunize more than two billion children in 122 countries.