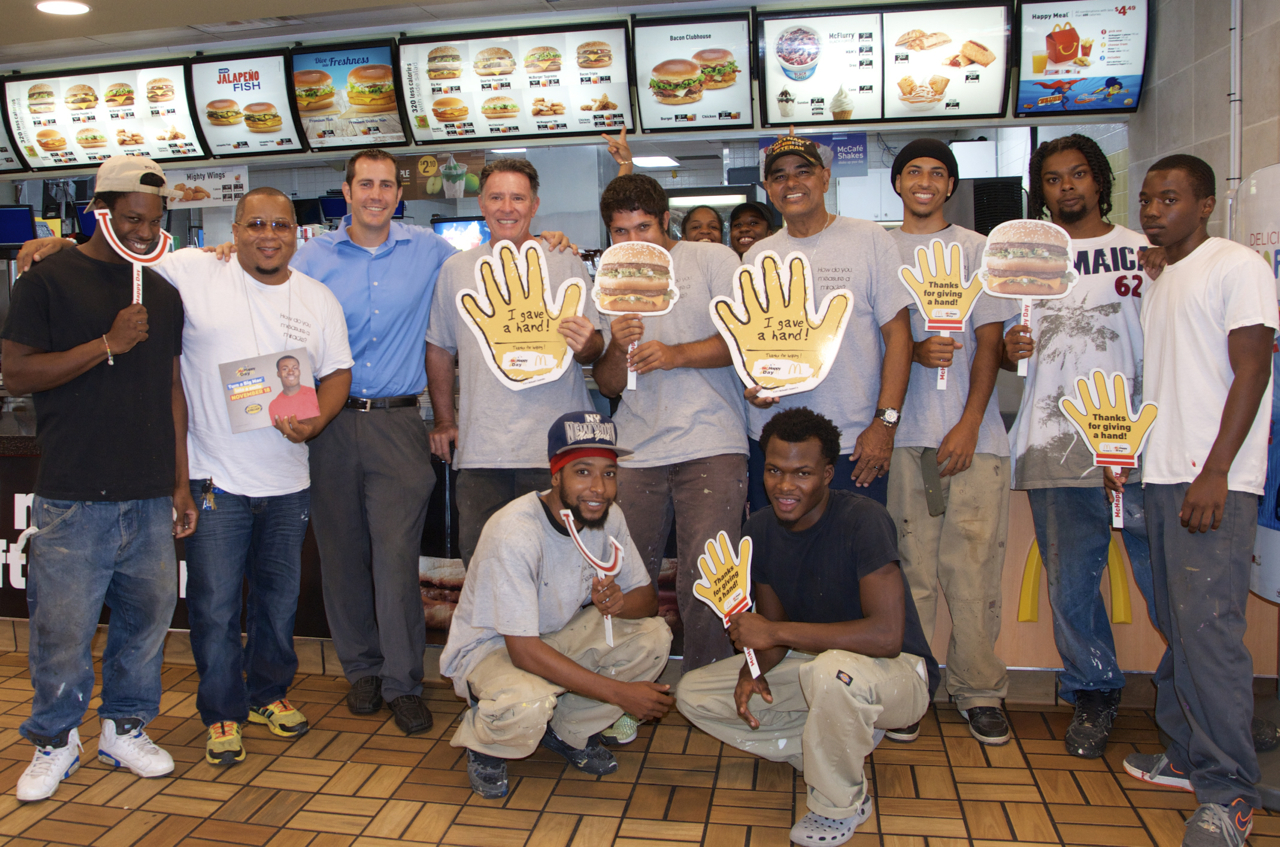 McDonald's Virgin Islands launched its annual McHappy Day fundraising campaign on Tuesday, Oct. 18, which will culminate on McHappy Day, Friday, Nov. 18. The launch was held at My Brother's Workshop (MBW), which is this year's campaign beneficiary on both St. Thomas and St. Croix. Professional boxer and chef Julius Jackson kicked off the campaign by purchasing the first "Helping Hand" in support of My Brother's Workshop.
Aletia Hodge, operations supervisor for Arcos Dorados on St. Thomas, said, "Arcos Dorados is proud to partner with My Brother's Workshop for our 2016 McHappy Day campaign in the Virgin Islands. McHappy Day fills us with excitement and makes us very proud because not only our customers commit to help us raise funds for a worthy cause, but also our entire company has the opportunity to show our solidarity and great heart, giving back to the communities we serve."
All proceeds will benefit My Brother's Workshop, a non-profit organization that provides services for young people by offering mentoring, counseling, paid job training, education and job placement.
My Brother's Workshop was founded in 2007 by Scott Bradley, who works as program director. The program teaches woodworking and carpentry to youth, ages 16 to 24, and the young men and women are paid while they are learning. About 80 percent of MBW participants get a job or go back to school.
In 2015, MBW opened the full service bakery and cafe on Back Street where kids learn skills in food preparation, baking and front-of-the house service. The bakery was able to open with help from donors and community support, including McHappy Day proceeds. With the café, they anticipate mentoring close to 100 kids per year.
"Because of the generous support from our community which includes the McHappy Day event, we are able to help transform the lives of our youth. With the funds raised from last year, we were able to enhance our current program and help start the opening of our other training school in St. Croix and the new MBW Cafe and Bakery. Now, with two training facilities, we will reach more young men and women and spread our message of hope to the territory," said Jenny Hawkes, MBW's executive director. "We are truly grateful for being selected this year for McHappy Day."
With McHappy Day four weeks away, McDonald's restaurants on St. Thomas and St. Croix are creating awareness by promoting the sale of paper hands for only $1 to support My Brother's Workshop mission in the territory. It is also offering its McHappy Day corporate program for companies to purchase Big Mac coupons at $3.90 for employees, clients, family and friends. The coupons are to be redeemed for a Big Mac on McHappy Day, Friday, Nov. 18.
The paper hands and coupons are available for purchase now through McHappy Day. During McHappy Day, the community can show support by visiting restaurants and ordering a Big Mac, as Arcos Dorados is donating 100 percent of the Big Mac proceeds from St. Thomas and St. Croix to My Brother's Workshop.
McHappy Day will take place concurrently on both St. Thomas and St. Croix. The day is a global event in which millions of dollars are generated annually through McDonald's restaurants around the world for local charities. Arcos Dorados, the operator of McDonald's restaurants in the Virgin Islands and throughout the region, generated more than $14 million for Ronald McDonald House Charities and other children's non-profit organizations during last year's McHappy Day campaign. More than 2.8 million people participate in 20 countries across the Caribbean and Latin America.
For more information, visit any McDonald's in the USVI. To contribute to the McHappy Day corporate program, please call 774-8478 or My Brother's Workshop at 715-2769.