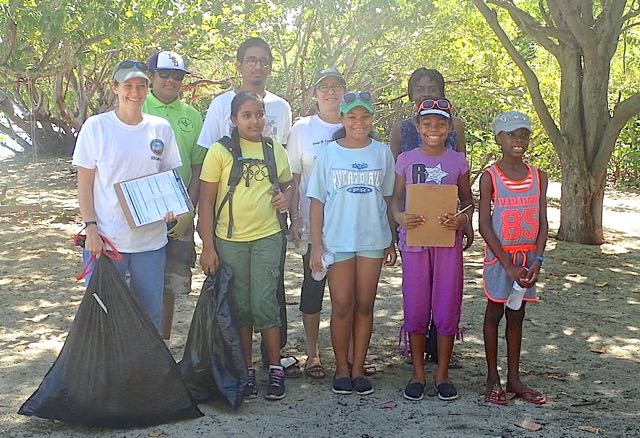 Coastweeks, an international initiative to educate the public and keep shorelines trash free, organized by the Ocean Conservancy and the Virgin Islands Marine Advisory Service, was launched on St. Croix and St. Thomas Saturday with beach cleanups at Southgate Beach on St. Croix and Brewers Bay beach on St. Thomas.
More than 30 volunteers showed up at Southgate throughout the morning, according to Jen Valiulis, education coordinator and conservation steward for the St. Croix Environmental Association, which provided trash bags, gloves, tally sheets and water.
Families, youth groups and students from the St. Croix Educational Complex and Pearl B. Larsen Elementary School who gathered at Southgate early Saturday morning to scour the waterfront for trash.
A separate group of students from the University of the Virgin Islands' Psychology Club cleaned Rainbow Beach on the west end of the island.
"It was a great turnout and we've got all ages, including school groups," Valiulis said.
By 10 a.m., nine bags of trash, one tire and two aluminum pans had been gathered for removal by the volunteers at Southgate. Most of the trash was bottle caps, Valiulis said, and lots of plastic, bottles and cans. Around the campground, children's party items – balloons and paper plates – filled volunteers' bags and, farther out, adult trash included bottles and other used plastic items.
The Rodriguez family – Samuel, Irian and son Joel – came out early and filled one trash bag with beach debris. They volunteer for various agencies to keep the island clean.
"We love our island … We hear a lot of negativity about it and we're trying to keep it positive," Irian Rodriguez said.
Another group of seven volunteers were students and family members from Larsen School. Teacher Lisa Magras said her fifth- and sixth-graders are studying endangered species and "decided this was a great way to start."
Magras's group collected 104 pieces of plastic, 27 bottles, 31 plastic bottles, 51 paper items, four car parts and "a lot of Styrofoam and foil."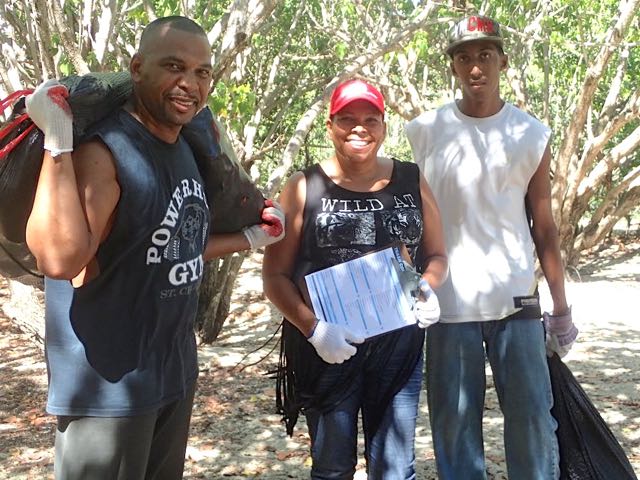 "We're especially excited about it (the cleanup) here because it is a sea turtle nesting beach and trash interferes with baby turtles getting to the ocean – in addition to making it beautiful," Valiulis said.
According to the Ocean Conservancy, lost or abandoned fishing gear is the biggest danger to marine life; fish and turtles get trapped in nets or tangled in lines. Plastic bags are a close second because turtles and other sea creatures mistake them for food.
The V.I. Waste Management Authority is a partner in the program and is placing dumpsters and trash bins at locations throughout the island, including Southgate Beach, during Coastweeks at no cost to the program.
The educational portion of Coastweeks, funded by a National Oceanic and Atmospheric Administration grant, will allow public and private, high school and middle school teachers to learn about NOAA's marine debris program.
According to Marcia Taylor, St. Croix coordinator for the V.I. Marine Advisory Service, 30 teachers will spend a day on St. Thomas learning how to plan activities for their students to focus on healthy coastlines. Mini-grants from NOAA will be available for the teachers, Taylor said.
During Coastweeks, priority will be given to cleaning up other areas, including drainage ditches, Taylor said. Next weekend, the Crabbs Dive Club will pick up debris from the water under the Frederiksted Pier and students from CTECH and UVI will separate and catalogue the items for removal.
Coastweeks is an international initiative introduced by the Ocean Conservancy 30 years ago to collect and track debris that can pollute the ocean and damage marine life. The program will run from Saturday to Oct. 31.