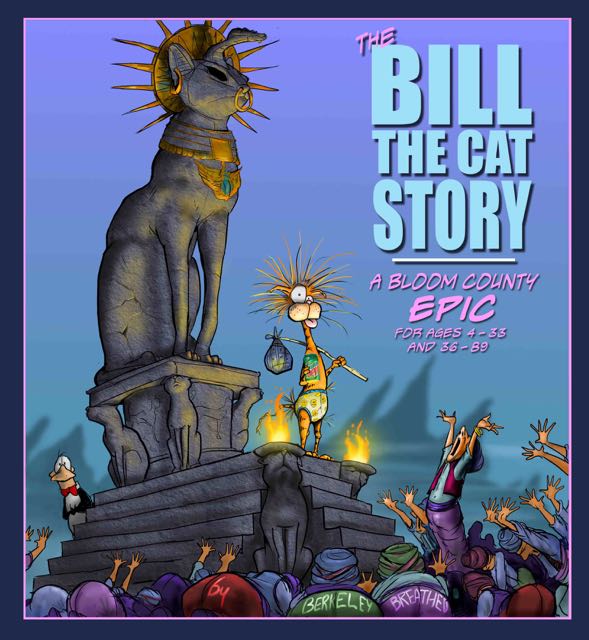 "The Bill the Cat Story: A Bloom County Epic for Ages 4-33 and 36-89" by Berkley Breathed
c.2016, Philomel Books $18.99 40 pages
"Wait up!" says your friend and you stop. That's what friends do: they stick around when things get weird and they make sure you're never left behind.
And in the new book "The Bill the Cat Story" by Berkeley Breathed, they wait for you forever, if that's what it takes.
Once upon a time, there was a little boy named Binkley who lived in a spot called Bloom County. It was a great place to think but not a good place to be alone, so Binkley's dad took Binkley to pick a pal.
Binkley chose an orange cat with a wiry-bent tail and he named his new friend Bill – because "it rhymed with daffodil and landfill."
And they were happily ever minute-and-a-half because Binkley didn't know it, but Bill had already been adopted by someone else.
Binkley was heartbroken. So was a "dark, mysterious… stranger named Opus," who was watching, and wanted to help. Opus gave Bill a pair of smiley underpants.
It was the best he could do as Bill rode away.
Time passed and Binkley matured. He tried to forget Bill but it wasn't easy; he told people he was over that cat but that was a lie. More than anything, Binkley hoped Bill was having fun and that he was happy.
The truth was that Bill was probably not happy. It's hard to tell but here's proof: he first landed in the North Pole, as a sled cat, which was dangerous. Then he went to Africa, as an elephant herder, and that was dangerous too. Finally he landed halfway around the world at a place where he was given foot massages and bananas … which wasn't too bad, actually, except that it didn't last either.
And that adventure was how Bill ended up being dumped on the doorstep of someone from his past, someone with a giving heart who was brave enough to withstand attack rabbits, adult troubles and dreams that you just can't let go.
Indeed Bill was with someone who "knew what needed to be done."
I have no socks. Author Berkley Breathed just charmed them off me.
As the first new Breathed book in a very long time, "The Bill the Cat Story" recommends an appropriate reader-age in its subtitle, and for good reason: kids will love the colorfully wild illustrations and the basic tale of love and friendship. They'll appreciate Bill's underwear and his goofy "ack."
But adults are just as much the audience here – especially those who've found laughs and tears inside Breathed's "Bloom County." Fully half the book (if not more!) is for that fan-base, from the hilarious cartoons to the roots of Bill's presence in Binkley's life. There are nudge-wink inside jokes on many pages, a harking back to other books and story threads, and a surprise look at where Opus lives.
So buy this book for your toddler and borrow it back as much as you need to. I predict you'll need to – a lot. For both of you, "The Bill the Cat Story" is worth the wait.
__
The Bookworm is Terri Schlichenmeyer. Terri has been reading since she was 3 years old and never goes anywhere without a book. Her self-syndicated book reviews appear in more than 260 newspapers.