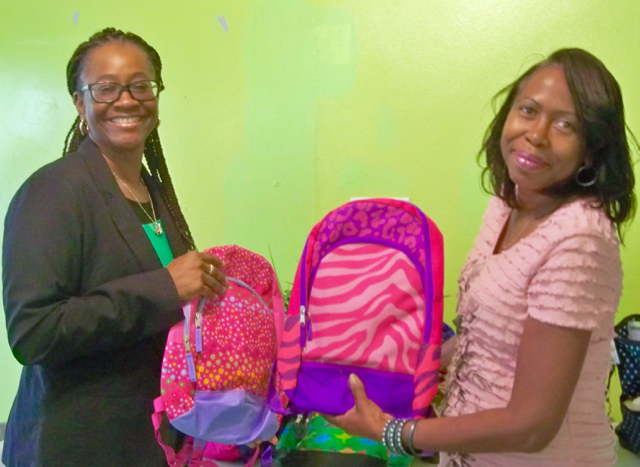 Juanita Gardine kindergarten students who started school without backpacks and school supplies were among those who had their needs met through the generosity of folks involved in the Cultural Conquest Association. On Friday the organization donated backpacks and supplies to Head Start and kindergarten students at Queen Louise Home.
CCA members want the youngest students to start their school careers off on the right foot and be prepared for their first year in school.
The group of young professionals, family and friends want to make a difference in the community by empowering the children of the Virgin Islands with knowledge, said Jamilah Henry, president of the group.
"Our organization looks forward to reigniting the fire of Virgin Islands pride and creating an exhilarating and educational experience for all," Henry said.
In November 2015, CCA adopted Juanita Gardine Elementary School, because the majority of the members are alumni of Juanita Gardine and have a passion to help the children enrolled there.
"We decided the best way to volunteer our services to them was by providing them with additional school supplies for their students," Henry said. "As you know, some parents may not be financially able to provide their children with all their necessary needs."
In January they gave Barbara McGregor, principal at Gardine, supplies for the kindergarten and first-grade classes. In June they presented the top two sixth-grade students, Camila Laudat and Miajah Benton, with backpacks filled with school supplies.
"Because the students were so grateful," Henry said, "we're going to attempt to make this an annual tradition."
In July they started a back-to-school supply drive. Their goal was to present Principal McGregor with a minimum of 30 backpacks containing supplies. Henry said she wanted to recognize Shauna Williams, a dedicated parent from Juanita Gardine, for her hard work and dedication in making it a successful drive.
On opening day they donated 34 backpacks, two cases of notebooks for the kindergarten classes and approximately 45 pencil cases. Each backpack contained at least two notebooks, folders, filler papers, a pencil case, glue, crayons and more. Each pencil case contained at least two pencils, pens, erasers and highlighters. Students who may not have come to school fully prepared will now have those items for their use Henry said.
They also donated 10 backpacks with supplies to the Queen Louise Home and a box containing supplies was donated to the Elena L. Christian Jr. High School.
Delores Coleman, Queen Louise Home for Children assistant director and social work supervisor, said she is impressed with the community' generosity.
"I'm ecstatic getting the backpacks," Coleman said. "We really needed them for the little ones."
She said the older children were taken care of with donations from people at the University of the Virgin Islands.
CCA also sponsors art and literary cultural contests for students in public and private schools.
They have had cultural expression art, poetry, essay and short story contests. Since the contests began in 2013 they have awarded gift certificates totaling $425. Two tablet computers have been won and the short story winner received a subscription to IXL.com, a website aimed at improving academic performance. The short story winner also had her story printed in a hardcover book.
CCA members are making up to 90 costumes, designed by Henry, for children to take part in the 2016-2017 Crucian Christmas Festival, another aspect of their cultural endeavors. The costumes will be free for children who would like to be in the children's parade.
CCA member Halima Henry said they get a lot of donations and help from the community and members dig deep in their own pockets to fund the projects.
Jalima Henry said the group will receive a $1,500 donation from Sen. Kurt Vialet, adding they wanted to thank community members who donated and assisted with projects.
Donations can be made and information about the children's carnival troupe obtained by calling Henry at 340-332-1596, or sending email to culturalconquest@gmail.com. The group is also on Facebook.