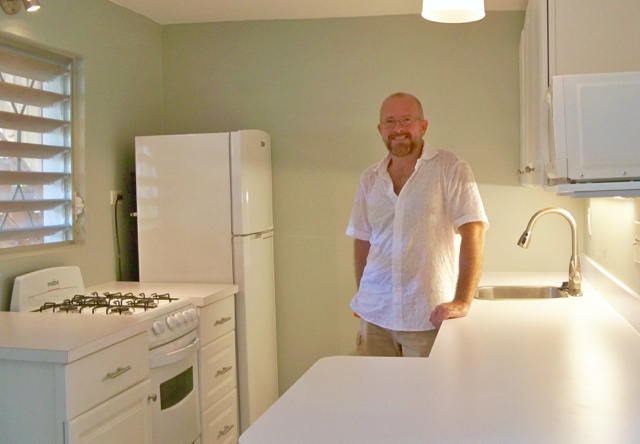 Christopher Swanson and Jeff Printz have a vision of a Frederiksted resort with a pool, restaurant, spa, and boardwalk along the ocean that is like nothing St. Croix has ever seen.
Proposals for resorts on St. Croix in recent decades have not materialized. This one may be different. Printz and Swanson, seasoned property developers, have spent a great deal of money on the project on Strand Street across from the library in Frederiksted. They also have put a great deal of sweat into the project.
Floors and steps have been retiled and rooms have been repainted in the old Totten building, built in the late 1800s. When the Source visited on Friday, electricians were busy working on outlets and fire department representative were there making recommendations. The Fred has already received approval of its plan from Coastal Zone Management. The project still needs action from the V.I. Senate for a zoning change. A zoning line runs through the middle of the property, which has three buildings on it.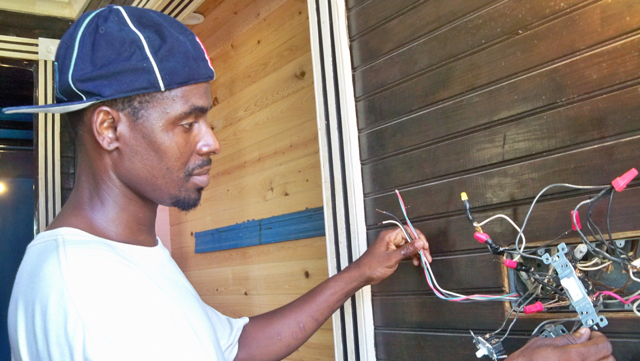 Swanson deflected a question about how much was being invested by himself and his partner in the 23-unit resort and day spa by answering, "We are betting millions on its success."
Others also are betting on success in Frederiksted. The Frederiksted Hotel has a new operator and a new name – Inn on Strand Street – and renovation is going on there too. The Inn is being billed as an "in town" hotel to a sister hotel – Cottages by the Sea. The name change was official last week but the renovation has been going on longer.
Paul Benedict, whose family has been involved in the operation of Cottages by The Sea, south of Frederiksted, for decades, has signed a five-year lease to operate Inn on Strand Street. Visitors to the hotel now will be greeted in a reception and hallway lobby immensely changed from the old reception area. Five of the 32 units at the hotel have already gone through extensive renovation. Benedict said he hopes to complete most of the renovation work before this winter, so the hotel can take advantage of the upcoming Centennial year.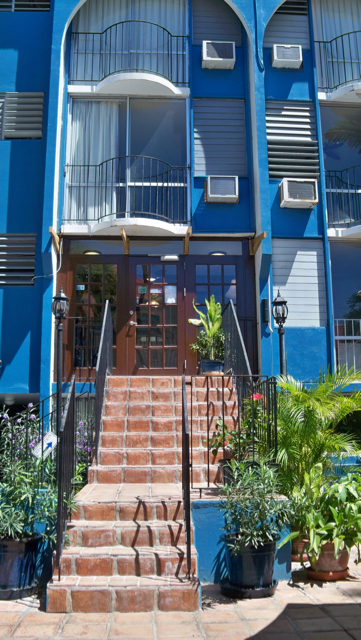 Much of the work to be done will be what Benedict calls "polishing."
"The hotel has a decent amount of charm, giving it some polish to it will make it come to life," he said, adding that the Wi-Fi at the hotel has been upgraded and bicycles soon will be available for guests to use. Balconies were added to the rooms on the ocean side of the hotel about five years ago.
A couple of blocks inland and east of Inn on Strand Street is what was once known as Prince Street Apartments. Now it is called Caribbean Breezes. Kathy and Randy Tiddark bought the nine units of long-term rentals in August 2014.They converted it to three long-term rentals and six vacation rentals. Kathy Tiddark took the Source on a tour Friday. She emphasized that no long-term residents were kicked out. Conversion and renovation was done only after a long-term resident moved out. The work inside included almost gutting the apartments and adding new flooring, larger bathrooms and different furnishings.
"The building has really good bones, so the structure needed little work," Kathy Tiddark said.
Outside, in the courtyard, a new pool and sidewalk have been added with fresh landscaping.
She said she likes to be of service to people thinking of moving to St. Croix. Instead of buying or renting a place sight unseen; a person can stay at Caribbean Breezes and look around.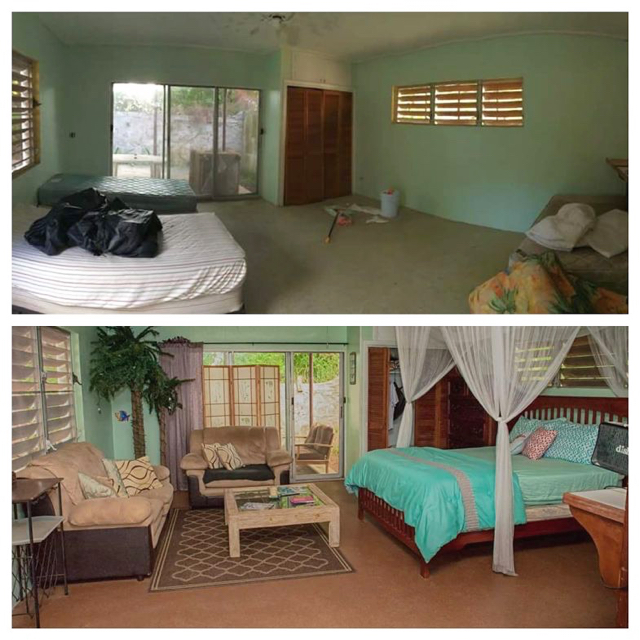 Swanson and Printz, after being on St. Croix six months and working on The Fred, decided to buy Liberty Hall. This building, parts of it dating back to1775, at the top of the hill on Hospital Street, also contains 23 units. These owners also emphasize they are not forcing any long-term rentals to leave, but newly refurbished units are being offered as vacation rentals and some are now available.
In conversations with the owners and developers of these projects, "Airbnb" often comes up. Airbnb is an online market place for people looking for accommodations. The accommodations can be anything from a room at a private home to a suite at a resort. Swanson and Tiddark were positive about the possibilities of Airbnb bringing more people to St. Croix.
Benedict, who has been in the vacation rental business longer than the others, has some concerns. He wonders if bookings through Airbnb are subject to the same regulations and local taxes that more traditional resorts are. His concerns are not concrete as yet and his employees are exploring its possible use for Cottages by the Sea and Inn on Strand Street. He said he has made no bookings through the online service yet. Tiddark has made many books through the service.
Rooms at The Fred won't be available for another year. However, the spa there is open and ready for customers, but by appointment only.
Virginia Clairmont, an activist in Frederiksted who has organized Frederiksted Cleansweep, said, when asked about the new developments in the town, "I moved back home in 2014 because I saw and felt what Frederiksted can and will be – a world class community. There is so much potential for opportunity here. We are definitely on the cusp of economic vitality."
In a historical note, Paul Benedict's grandparent's wedding photo was taken in front of Liberty Hall in 1923. It was then the Merwin family home, of which his grandmother was a member.