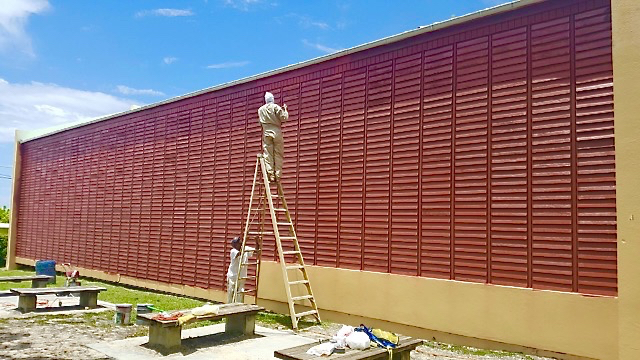 Students returning to school Tuesday on St. Croix will find new railings, fresh paint and other improvements, especially on six campuses with long-standing adverse conditions, St. Croix Superintendent Colleen Mae Williams and Director of Maintenance William Matthew announced
The improvements are in line with the Department of Education's commitment to ongoing maintenance of its school buildings, the department said.
The six schools that were the focus of the summer-long effort are Lew Muckle, Claude O. Markoe, Eulalie Rivera, Juanita Gardine and Pearl B. Larsen elementary schools and St. Croix Central High School. Local funds were used for the effort, according to the DOE news release.
Kindergarten classrooms at Lew Muckle Elementary received a facelift as aging railings, doors and ceiling tiles were replaced with brand new ones. Eight four-ton mini-split air-conditioning units were installed in various classrooms and the exterior windows of the historic Estate Sion Farm school have been treated and repainted.
Students and teachers at Claude O. Markoe Elementary will enjoy a cooler classroom environment this school year. A record 44 new air conditioning units have been installed in classrooms throughout the school.
To mitigate flooding conditions at St. Croix Central High School and Eulalie R. Rivera Elementary School after heavy rainfall, contractors cleaned the cisterns and repaired the overflow systems on both campuses. Inlet pipes at Central High were repaired and a main manhole at Eulalie Rivera was raised.
Also at Eulalie R. Rivera, work is nearing completion on the refurbishing of an outdoor basketball court, to include surface coating and new fencing around the court's perimeters. The school's open-air gymnasium received an extensive paint job.
The drainage system at Juanita Gardine Elementary underwent extensive repairs. A new design using concrete was set in place to effectively eliminate surface water on rainy days.
New guttering was installed in the Pearl B. Larsen Elementary courtyard along with fresh paint.
Besides the major projects listed above, all of the district's school facilities have been refreshed with intensive cleaning, painting, and landscaping.